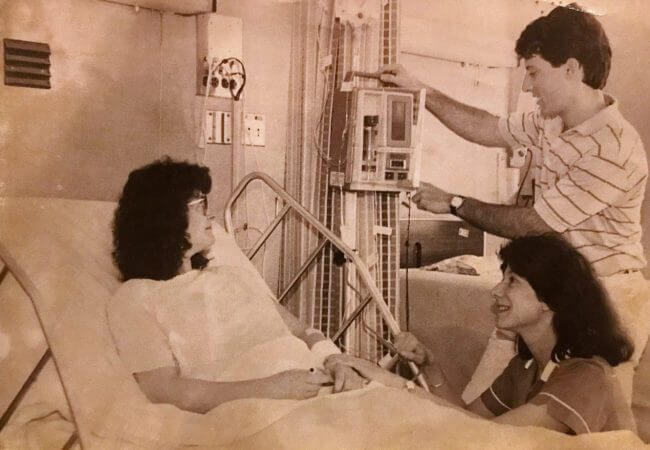 Nursing Journeys: Being An Advocate for Change
Welcome to "Nursing Journeys," a new series featuring Action Coalition leaders discussing their career paths and reflecting on lessons learned.
David DeBiasi, RN, BSN, is associate state director for AARP Virginia, where he leads advocacy efforts for Virginians 50+ and their families. He also serves as co-lead of the Virginia Action Coalition.
DeBiasi began his career as a medical-surgical nurse, but his passion for policy and advocacy led him down a less traditional nursing path—to a career as a lobbyist. DeBiasi previously worked for the American Lung Association of the Atlantic Coast, where in 2009 he helped to ban smoking in Virginia's 17,500 bars and restaurants. At AARP Virginia, he works to improve health care and financial security and protect vulnerable Americans 50+ and their families.

Why did you decide to become a nurse?
I started college at 17 and majored in political science, but I was just too young. I took a leave of absence from school to figure out what I wanted to do, and I began working as a certified nursing assistant. My colleagues helped convince me that nursing was my gift.
Please describe the journey you went on to get from that decision to where you are today?
I graduated from nursing school with my bachelors in nursing and began working as a medical-surgical nurse in a small Vermont hospital. There, I was told I was "too political" to be a nurse. I guess I wanted to change the system more than I wanted to be a good team player. After two years in that role, I moved to Boston and dove into public health during the beginning of the HIV epidemic. Being an advocate for health eventually led to me deciding to become a lobbyist.
What impact did the Institute of Medicine's Future of Nursing report have on you?
I bought the book and read it cover to cover. It affirmed my love for nursing and my desire to be an advocate for change.
How have you been involved with the Campaign for Action?
I have been co-lead of the Virginia Action Coalition as the director of advocacy at AARP Virginia. I am blessed to be on a strong Virginia team. In this role, I've advocated to change our state's laws so that advanced practice registered nurses can practice to the full extent of their education and training, which will increase Virginians' access to high-quality health care. I've spoken on this topic at the National Press Club, was featured in a Virginia Council of Nurse Practitioners public relations video, and was recently a guest on a cable show, Inside Scoop, with Winifred Quinn, PhD, and Andrea Brassard, PhD, FNP-BC, FAANP, from the Center to Champion Nursing in America, where I discussed the impact of Virginia's nursing regulations on the public.
Of all you have accomplished, what are you most proud of? 
When I was working at the American Lung Association in 2009 and serving as co-lead of the state's anti-tobacco coalition, we succeeded in getting smoking out of restaurants in Virginia. I'm proud we won our fight for healthy lungs and air in the Commonwealth's 17,500 bars and restaurants.
What is the most important action that nurses can take to lead the way to improve health and health care in America?
Be political and vote! Nurses are the largest workforce in health care. Together we can be a powerful force for high-quality, affordable, family-centered care!
What advice do you have for the next generation?
Help unite the voices of nurses.