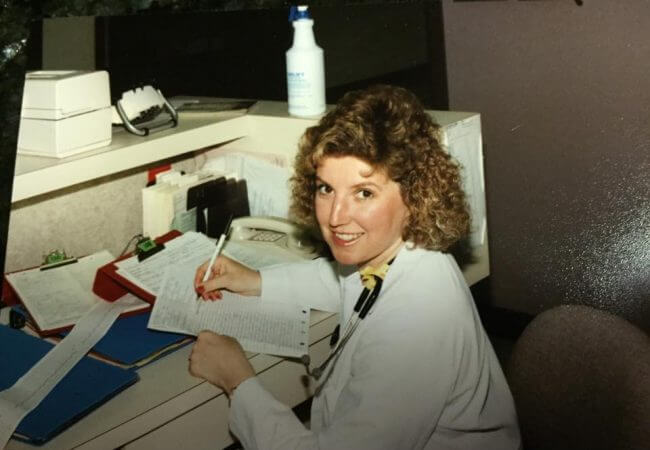 Nursing Journeys: "Be the Change You Wish to See in the World"
Welcome to "Nursing Journeys," a new series featuring Action Coalition leaders discussing their career paths and reflecting on lessons learned.
Victoria Vinton, RN, MSN, is executive director of the Nebraska Action Coalition and an advisory board member of the Nurses on Boards Coalition, a coalition of national nursing and other organizations working to get 10,000 nurses onto boards of directors by 2020. Its members include AARP, the Robert Wood Johnson Foundation, and 19 national nursing organizations. 
The first person in her family to graduate from college, Vinton began her career as an intensive care unit (ICU) nurse in a hospital. Since then, she has held a variety of roles in public health and cardiac rehabilitation nursing. She is a passionate community educator on topics including autism to caregiver support.
Why did you decide to become a nurse?
I was inspired by the nurse role models in my hometown. In addition, as the first person in my immediate family to go to college, I thought that attending a hospital-based school of nursing would be an affordable way to get an education. My tuition and room and board cost $3,000 for a three-year program. Talk about a return on my family's investment!
Describe the journey you went on to get from that decision to where you are today.
After I graduated from my nursing diploma program, I began working in an ICU at a hospital while I earned my baccalaureate degree in nursing. Even as a new graduate, I knew the tide was turning toward higher education, and I was able to earn my bachelor's degree tuition-free with support from my employer.
In the years that followed, I worked in different settings including public health, post–intensive care, and cardiac rehabilitation. Having the flexibility of a nursing career allowed me to raise my family at the same time, which included adopting a toddler from Honduras in 1993. I also volunteered in my community, served on a school board, and developed diplomacy skills while managing an international adoption and starting a sister parish for my church in Lima, Peru. These experiences taught me many valuable lessons and prepared me well for my current role.
At the age of 53 and newly divorced, I decided to go back to graduate school and earned a master's degree in nursing administration, which led to my current job as executive director of the Nebraska Action Coalition.
What impact did the Institute of Medicine's Future of Nursing report have on you?
As a recent MSN graduate, I was invited in late 2011 to be part of a brainstorming session to implement the findings of the report in Nebraska. This event coincided with the kickoff of the Nebraska Action Coalition, where Campaign Director Sue Hassmiller was the keynote speaker.
Hearing the report's findings at this event was inspirational, like a new beginning for nursing. It was a profound honor to be part of the profession being asked to help transform health care! Being there felt like being a part of history in the making.
How have you been involved with the Campaign for Action?
As executive director of the Nebraska Action Coalition since 2012, I lead a statewide partnership of health care organizations, nursing associations, businesses, and stakeholders committed to transforming health care and building a healthier Nebraska.
Of all you have accomplished, what are you most proud of?
I am most proud of the resilience I developed during my career and raising my family, which has enabled me to be effective in the multiplicity of roles required in my job. As an executive director, I need to be a communicator, coordinator, leader, fundraiser, event planner, collaborator, and mentor—and all while maintaining a positive attitude (at least on most days)!
What is the most important action that nurses can take to lead the way to improve health and health care in America?
To make sure nurses are serving on boards—from their communities to the national stage. Only when nurses, the largest and most trusted profession, have a seat at the table will real, sustainable change occur.
What advice do you have for the next generation?
Gandhi said, "You must be the change you wish to see in the world." This was my mantra during graduate school. It still applies to me and all of us. We can't wait for someone else to act.