Goal and Impact
Nurses offer a unique perspective on consumers, families, and communities. That is why nurses at all levels need to recognize the value of their distinctive knowledge and be trained for leadership roles, while community organizations, business leaders, and health care providers need to understand the crucial insights nurses bring. The community and consumers alike benefit when nurses take on leadership roles in full partnership with physicians and other health professionals. Bringing nurses to the table is essential to address health disparities and realize health equity.
Progress
To improve the health of communities and the nation, national organizations collaborated to form the Nurses on Boards Coalition (NOBC) with a goal of ensuring placement of 10,000 nurses on boards and other influential bodies by 2020. The NOBC, which includes conveners AARP, the Robert Wood Johnson Foundation, and 19 nursing organizations, is a direct response to the Institute of Medicine's recommendation that nurses play a more pivotal role as decision-makers on boards and commissions.
In addition, most of the Campaign's Action Coalitions have leadership or mentorship programs. In 2014, the Campaign introduced Culture of Health: Breakthrough Leaders in Nursing, a scholarship program that has selected 20 nurses so far to attend intensive training at the Center for Creative Leadership. Also, the Campaign's Champion Nursing Coalition, comprising large national companies, has increased from 10 to 50 the number of nurses on the boards of its member organizations.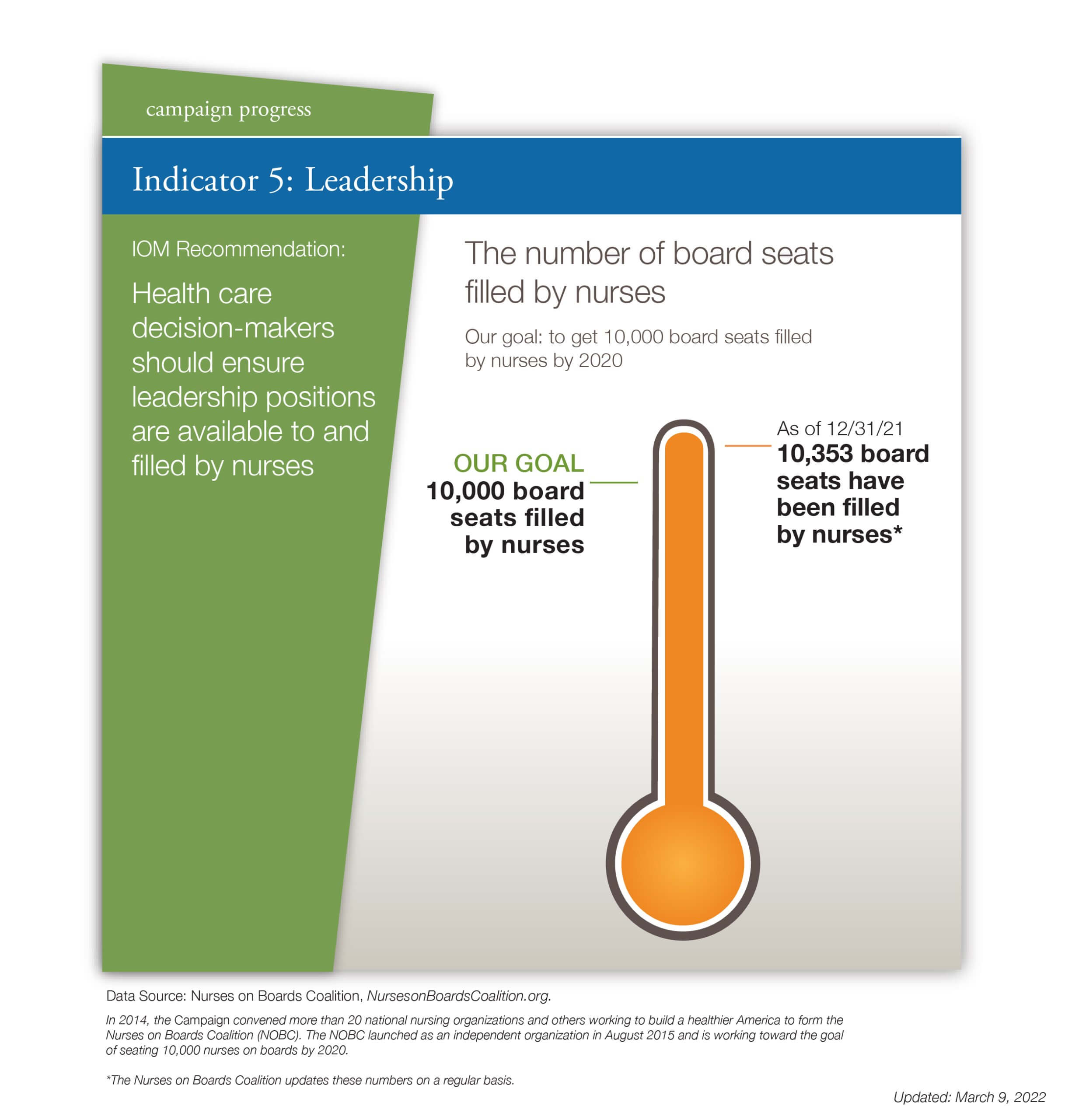 This graph is a part of the Campaign for Action Dashboard, a series of charts and graphs that show goals by which the Campaign evaluates its efforts to implement recommendations in the Institute of Medicine's The Future of Nursing, Leading Change, Advancing Health.
Resources:
Oct 10, 2023

The purpose of this resource is to guide faculty on culturally responsive approaches for engaging and mentoring of American Indian /Alaskan Native students, as well as to offer teaching and learning strategies for faculty to use with students. (Updated October 4, 2023). The more

Issues: Building Healthier Communities, Improving Access to Care, Improving Health Equity, Increasing Diversity in Nursing, Promoting Nursing Leadership, Transforming Nursing Education, Tools & Tips: Mentoring,

Mar 03, 2022

The mission of the Nurses on Boards Coalition is to improve the health of communities through the service of nurses on boards and other bodies. All boards benefit from the unique perspective of nurses to achieve the goals of improved health and efficient and effective health more

Issues: Promoting Nursing Leadership, Tools & Tips: Action Coalition Resources,