NOBC Action Coalition Representation
The mission of the Nurses on Boards Coalition is to improve the health of communities through the service of nurses on boards and other bodies. All boards benefit from the unique perspective of nurses to achieve the goals of improved health and efficient and effective health care systems at the local, state and national levels.
Please visit NOBC's website to be counted and to access many resources designed to help nurses build board and leadership skills: www.nursesonboardscoalition.org/.
Rita Wray represents the Action Coalitions on the Nurses on Boards Coalition Board and is co-lead for the Mississippi Action Coalition. AnnMarie Walton serves as an alternate representative for the Action Coalitions on the Nurses on Boards Coalition Board and is Co-Chair of Governance and Leadership Succession for the North Carolina Action Coalition.
You can expect to receive board opportunities and leadership development opportunities and links to the NOBC quarterly newsletters from them via the Action Coalition listserv. Please also feel free to communicate with them directly.
Rita Wray: rwray1035@aol.com
AnnMarie Walton: annmarie.annmarie.walton@duke.edu
NOBC Strategy Map 2022-2025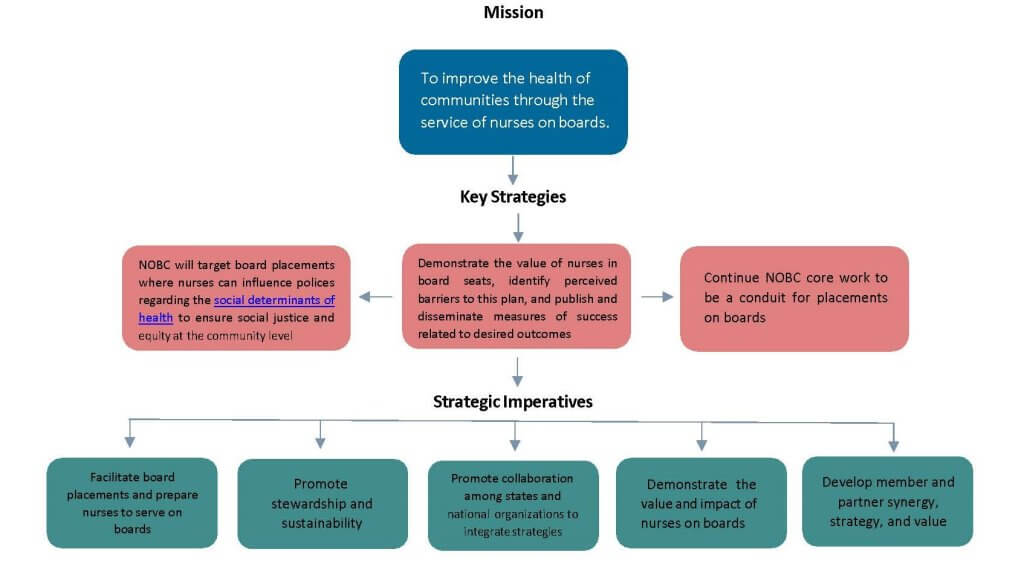 VALUE STATEMENT
Provides a bi-directional communication process between the Action Coalitions and NOBC to actualize Action Coalitions' goals in leadership development as it relates to board readiness, preparedness and placement.
Download