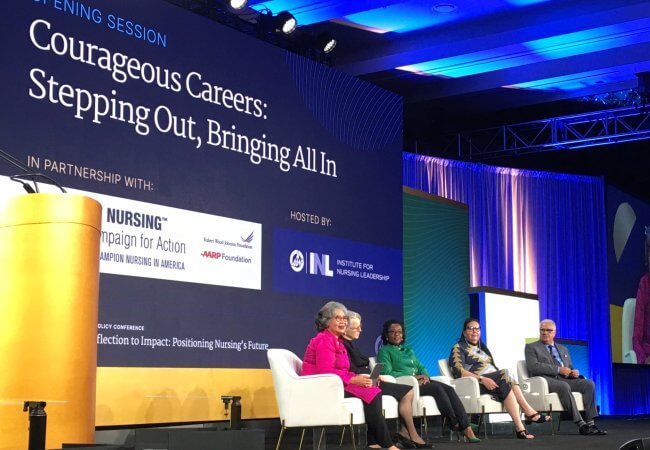 Courageous Careers: Nurse Leaders Talk About "Failing Forward"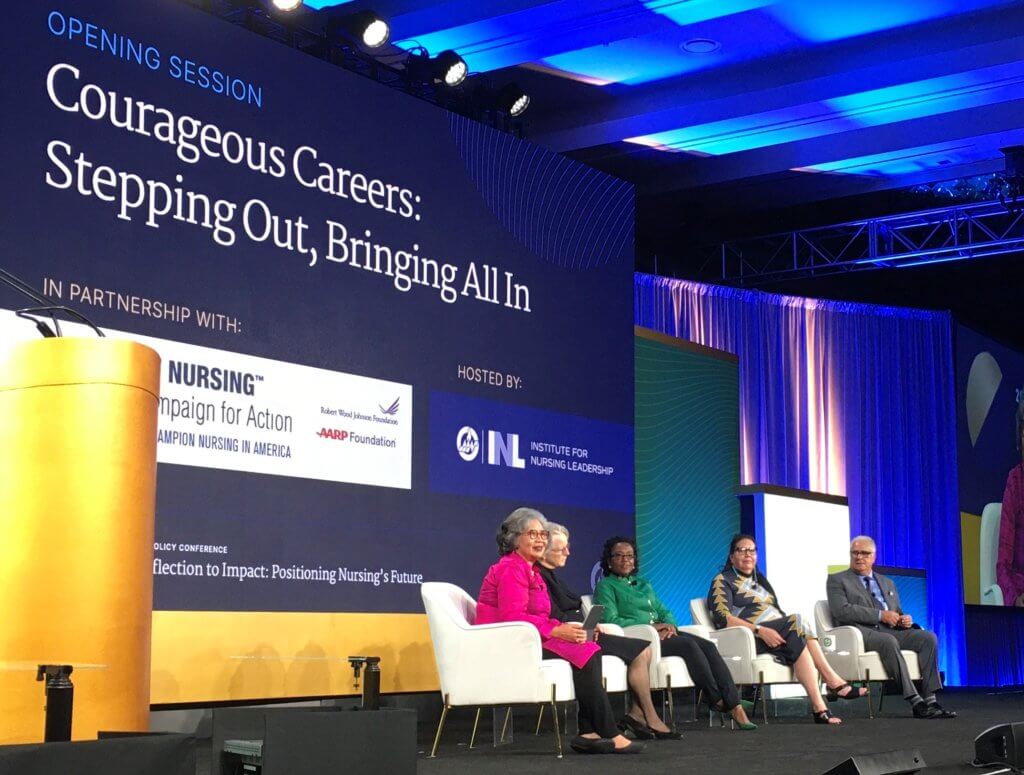 Attendees at the American Academy of Nursing's annual policy conference expect insightful commentary. This year, presenters delivered drama and emotion as well. The Academy kicked off the October meeting with four presentations in the popular Ted Talk format, and judging from the chatter in the hallways, the audience of roughly 1,200 people from 16 countries was both moved and impressed.
In keeping with the conference theme, From Reflection to Impact: Positioning Nursing's Future, four nurse leaders shared their experiences of "failing forward" as they built their courageous careers. Here are some highlights from their presentations, plus video of each of their full presentations.
"I just want to illuminate the problem."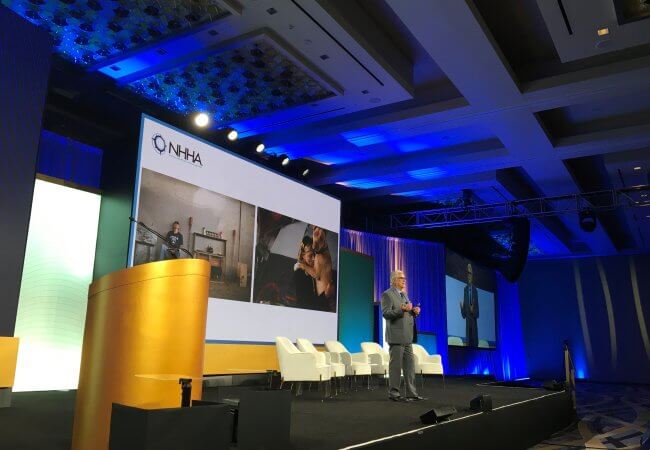 Paul Leon, BSN, PHN, wanted to become a hospital executive, but his hours as a critical care nurse were not compatible with earning an MBA. He decided to become a public health nurse in Orange County, California. The job gave him regular hours and regular contact with people living on the streets.
One chilly March night, Leon was called to a public park to assist a mother with two sick children. With no resources to give them, he promised to return the next day, but when he got home that evening, Leon broke down. As someone who had moved at least eight times a year while in junior high school, he understood too well what his clients were going through.
As Leon's wife tried to comfort him, she asked what he wanted to do. "I just want to illuminate the problem," he replied, and the idea to start a nonprofit was born that night. Leon founded the Illumination Foundation in 2008 and set about disrupting the cycle of homelessness in Orange County and surrounding areas. The organization provides shelter, medical services, case management, and assistance in locating permanent housing, and it has become a leading provider of recuperative care to homeless individuals following a hospital stay.
The foundation's impact on individual lives has been palpable. Leon described one client who had been isolated from family and friends for so long when he entered the recuperative care program that it took him weeks to engage with staff. When the breakthrough came, it was profound. "'You guys put clean bandages on my wound,' the man said. 'You let me sleep in a warm nice bed, and you touched me. You made me feel human,'" Leon told attendees.
Today Leon is one of two Campaign for Action senior health equity fellows, and he has achieved his dream of becoming an executive. His current title is CEO of National Healthcare & Housing Advisors (NHHA), which is striving to integrate the delivery of health care and homeless care services across the nation.
Between 40,000 and 100,000 men, women, and children die on the streets in the United States each year, Leon told attendees. His courageous career has spared many that fate.
"My name is Felesia Bowen, and I want to be a dean."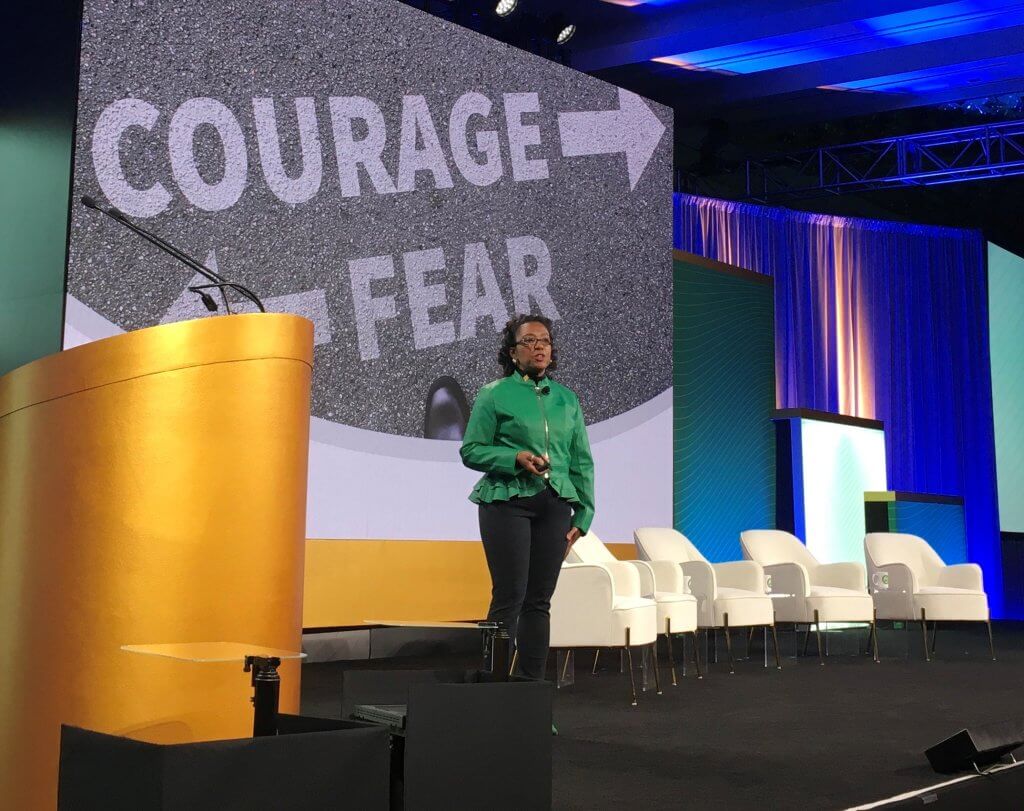 Felesia Bowen's, PhD, ARNP, FAAN, talk began with a story from her student days. She recalled watching a hospitalized nine-year-old brushing her teeth and coming to the realization that the girl lived in a house without running water. She knew she had to speak up or the girl would be discharged to an environment where she would almost certainly develop an infection. "Because of my lived experience, I knew that she didn't have plumbing in her house," she said. "That's what a diverse nursing workforce does."
Fast forward, Bowen became a nurse and eventually accepted a tenure-track position on the faculty of a well-known institution. She was one of three Black full-time faculty members. She obtained funding for research on health disparities, published her findings, and was invited to be a fellow in the Robert Wood Johnson Nurse Faculty Scholars Program. Then one day, a colleague called to say she wouldn't be recommended for tenure. Bowen was crushed. "In that moment, I felt worthless," she said, and she felt confused, because she had done the work expected of academics.
When the phone rang a few weeks later, Bowen received a job offer from a university 11 hours away from her home. With two children still in school, she weighed the offer carefully, consulted her husband and her mentors, and ultimately decided to take a chance on the opportunity. Within a year, she was nominated and inducted into the Academy, and several years later, she was recruited into her current position.
"So, what's the moral of my story?" she asked attendees. "Don't let others define you, your work, or your worth…. Don't be afraid to take advantage of the opportunities that come your way… Go for it."
She closed with a message to nursing school deans who say they want a diverse nursing workforce. "You need to recruit diverse faculty, and when you get them, foster them, set them up for success," she urged. "Make people feel like they belong so that they'll stay. Do the same thing for your students."
"I failed to ask for help from others around me."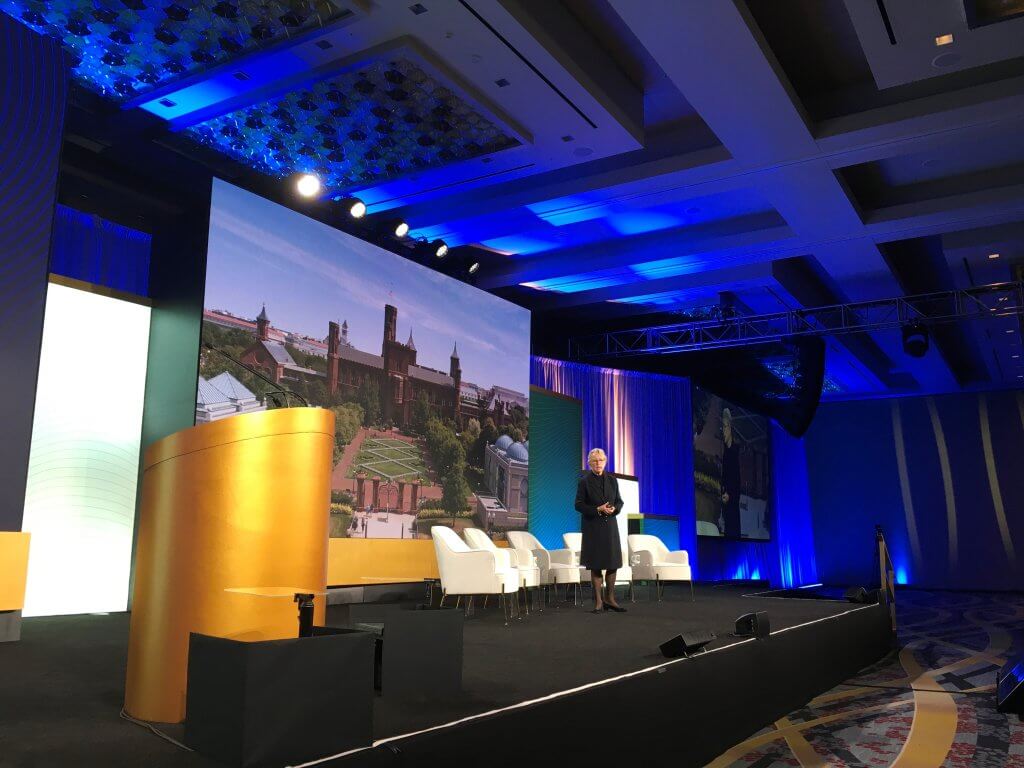 By any measure, Sheila Burke, MPA, BSN, FAAN, has had a stellar career—as health policy specialist and later chief of staff to former Senate Majority Leader Bob Dole, as a member of the Medicare Payment Advisory Commission, and as executive dean of the Harvard Kennedy School, to name just a few of the positions she has held.
Early on, she chose to pursue a career in policy, leaving hospital nursing for an opportunity to work with the National Student Nurses Association. From there, she headed to the U.S. Senate, where she was often the only woman in the room. She found mentors who helped her survive in that "boys club" and learned the hard way about the value of compromise when her views on welfare reform led to efforts to demonize her in the press.
Burke began her Academy talk by detailing a particularly painful experience from her time as chief operating officer of the Smithsonian Institution, which faced many challenges during her tenure. The institution had decided to renovate the Reynolds Building, which houses the National Portrait Gallery and the American Art Museum. Millions of dollars had been spent and construction had begun when Burke was called before the D.C. Arts Commission to explain the project.
"I did so, and I failed," Burke told attendees. Many months later, after visiting each member of the commission with the project architect at her side, the commission approved the project. Meanwhile, the price of steel had risen by $10 million. For Burke, the recognition that she was not always the right person to deliver a particular message "was a painful and a very expensive lesson."
Other lessons learned? Looking back on her entire career, she stressed the importance of finding a mentor (and becoming one, too), asking for help, and learning to listen—all skills that are familiar to nurses.
"It's amazing what nursing has prepared us to do," she concluded. "[The ability to work in] teams is one of them, the ability to set priorities, the ability to listen, …the ability and willingness to take risks, to stand up. Every nurse is prepared to stand tall."
"My whole life, I'm different."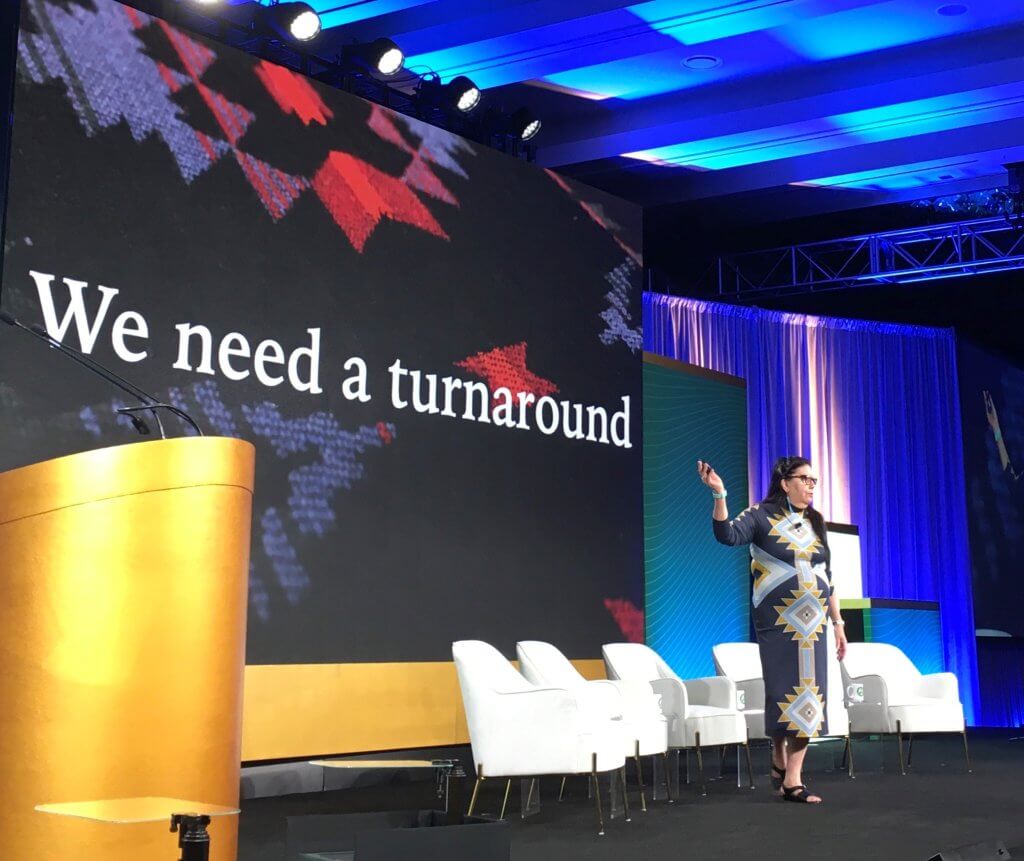 "I'm a product of assimilation laws," Margaret Moss, PhD, RN, FAAN, told attendees, and as an American Indian in the Washington, D.C., suburbs, she stood out even before grew to be six-feet tall. At an early age, Moss and two other children from the Mandan, Hidatsa, and Arikara (MHA) Nation were adopted by a German American neurosurgeon and his Scottish/English wife and sent from North Dakota to live in Bethesda, an affluent Maryland suburb.
When Moss shared the circumstances of her upbringing with people in later life, they'd often say, "Your father was a surgeon, and you grew up in Bethesda. What could be wrong?"
"Well, a lot was wrong," Moss would inform them.
A self-described "woman of a certain age," Moss grew up at a time when American Indians were considered "colored" under Maryland law. She couldn't drink out of certain fountains or go to the local water park and had to sit in the balcony if she went to the movies. At her Catholic school, she was told her people were savages.
Moss survived the experience, but her older siblings did not. "When we were growing up, no one ever asked us, 'Are you okay?' My siblings would have said, 'No, we don't feel safe,' and they weren't," Moss recalled.
Moss currently lives and teaches in Canada, which has started down the path of acknowledging the wrongs done to its indigenous people. Canada established a Truth and Reconciliation Commission in 2015, which led to requiring mandatory health professions courses in indigenous thought, engagement, understanding, and knowledge. Moss teaches one of those courses and invites elders to share their experiences of boarding schools and Indian hospitals. She concludes the course with an indigenous "talking circle," where every participant is invited to speak. She said half of her students leave the experience in tears.
"They're like, 'We had no idea. How come nobody ever told us?'" Moss explained. "I said, 'Don't worry. It's by design you didn't know, but now that you do know, it's incumbent upon you to bring it forward."
She urged attendees who want to create a sense of belonging for students, faculty, and other co-workers at their institutions to look for ways to better understand and acknowledge indigenous peoples' experiences.
The Courageous Careers event was hosted by the Academy's Institute for Nursing Leadership in partnership with the Robert Wood Johnson Foundation's Future of Nursing Scholarship program and AARP.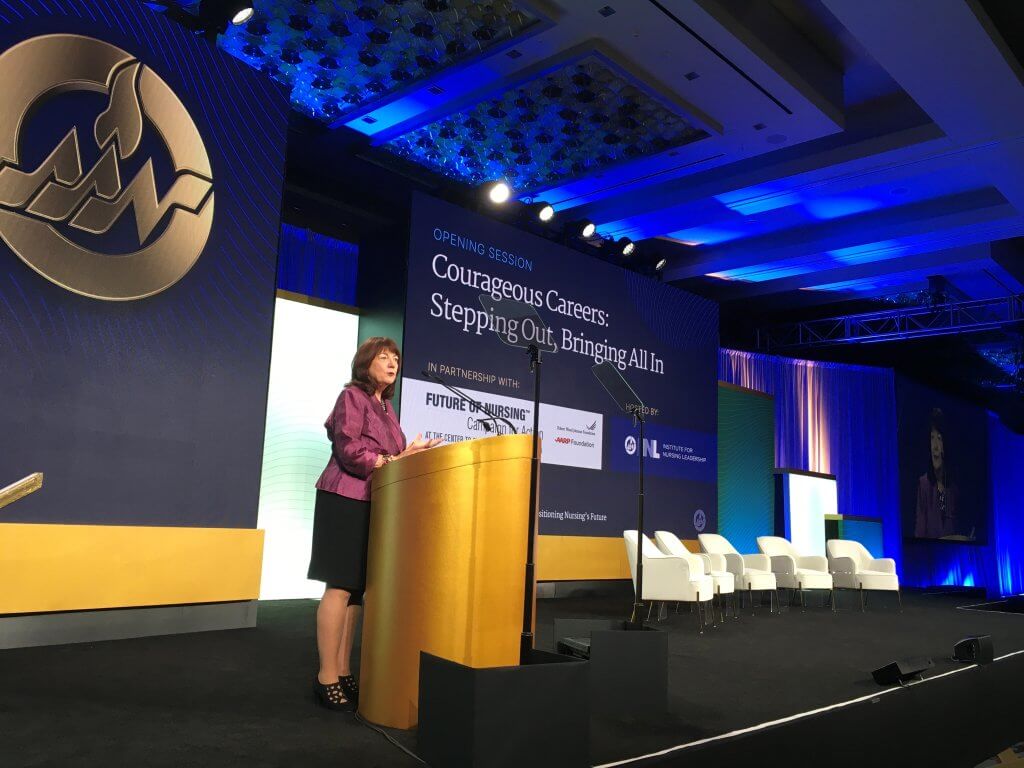 Susan Reinhard PhD, RN, FAAN, senior vice president and director, AARP Public Policy Institute and chief strategist, Center to Champion Nursing in America and Family Caregiving Initiatives, welcomed attendees. She encouraged them to apply for
Health Equity Innovations Fund grants from the new AARP Center for Health Equity through Nursing and the Future of Nursing: Campaign for Action. Applications are due Nov. 15 before 10 p.m. ET.
The Campaign for Action, which is building a healthier America through nursing, was also a conference cosponsor. The Campaign is an initiative of AARP Foundation, AARP, and the Robert Wood Johnson Foundation.
View all video clips from the event.