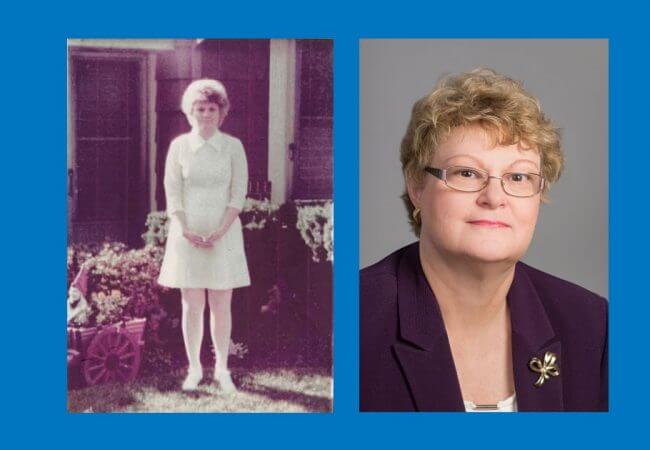 Nursing Journeys: She Started as a Candy Striper

"Nursing Journeys" is a profile series featuring Action Coalition leaders discussing their career paths and reflecting on the lessons they've learned along the way.
Edna Cadmus, PhD, RN, NEA-BC, FAAN, is clinical professor and specialty director of the graduate nursing leadership tracks at the Rutgers University School of Nursing. She's also executive director of the New Jersey Collaborating Center for Nursing and co-lead of the New Jersey Action Coalition.

Cadmus began her nursing career as a candy striper, nurse's aide, and licensed practical nurse in New Jersey before she became a registered nurse. She has held numerous leadership positions in hospitals and is particularly passionate about intensive care unit nursing.

Why did you decide to become a nurse?
The summer I was 14, I became a candy striper at a local hospital where I had the opportunity to observe and help out on a medical surgical unit and in the newborn nursery. That started my love for nursing. When I was old enough to get a job I worked at that same hospital as a nurse's aide.
Describe the journey you went on to get from that decision to where you are today.
I worked my way up! When I was in my baccalaureate nursing program, I worked as a nurse's aide and licensed practical nurse. As a newly minted RN, I moved to New York City and began at Columbia Presbyterian Medical Center on a surgical unit and on an ICU as a staff nurse. There, a director of nursing saw my potential and recommended me for a leadership position. This is where my leadership journey began! My first leadership position was as an assistant nurse manager, and I progressed to nurse manager and clinical leader of the surgical services division.
My love for intensive care nursing brought me back to Englewood Hospital and Medical Center in New Jersey as director of the ICU for several years. Then I became the senior vice president for patient care services for nearly 17 years. From there I wanted to share what I had learned as a leader with students in a more formal way, so I began teaching at Rutgers, where I got the opportunity to create a leadership track for nursing students. In addition to teaching, I also serve as the executive director for the New Jersey Collaborating Center for Nursing, where I focus on workforce issues.
What impact did the Institute of Medicine's Future of Nursing report have on you?
The report helped validate where nursing needed to head and the challenges we would face along the way. It also provided evidence to support the changes needed in our profession.
How have you been involved with the Campaign for Action?
I have been a co-lead of the New Jersey Action Coalition since its inception in 2010, and have had the opportunity to work with a diverse group of nurses and organizations in that position.
Of all you have accomplished, what are you most proud of?
Three times I led nurses at Englewood to help achieve Magnet status (a designation awarded by the American Nurses Credentialing Center for superior nursing processes and quality patient care). Building the infrastructure and environment where nurses can flourish is very important to me.
What is the most important action that nurses can take to lead the way to improve health and health care in America?
Nurses can get involved in their communities and take leadership roles on committees and boards that influence health care. Nurses need to make themselves visible and heard.
What advice do you have for the next generation?
When I started my career, most nurses worked in hospitals. But nurses these days have so many more opportunities to explore. The community is where the future of health care lies and where younger nurses are especially needed. Don't be afraid to take risks and step out of your comfort zone. Recognize that there will be challenges wherever you choose, but choose to make a difference. Most important, engage with your professional organizations—they can help provide structure for your growth and help you keep learning, both formally and informally!