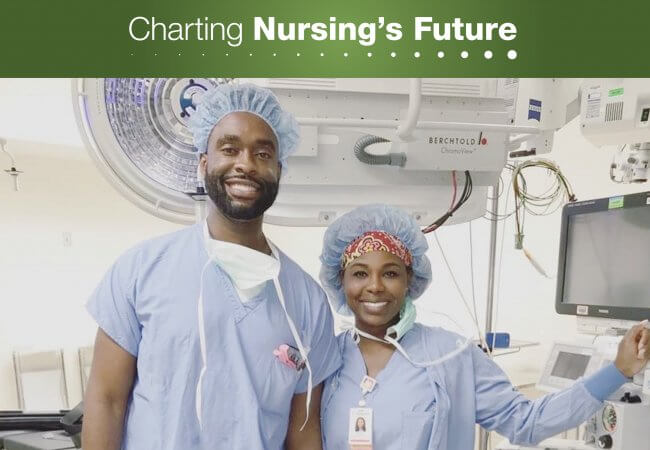 Increasing Diversity—One CRNA at a Time
When Wallena "Lena" Gould, EdD, CRNA, FAAN, began studying to become a certified registered nurse anesthetist (CRNA), it did not take long for her to notice that very few of the students around her were people of color. There were no professors of color either.
"It's always been a problem. If you are the only person of color, it is isolating," she says. When Gould received an assignment to create an academic poster on a topic related to nurse anesthesia, she chose to focus on the lack of people of color in the field. She soon discovered that her experience in the CRNA program at La Salle University was far from unique, even in classes she shared with students from three other Philadelphia-area schools.
At the time, in 2002, there were roughly 36,000 CRNAs in the United States. Of those, only two percent were black and one percent were Latino, mirroring the composition of Gould's classes. "I felt like there was something to be done," she says.
Starting Small
After finishing the poster, Gould created a student support network to help other students of color entering La Salle's Master of Science in Nursing program. She talked about the academic demands of becoming a CRNA and how to balance finances and family, and she encouraged participants to exchange phone numbers to build a community. "This is my passion," says Gould.
Interest in the program spread by word of mouth, and Gould eventually moved the meetings from her home in southern New Jersey to a conference room at nearby Villanova University. Along the way, she graduated and began working as a nurse anesthetist at Inspira Health Network. This opened up a new opportunity: conducting anesthesia airway simulation workshops for CRNA students at Inspira on Sundays when the operating room was closed.
By 2008, Gould was ready to formalize her effort to build diversity among CRNAs. She established the Diversity in Nurse Anesthesia Mentorship Program as a 501(c)(3) nonprofit organization. Since that time, Diversity has run 40 programs at different locations around the country, giving students the chance to talk with CRNA program directors and see anesthesia equipment up close. Her organization also offers mock interviews for those applying to CRNA programs, as well as essay and application review. The CRNA Diversity Tour, which launched three years ago, visits Hispanic-serving and historically black universities to educate nursing students about nurse anesthesia. Gould believes that without programs such as hers, many nursing students would remain completely unaware of this advanced practice career, ranked fifth in U.S. News and World Report's 2019 list of 100 Best Jobs.
Gaining Strength but More to Do
Since its inception, Diversity has helped more than 470 nurses from underrepresented minorities successfully matriculate into 64 graduate nursing programs—more than half of the country's 120 CRNA programs. Paul Santoro, MS, CRNA, past president of the American Association of Nurse Anesthetists (AANA) and a Diversity board member, has high praise for the program. "They have done a great job of reaching into diverse communities and offering a rigorous mentoring program that helps to develop highly educated and capable nurse anesthetists."
Kim Kimble, DNP, CRNA, shares Santoro's enthusiasm. She met Gould in 2010 while earning her master's degree from Case Western Reserve University's Nurse Anesthesia program. She is now an assistant professor in the nurse anesthesia program at Augusta University and a Diversity board member as well. Kimble points out that the legacy of slavery and history of medical abuse have made the black community distrustful of health care providers. She believes CRNAs who share their patients' backgrounds can help to rebuild trust. "If you take the time to sit down with the patient and explain things in a way that will help them understand," she says, the experience is better for both patient and provider.
While Gould's program has had tangible results, increasing the diversity of the CRNA workforce on the national level remains elusive. According to AANA, only one percent of today's 53,000 CRNAs are black and two percent are Latino.
Gould is eager to do more. She has set her sights on partnering with a nursing anesthesia program in a major urban area so she can apply for million-dollar grants to help her program expand. "If I had the proper funding, we could affect major cities in all 50 states and Puerto Rico," She says. "That's when you'd see the needle really move."
To learn more:
Gould will speak about diversity in the nursing profession and the value of mentorship in a Campaign for Action webinar on March 12. Register.
Four Diversity events are scheduled in 2019: at Augusta University in Augusta, Georgia (April 26-28); Samuel Merritt University in Oakland, California (June 21-23); University of Miami School of Nursing in Miami, Florida (July 19-21); and Texas Christian University in Fort Worth, Texas (October 11-13).
To learn about the benefits of diversifying the nursing workforce, see The Changing Face of Nursing: Creating a Workforce for an Increasingly Diverse Nation.
Photos courtesy of the Diversity in Nurse Anesthesia Mentorship Program.