West Virginia APRN Bill Signed Into Law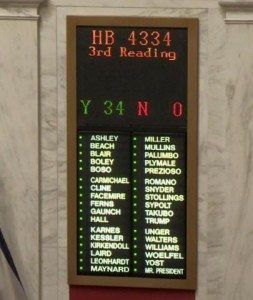 The Future of Nursing West Virginia is delighted to announce that after a nine year effort, HB 4334 passed both the WV House of Delegates (unanimously), WV Senate (one nay vote) and was signed into law by Governor Tomblin on March 27, 2016. This law removes the restrictive requirement for a collaborative agreement with a physician after three years of APRN practice, expands the prescription formulary for APRNs and permits APRNs to sign documents previously signed only by physicians. It also retires old statutes restricting the individual practices of nurse midwives and certified nurse anesthetists to bring them under the one designation of Advanced Practice Registered Nurse (APRN).
The tireless, consolidated effort was lead by the WV Nurses Association (WVNA) and AARP and supported by the Future of Nursing WV (FONWV), WV Board of Nurse Examiners, Health Kids and Families Coalition, West Virginians for Affordable Healthcare, Citizens Action Group, Heritage Foundation, Federal Trade Commission, and other organizations, as well as Delegates and Senators, who championed the bill on its journey. The sole opposition came from medical organizations and the WV Board of Medicine.
The FONWV Coalition Practice Team developed information fact sheets and trained nurse policy advocates in each WV senatorial district on the key issues. They also made a public presentation at the Healthy Kids and Families Policy Forum, participated in Nurse Unity Day, where over 600 white lab coated nurses marched to the Capitol, presented the issues and stories to AARP volunteers and participated in strategy sessions with the AARP and the WVNA lobbyists throughout the legislative session.
The biggest beneficiaries of this legislation are the 170,000 new Medicaid recipients who acquired healthcare for the first time through Medicaid expansion and had no access to adequate primary care resources until now. Prior to passing this legislation, WV APRN practices were closing due to unavailability of physicians to sign collaborative agreements. Now nurses will be free to open practices again in this state where 50 of the 55 counties are considered undeserved healthcare areas.
It is a great day for WV and a great step toward better health for our citizens and nursing.