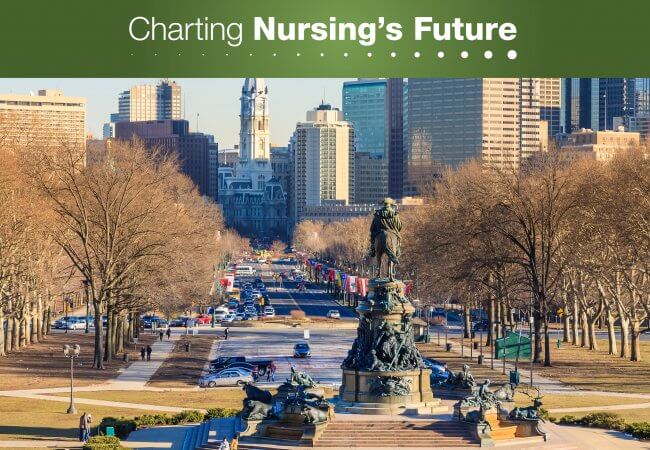 With Payers Behind Them, Nurses Can Improve Population Health
Nurses know how to intervene to improve the lives of vulnerable people. Programs such as the Nurse-Family Partnership give babies a healthy start in life, while nurse-designed programs such as CAPABLE help older adults age safely in their homes. School nurses and school-based health centers safeguard children and help them thrive. And nurse-managed community health centers serve people with limited financial means throughout their lives.
But replicating these models of care to serve everyone who could benefit from them is another matter. "We know that these resources are not universally or equitably distributed, available, and at a scale to meet the needs of all of our populations with complex health and social needs," said Margaret Flinter, APRN, PhD, FAAN, at a July 24 town hall meeting of the Committee on the Future of Nursing 2020-2030. That said, she also expressed optimism that things will change. "What was once innovative now has an evidence base, and what is evidence-based, payers must follow."
Flinter, senior vice president and clinical director at the Connecticut-based Community Health Center, Inc., was one of several speakers who gathered at the University of Pennsylvania School of Nursing last week for the second of three regional town hall-style meetings that will inform a National Academy of Medicine (NAM) report on nursing's future. Penn Nursing Dean Antonia Villarruel, PhD, RN, FAAN, who co-chairs the Future of Nursing: Campaign for Action Strategic Advisory Committee welcomed attendees. She agreed that nurses have developed many evidence-based programs that promote health equity, but scaling them has been challenging. "We have to foster system-level infrastructure that leverages the contributions of nurses," she said, and that will take policy solutions.
Nurses with expertise in maternal and child health, school health, rural health, and aging started the meeting by describing some of the ways nurses are serving people with complex care needs. They talked about how nurses in the roles of researcher, advocate, board member, educator, innovator, and entrepreneur are fulfilling the century-old promise of Lillian Wald's model of public health nursing by addressing social as well as a clinical concerns as they strive to improve people's health.
Although many of the interventions they described are highly regarded and evidence-based, the customary practice of paying for sick care rather than preventive services has limited their spread. Overcoming that barrier was the subject of three presentations focused on payment models that drive preventive care for populations with complex health and social needs.
Innovation Needed at Every Level
Ellen-Marie Whelan, PhD, NP, FAAN, chief population health officer at the Center for Medicaid and CHIP (Children's Health Insurance Program) Services, kicked off the discussion by updating the committee on what is happening at the federal level. Whelan said that the move to value-based payment—a top priority for Health and Human Services Secretary Alex Azar—is spurring work on addressing the social determinants that make it difficult for people to lead healthy lives. Whelan cited two examples of progress in shifting federal dollars from treating to preventing disease: The Strong Start for Mothers and Newborns initiative, which is decreasing the number of premature births, and the use of Medicaid dollars to pay for expenses related to housing, transportation, and food. "Everyone now understands that we can't improve health without addressing the social determinants of health," Whelan said.
Carole Johnson, commissioner of the New Jersey Department of Human Services, provided a state perspective. Under her leadership, New Jersey is taking a public health approach to modifying the state's Medicaid program to better address residents' social needs. Care navigation, for example, has become a billable service for providers offering office-based treatment for substance-use disorder, and the state is investing Medicaid dollars in employment services and supportive housing that can help sustain recovery following such treatment. New Jersey is also expanding coverage for post-natal care from two to six months, eliminating payments for elective cesarean sections, and designing a perinatal episode-of-care payment bundle to "bring the care team together, drive reform, and build connections to community services."
Both Whelan and Johnson emphasized the need for metrics to determine the effectiveness of novel payment schemes as well as the nursing interventions themselves. Terrie Sterling, MSN, MBA, who joined them on the panel, agreed. As executive vice president for strategic initiatives at Our Lady of the Lake Regional Medical Center, she described steps her hospital had taken to dramatically lower costs while continuing to fulfill its mission of providing charitable care to Louisiana residents. Several of those steps involved nurses coordinating care and working to the top of their licenses. She urged the creation of electronic health records that capture the work nurses do to address the social determinants of health. "Every nurse in every setting is delivering value," she said, "but we won't know that value without metrics [that show] the care was delivered by a nurse."
Living Longer in the Future
AARP National Volunteer President Catherine "Alicia" Georges, EdD, RN, FAAN, who is also professor and chair of the Department of Nursing at Lehman College of the City University of New York, underscored the urgency of education and training in geriatrics for nurses. She noted that by 2030, one in five Americans will be over 65, and that the fastest growing age group is now 85-plus. "We might have a million people age 100 or over by 2030," she said.
Georges sees a major role for nurse educators in expanding the capacity of nurses to help drive better health in the next decade and beyond. She said schools of nursing should develop strong population health curricula so that nurses develop an increased understanding of the social determinants of health and how to connect patients with community resources.
Future Nurses' Voices
The meeting ended with comments from audience members, including several nursing students whose outlooks exemplified the highly engaged and community-focused vision of nursing advocated by the panelists. A Penn Nursing student said he aspired to join a profession filled with "health system problem solvers" who were "compassionate and empowered innovators." A rising senior at Villanova University said that a summer placement with the Nurse-Family Partnership expanded her vision of nursing far beyond the acute care world. Spending time in the home of an immigrant family, educating breastfeeding mothers, and taking part in a community action day had given her a chance to apply "everything [she] learned in nursing school" in ways she had not previously imagined.
An oncology and transplant nurse taking graduate courses in preparation for a move to school nursing also expressed enthusiasm for community-based practice. At the same time, she noted a barrier to such careers within the nursing community itself: a lack of respect for work outside the acute-care setting. "We need to build up our community nurses," she urged, a task which the authors of the forthcoming NAM report appear poised to take on.
A recording of the meeting and an agenda with a full list of speakers are available on the NAM website.
The Future of Nursing 2020-2030 committee will continue to gather information throughout the summer. Make your voice heard!
For more information on the social determinants of health, read our coverage of the first NAM meeting in Chicago.