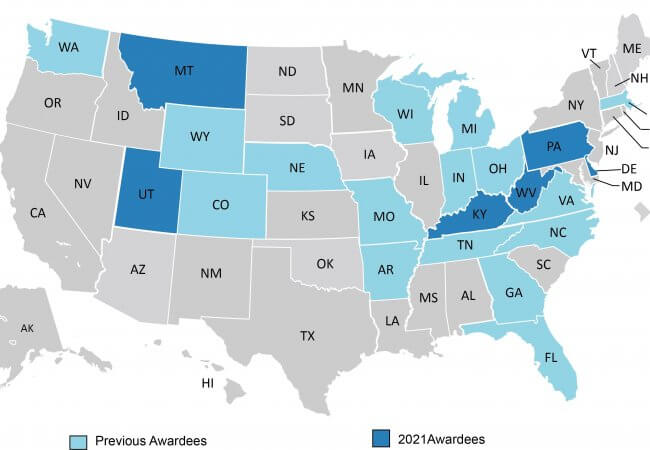 Campaign Names Winners of 2021 Nursing Innovations Fund Award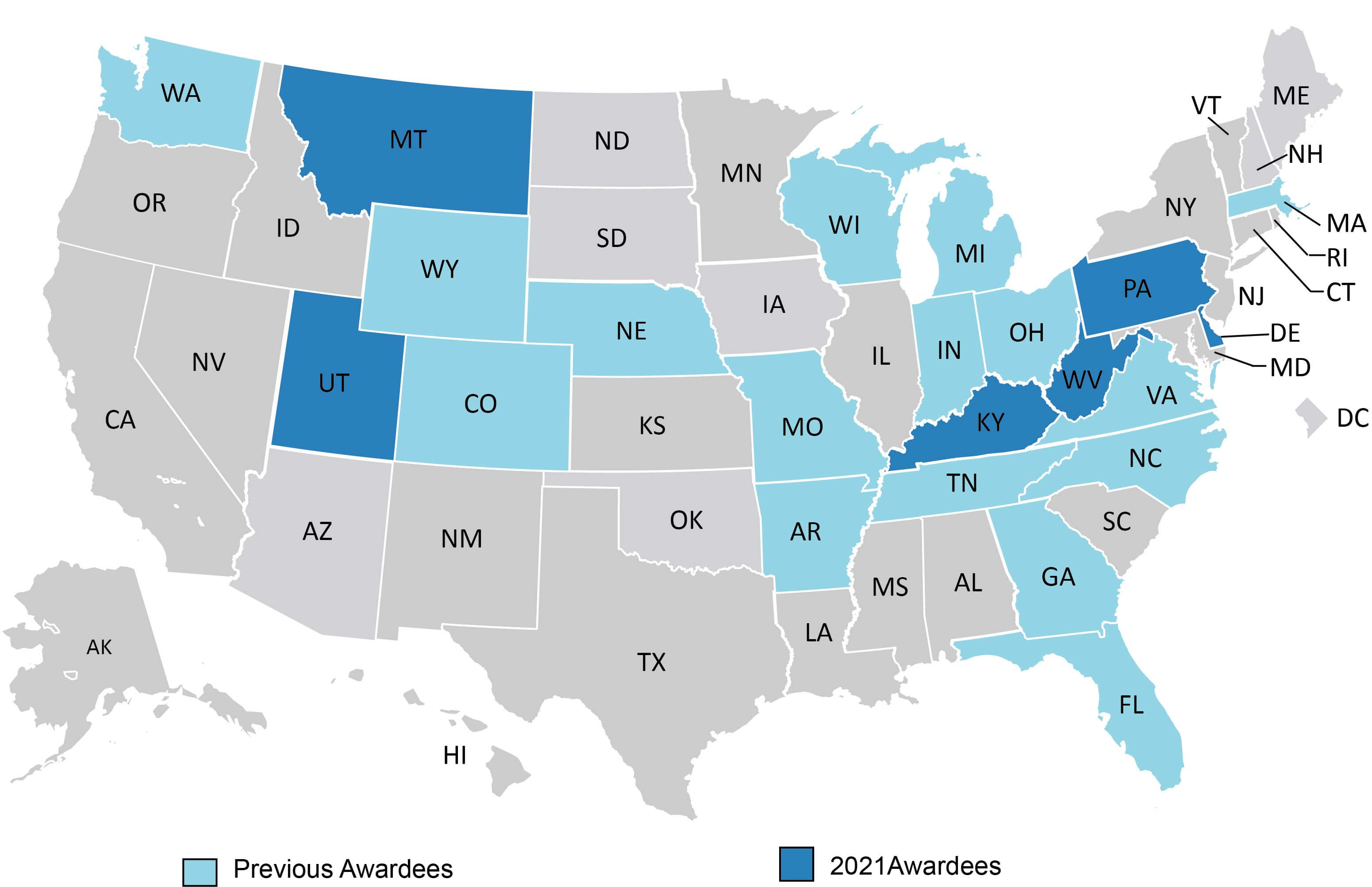 The Future of Nursing: Campaign for Action, an initiative of AARP Foundation, AARP, and the Robert Wood Johnson Foundation (RWJF), has announced that six nurse-led projects will receive Nursing Innovations Fund awards of up to $25,000 each. The projects submitted by the Campaign's state-based coalitions all serve to strengthen nursing's role in building a Culture of Health and promoting health equity by addressing societal barriers to health and well-being, including structural racism. The projects are described below.
The winning projects are from Delaware, Kentucky, Montana, Pennsylvania, Utah and West Virginia, and were selected based on offering replicable strategies that help nurses promote health equity and well-being, while highlighting the importance of collaboration with diverse stakeholders. In fact, each of the 2021 Nursing Innovations Fund projects secured dollar-to-dollar matching funds from local and state partners as a condition of the award, which prioritizes coalition building to achieve sustainable change. As of 2020, the Campaign's state coalitions have raised more than $93 million from community partners.
"This award's focus on health equity has never felt more urgent," said Susan B. Hassmiller, PhD, RN, FAAN, senior adviser for nursing at RWJF and director of the Campaign for Action. "This pandemic has put a spotlight on the inequities in our healthcare system. People of color, with lower incomes and those living in remote communities have gotten sick and died in the greatest numbers. Nurses remain on the front lines as trusted providers of care, and they are stepping up to innovate ways to build more equity into the system."
"It is remarkable to me that despite the unprecedented pressure nurses are under during this pandemic, they are prioritizing the critical work that is needed to create structures to make health care more equitable in every way," said Susan C. Reinhard, PhD, RN, FAAN, senior vice president and director of the AARP Public Policy Institute, and chief strategist at the Center to Champion Nursing in America, an initiative of AARP Foundation, AARP, and RWJF, which coordinates the Campaign for Action. "We received impressive proposals from all over the country, including some places hardest hit by COVID. I feel so much pride in our profession right now."
"In my work, I see first-hand the powerful effects of social determinants on health," said Scharmaine Lawson, DNP, FNP, FAAN, CEO of Housecall Nation®️ and Nola The Nurse®️ and co-chair of the Campaign's Equity, Diversity and Inclusion Steering Committee (EDISC). "I love to see nurses actively engaging with their communities to connect more people to health care."
"When nurses reflect the communities they serve, you see significant improvements in health and health equity," said Eric J. Williams, DNP, RN, FAAN, interim associate dean of health sciences, nursing program director at Santa Monica College, and co-chair of the EDISC. "No one is better positioned than nurses to innovate ways to make their profession more inclusive and diverse."
The Campaign's Nursing Innovations Fund was created in 2018 to support work of its state Action Coalitions and allies that inform and influence policy, produce replicable strategies that place nurses in positions as essential partners in providing care, and strategically involve a diversity of stakeholders. This competition was limited to the Action Coalitions or organizations designated by Action Coalitions and required applicants to raise funds to match the award dollars. To date, Action Coalitions and their allies in 23 states have received Nursing Innovations Fund awards to build healthier communities through nursing.
The winners and an overview of each of their projects are listed below:
Title: Nursing in the 21st Century: Exposing Middle School Students to a Career in Nursing
School nurses from Delaware's Brandywine School District will pilot an afterschool program that aims to increase awareness of nursing career pathways among students from underrepresented communities. Working with key stakeholders, the project staff will construct and administer a program that focuses on informing middle schoolers, especially students from racially and ethnically diverse backgrounds, low-income communities, and boys about potential career opportunities in nursing. The pilot will be administered in three district middle schools during the project year and shared with educators across the state.
Title: School Nurses to BARN Camp for the Mental Health and Wellness of Kentucky Youth
The Kentucky Nurses Action Coalition will partner with the University of Kentucky College of Nursing to implement a mental health and wellness training for school nurses with the goal of decreasing youth suicide in the state, which far exceeds the national average. This project expands on the Bringing Action Right Now, or BARN, initiative aimed at addressing health equity via social isolation awareness and training. Project leaders will recruit 100 school nurses to participate in the program and will work with a variety of community stakeholders, including the Actors Theatre of Louisville.
Title: Coalition Catalyst: Building Health Equity in Montana
The Montana Center to Advance Health Through Nursing (MT CAHN) aims to advance health equity by involving two nurse leaders on the newly formed Montana Health Equity Task Force. This task force was created to influence policy and guide programs that will improve health equity for Montanans, and the nurse leaders will provide a nursing lens and act as a liaison for the state's nursing community supporting local level, health equity-focused strategies. Additionally, the nurse leaders will utilize the Campaign for Action's Health Equity Toolkit to help develop and deliver a health equity track at the MT CAHN Nursing Summit in June 2022.
Title: Pennsylvania Action Coalition Cohort of Exchanged Learning (PA-ACCEL) Mentorship Program
The Pennsylvania Action Coalition (PA-AC) will expand its current mentoring program that aims to equip nurses from underrepresented backgrounds with the tools they need to be successful nursing students and nursing professionals. Key components of the 2021-2022 program include mentorship matching from the PA-AC's Nurse Diversity Council, along with exposure to public health advocacy to inspire health equity and justice. Additionally, the coalition will enhance and promote its PA-ACCEL Toolkit as a model for replication nationwide.
Title: Building Diversity and Health Equity Competence into the Pipeline of Utah's Nursing Workforce
The Utah Action Coalition for Health, working with Holy Cross Ministries, will pursue a two-part project designed to build diversity and health equity competence in Utah's nursing workforce pipeline. The project will increase exposure to nursing careers in predominantly Hispanic communities, and embed Certified Health Workers' knowledge of health equity/disparities into Certified Nursing Assistant training programs. The Campaign for Action's Health Equity Toolkit will be interwoven in the project's implementation phase, and a steering committee composed of key partners will be created for guidance. The project will focus on two school districts initially, with the opportunity for expansion later.
Title: Health Equity Skill Building Multimedia Continuing Education Pilot Project
The Future of Nursing West Virginia (FONWV) will develop a Health Equity Skills Building Multimedia Continuing Education (CE) package for nurses and nursing students. It will focus on the multicultural needs of Appalachian and minority communities in rural and underserved areas of the state and cover systemic racism, implicit bias, equity in care for select populations (starting with LGBTQIA), improving culturally competent care, and building effective cross-cultural communication. The goal is to improve nurse and student nurse skills in building healthier relationships that address disparities, particularly related to stress and trauma.
##
About the Future of Nursing: Campaign for Action
The Future of Nursing: Campaign for Action is a national initiative of AARP Foundation, AARP and RWJF, working to implement the National Academy of Medicine's evidence-based recommendations on the future of nursing. The Campaign includes Action Coalitions in nearly every state and the District of Columbia and a wide range of health care professionals, consumer advocates, policy-makers, and the business, academic, and philanthropic communities. The Center to Champion Nursing in America, an initiative of AARP Foundation, AARP and RWJF, serves as the coordinating entity for the Campaign. Learn more at www.campaignforaction.org. Follow on Twitter at @Campaign4Action and on Facebook at www.facebook.com/CampaignForAction.