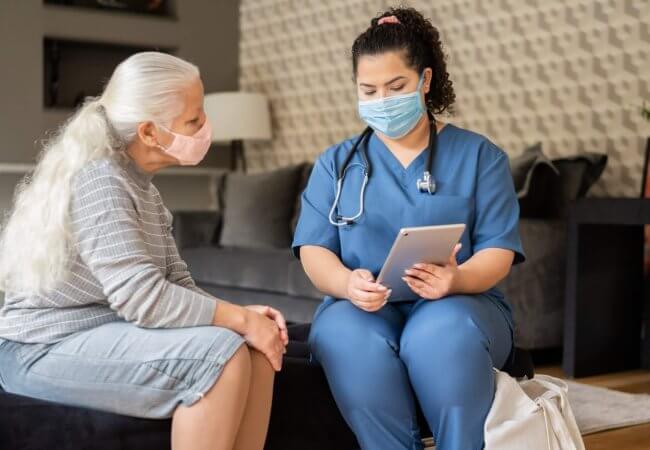 In Wyoming, Pandemic Innovating to Build Community, Manage Health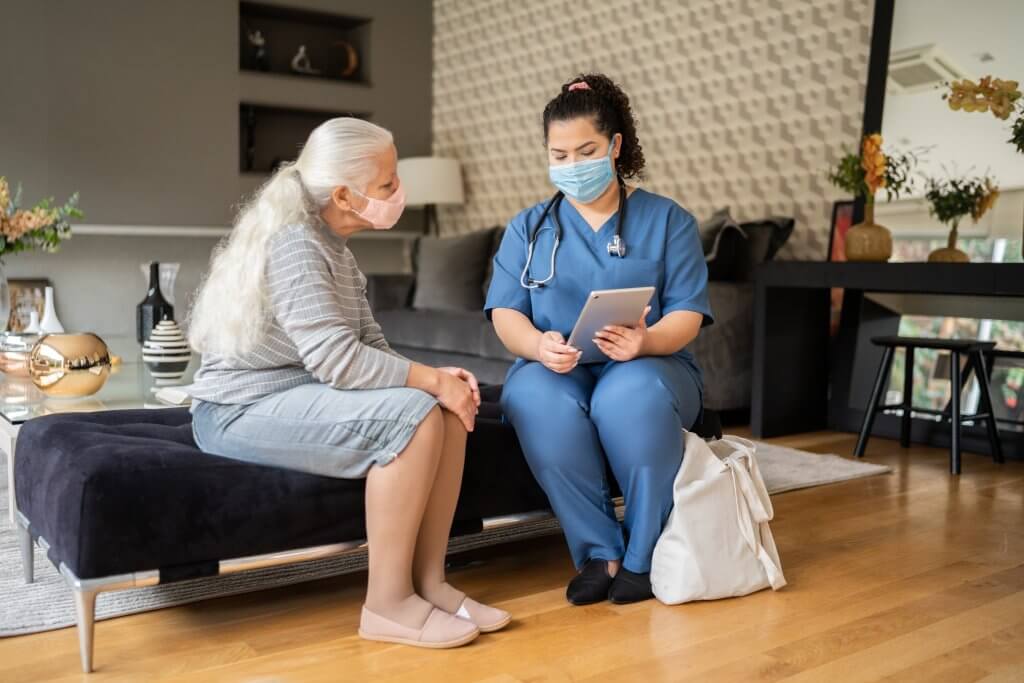 The COVID-19 pandemic has disrupted everyone's lives in different ways. But in Wyoming, one Future of Nursing: Campaign for Action state-based coalition has figured out how to use those disruptions as an opportunity for innovation, community building and managing health.
As the pandemic hit in 2020, nursing homes in the state and across the nation adopted strict visitor policies to limit the spread of the disease. This exacerbated social isolation — already a serious problem for America's seniors. And, it also made it impossible for nursing students to complete clinical rotations at those nursing homes.
Jeanine Niemoller, RN, MS, director of the Wyoming Center for Nursing, came up with a solution.
Using funds from a Campaign for Action Nursing Innovations Fund award, Niemoller found a way to provide clinical experience for nursing students while also helping older Americans use technology. The Wyoming center had been ready to execute a plan for nursing students to teach older Wyomingites technology skills so they could access telehealth services from their residences. When COVID-19 made it impossible to visit people in their homes, the center instead partnered with the state's AARP office to help nursing students provide the same services in a community setting. (The Campaign is an initiative of AARP Foundation, AARP, and the Robert Wood Johnson Foundation.)
What they found surprised them. The 47 program participants initially did not want to use technology for accessing telehealth services. Instead, they wanted help connecting to a broader array of services like buying groceries or connecting with distant family members. The need addressed was community, not just access to health care.
Niemoller explains that this more open-ended version of the program still provided essential education to the 43 students who took part from the University of Wyoming's Fay W. Whitney School of Nursing.
"If you can teach an older person to use a cell phone, you can teach them how to manage diabetes or heart disease," Niemoller said. "You come to see that they don't learn in the same way young children do."
By providing support in using computers and mobile devices, the nurse educator said, students learn about many different aspects of providing care to older adults in a community setting. The nursing students learned to set up a safe, quarantined area at Laramie's Eppson Center for Seniors, where the services were provided. They also learned to assess participants' fine motor skills, hearing, and vision as part of the process. This included practical details the students might not learn from textbooks, such as the fact that some seniors' fingerprints are too weak to use for identification on a smart phone.
The most important skill the students learned, though, was the ability to build trust with community members.
"These are members of the most trusted profession teaching older adults about something they mistrusted: The Internet," Niemoller said.
This one-on-one interaction in a community setting helps fight social isolation, she said.
"I have spent my entire career working with older adults, and one of the things I know is that they need a reason to get up in the morning," Niemoller said. "The pandemic took away a lot of that connectivity for people. They might not eat as well, they might not get out and exercise, they might not see family and friends, and that can make people discouraged and depressed. So even though everyone was wearing masks and couldn't touch each other, they knew that the people around them were going through something similar, and I think that was just as valuable as what they learned."
Even seemingly ordinary services can help people overcome a sense of isolation, Niemoller observed. She cited an example of a program participant who was born in France and used Google Maps to revisit the streets of her native village half a world away.
"She could get on Street View and go up and down the streets of her hometown," she said. "She said, 'I will never get to go home, but today I got to go home.'"
Learning to create relationships that make that kind of difference, she said, will be essential to provide the kind of care in community settings envisioned by the National Academy of Medicine's report The Future of Nursing 2020-2030: Charting a Path to Achieve Health Equity. For this reason, Niemoller is now looking at how the program could be replicated across the state.
The program connecting seniors and nurses also drew on the support of the AARP Wyoming state office, which had previously established a similar program connecting its members ages 50+ and high school students. In addition to providing matching funds, AARP Wyoming asked the state's Internet service providers to consider low-cost Internet options for eligible older adults to access more affordable connectivity.
Thomas Lacock, AARP Wyoming's associate state director for communications and state advocacy, said that connecting seniors with high-speed Internet service has been an increasingly important priority for the organization. But the connection itself is just part of the equation. Older people may also need support to overcome distrust of new technology, he said. That's an area where nurses can make an essential difference.
"Anytime someone says they are a nurse, it sends a message to folks that they have devoted their entire life to serve," Lacock said. "That offers instant trust and credibility."
Get Involved
To learn more about the Wyoming State Action Coalition and this program, please contact Jeanine Neimoller at jeanine.niemoller@outlook.com.
To connect with AARP Wyoming about volunteer opportunities, contact Jennifer Baier, associate state director of community outreach at jbaier@aarp.org.
Interested in other AARP volunteer opportunities? Visit the AARP volunteer portal and be connected with opportunities in your area. An AARP log-in is required and free to non-members.