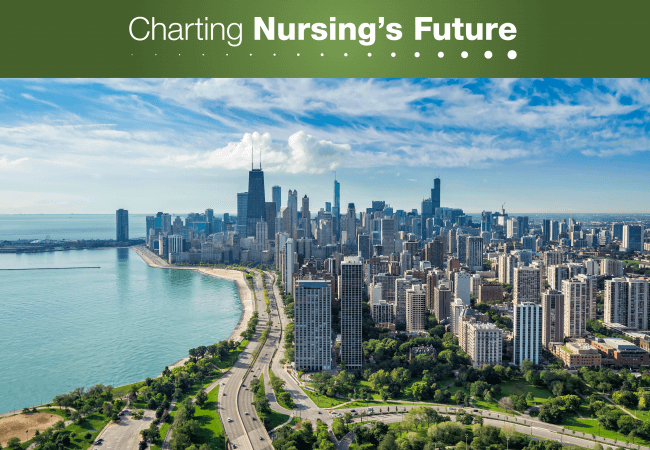 Social Determinants at the Heart of Chicago NAM Town Hall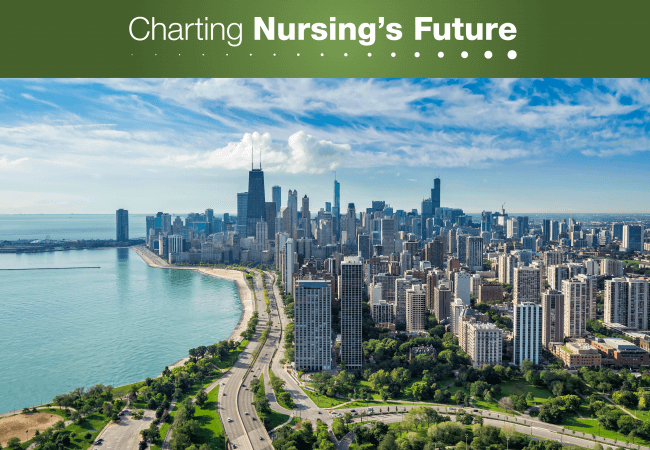 Chicagoans who live within a few short miles of one another can have dramatically different life expectancies, and that is unlikely to change until we pay a lot more attention to the social, economic, and physical environments in which people live, learn, work, and play—a set of conditions that the World Health Organization has dubbed the social determinants of health (SDoH).
A map displaying this harsh reality cuts to the heart of what motivated roughly 2,000 nurses and their allies to join in the June 7 meeting, the first of three regional town hall meetings, sponsored by the National Academy of Medicine (NAM). Designed to inform a forthcoming report on the Future of Nursing 2020-2030, the gathering featured three panels that explored ways of integrating social determinants of health and health equity into nursing education, research, and practice. Here's a brief recap.
Nursing Education
Pamela McCue, PhD, RN, chief executive officer of the Rhode Island Nurses Institute Middle College (RINI-MC), kicked off the program with an introduction to the charter high school she leads in Providence, R.I. RINI-MC provides a unique high school experience that prepares students to enter the health care workforce and pursue nursing degrees. The school has succeeded in attracting a racially and ethnically diverse group of students whose families face many social challenges that impact health. Demand for the program exceeds capacity, with 300 students currently waiting for admission.
Rush University Professor Susan Swider, PhD, PHNA-BC, FAAN, of the Department of Community, Systems and Mental Health Nursing, shared numerous resources for integrating social determinants of health in the nursing curriculum, including promising models for educating nurses to engage in population health practice. The biggest education challenge she sees at present? The lack of an established way to measure student competency in assessing population health.
During the question and answer period, Marshall Chin, MD, MPH, professor of healthcare ethics at the University of Chicago, pointed out that the social determinants of health exist on three levels: individuals' social needs, structural determinants such as housing, and underlying drivers such as racism and social privilege. He asked how much of this content belongs in the foundational nursing curriculum.
"Go big or go home," was Swider's response. She acknowledged that the answer might vary for different types of nursing programs, with the bachelor of science in nursing (BSN) degree being the "bread and butter" of public health. When it comes to social determinants assessment, however, she said, "Everyone with an RN license needs to be able to do that."
Nursing Research
A second panel made the case for developing more nurse scientists to conduct research into social determinants of health and health equity. The number of nurses earning PhDs each year has grown steadily, with many choosing to pursue health disparities research.
National Institute for Nursing Research (NINR) Acting Director and Scientific Director Ann Cashion, PhD, RN, FAAN, said the institute currently devotes 31 percent of its budget to health disparities research, second only to the National Institute on Minority Health and Health Disparities within the National Institutes of Health (NIH). That sounds like a large investment, but total NINR spending accounts for only half a penny of every dollar spent by NIH, Cashion said.
Robyn Golden, MA, LCSW, associate vice president of population health and aging and professor in the Department of Health Systems Management at Rush University Medical Center, and presenter of the Chicago life-expectancy map, called social determinants the "new vital sign." Citing The Practical Playbook publications, which focus on building partnerships that improve population health, she urged health systems to become "socially accountable" and health professionals to take an interdisciplinary approach to conducting research in SDoH.
Nursing Practice
On the practice front, Coletta Barrett, RN, FACHE, vice president of mission for Our Lady of the Lake Regional Medical Center in Baton Rouge, La., championed nurses as advocates and described what can happen when nurses serve in policy positions and on boards. Exemplars include the creation of a microlending program that frees Baton Rouge residents from onerous payday loans and Healthy BR, a city-led cross-sectoral initiative bringing five hospitals together to create the nation's first joint community health needs assessment and community implementation plan.
Whitney Fear, RN, BSN, case manager/community outreach nurse at Family HealthCare, a federally qualified health center in Fargo, N.D., provides trauma-informed complex care management to people experiencing homelessness. Her presentation made clear that addressing individuals' social needs is both rewarding and challenging. Fear emphasized that patients need a reason to trust their providers and urged nurses to be present, listen, and give patients whose behavior they find challenging the "benefit of the doubt." "Keep in mind that people with lived experience are a valuable asset. Empower them," she advised, noting the trust engendered when new patients are greeted at Family HealthCare by someone who has previously walked in their shoes.
Teanya Norwood, MBA, MSN, RN, social determinants of health outcomes manager for ProMedica, a mission-based, not-for-profit integrated health care organization, seconded the importance of listening to patients and encouraged providers to ask different questions. "We ask about and encourage exercise," she said, "but we don't ask about neighborhood safety. We criticize patients who fail to show up for appointments, but we don't ask if they have transportation."
Looking Ahead
Despite these challenges, the people who spoke at the NAM town hall meeting in Chicago were overwhelmingly optimistic about the future of nursing. In Barrett's words, "Imagine the future if you could unlock the passion within every single one of us that went into this profession [so we could] be voices for and with the people we serve. There's no telling what we could accomplish collectively."
The Future of Nursing 2020-2030 committee will continue to gather information throughout the summer.  Make your voice heard!
Take part in a town hall meeting, in person or via webcast.