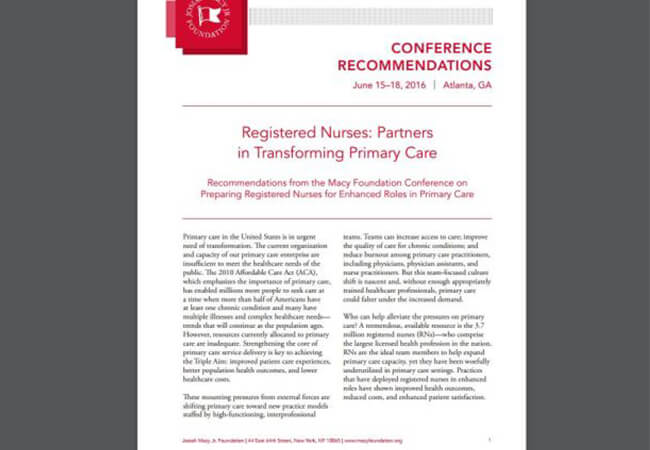 Report Recommends Ways for Nurses to Prepare for Greater Roles in Primary Care
Yasmine R. Legendre, MPA, is program associate of the Josiah Macy Jr. Foundation.
Because registered nurses make up the largest portion of the health care workforce in a nation with growing health needs, this year's Josiah Macy Jr. Foundation conference focused on the topic of Preparing Registered Nurses for Enhanced Roles in Primary Care. From that conference came a set of consensus recommendations designed to prepare registered nurses for even larger roles.
The Affordable Care Act has spurred a shift toward new practice models despite the workforce shortages in primary care. It is the country's more than 3 million registered nurses who can help transform care and improve population health, yet even when state law supports full practice authority, health care organizations sometimes restrict RNs from practicing to the full extent of their licensure. The conference in June brought together more than 40 leaders in nursing, primary care, health care delivery, philanthropy, academia, and more, to generate actionable recommendations around the potential for registered nurses to help meet today's urgent needs in primary care.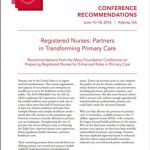 The new report, which we released earlier this month, issues a series of recommendations for leaders of nursing schools, primary care practices, and health systems on how to better prepare RNs for enhanced roles in primary care, calling upon nursing schools to rebalance their curriculums by increasing their focus on teaching primary care, and outlining steps for continuing education.
The report also urges primary care practices to re-examine the roles RNs can and do play–placing greater emphasis on chronic care management, care coordination, transitional care, prevention, and wellness–and accelerate the transformation from practitioner-dominated care models to team-based care models, with RNs leading when appropriate.
Download the full report to learn more about how we can begin to act on these recommendations and why better utilizing the RN workforce is key to improving health and health care.