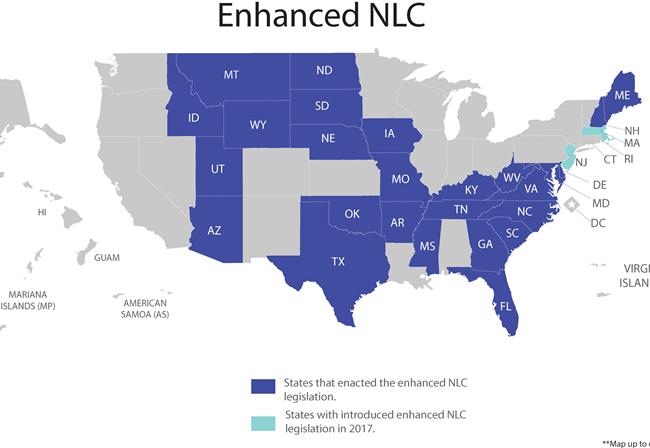 One State Has Made It Real: N.C. Brings Enhanced Nurse Licensure Home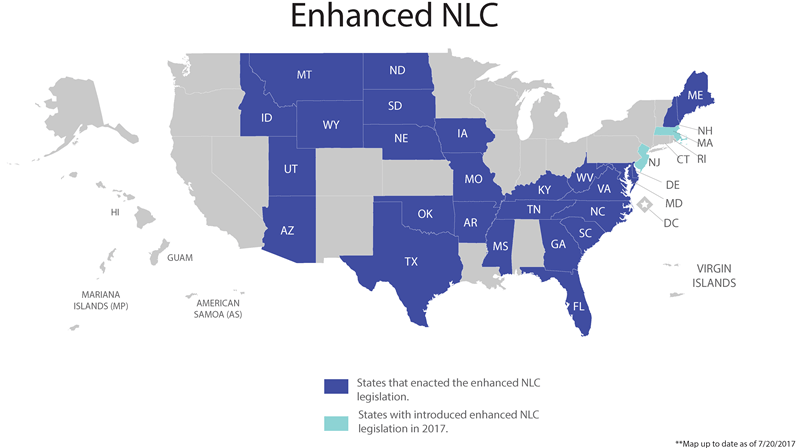 This has been updated with news that North Carolina has signed the compact.
The enhanced Nurse Licensure Compact (eNLC), which allows nurses to provide care across state borders­­—but only within states that are part of the compact—has crossed its own border: The 26th state has signed on.
The eNLC, an agreement among states to let nurses use a multistate license, had been due to come into effect when either the 26th state passes the legislation or on December 31, 2018, whichever came first. Now comes word from the National Council of State Boards of Nursing that North Carolina Gov. Roy Cooper signed on July 20, and the bill became law.
Since last fall, when the Campaign last wrote about the eNLC, 15 more states had voted to adopt the legislation. Legislation is pending in Massachusetts and New Jersey.
The 26 states will now form the eNLC Interstate Commission, which will meet in coming weeks to set implementation dates.
The eNLC and its improved standards for consumers will allow nurses to practice in-person or provide telenursing services to patients in compact states without having to obtain additional licenses. That includes crossing state borders to provide vital services in the event of a disaster.
The eNLC is not the only telehealth licensure compact; an article in mHealthIntelligence.com, "Telehealth Licensure Compact for Nurses is Almost Ready to Go," mentions that the states are also signing on to licensure compacts for psychologists, physical therapists, and physicians.