Nebraska Joins 19 States and D.C. in Modernizing Nurse Practitioner Law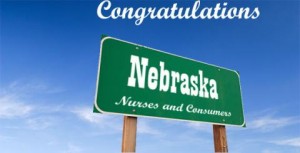 The Future of Nursing: Campaign for Action applauds Nebraska Gov. Pete Ricketts and the state legislature for approving legislation that will allow nurse practitioners to practice to the full extent of their training and education. It's a change that will mean more access to health care for the Cornhusker State.
"With a shortage of primary care providers, tens of thousands of newly insured people seeking health care and an aging population, more states ought to follow Nebraska's lead in allowing advanced practice nurses to practice to the full extent of their education and training," said Winifred Quinn, director of advocacy and consumer affairs for the Center to Champion Nursing in America at AARP. "It's vital for the health of our communities and nation."
The bill, (LB 107), eliminates the integrated practice agreement currently required between a nurse practitioner and a physician for a nurse practitioner to practice. It allows full practice authority for nurse practitioners, including controlled substances, after 2,000 hours of clinical experience as a nurse practitioner during a transition-to-practice period. The transition-to-practice agreement will be a formal agreement between the nurse practitioner and supervising provider, who may be an MD, DO, or NP with 10,000 hours of clinical experience.
Currently, 19 states and the District of Columbia allow nurse practitioners full scope of practice. Another eight states allow nurse practitioners to diagnose and treat patients, but require physician supervision for prescribing medications.
The California Legislature is expected to consider a similar bill this year championed by AARP California, in an effort to increase consumers' access to care.
The push for greater access to care comes about five years after the Institute of Medicine (IOM) issued a report on the future of nursing that said barriers need to be removed for nurses to play a greater role in our health care systems. In addition, the nation faces a shortage of primary care providers, an infusion of newly insured people in the health care system and an aging population.