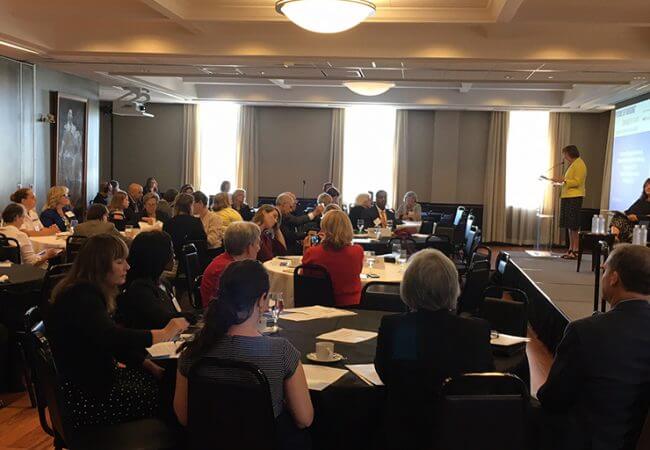 Meeting of the Minds on Capitol Hill as Council and Coalition Discuss Progress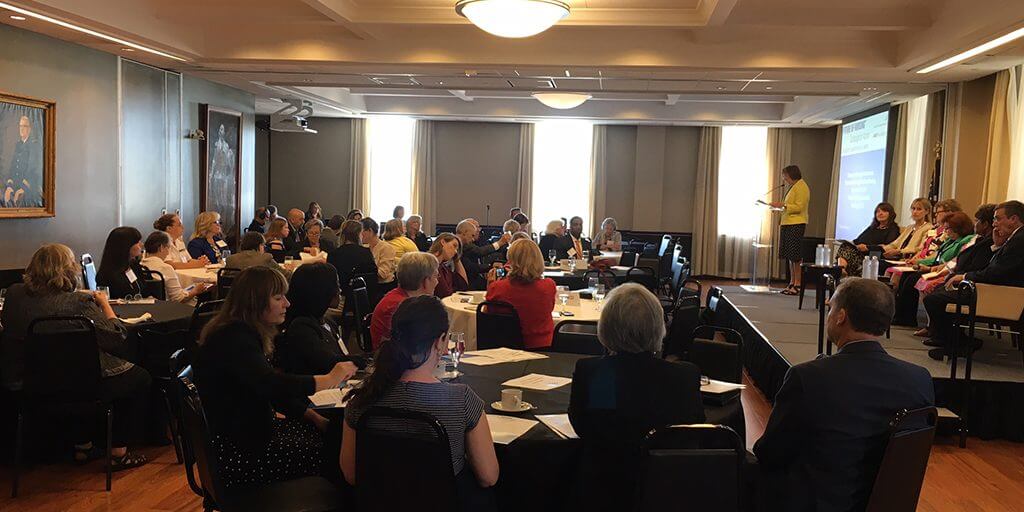 For a slideshow of the event, see below.

For an audio recording of the event, see below: 

"To be successful you must have focused intent. Did you hear me? Focused intent."
That was Barbara Nichols, MS, RN, FAAN, speaking of efforts to expand diversity in the nursing workforce. The sentiments, however, could be said of every topic discussed at the September 20 meeting of two advisory committees that guide the Future of Nursing: Campaign for Action.
The half-day session in Washington, D.C., was devoted to reviewing recent progress on Campaign priorities of education, leadership, diversity, data, and state and federal laws concerning consumers' access to nurse care.
The second panel, which reviewed changes in state and federal laws, stood out in part because it reflected a collegiality among those from various political perspectives that seems unusual these days. Partnering to overturn laws that restrict nurses from fully practicing were representatives from the Heritage Foundation (whose mission statement starts, "to formulate and promote conservative public policies"), Families USA (an organization "founded on a progressive cause"), and the nonpartisan AARP.
Nodding toward the Capitol dome, visible from the windows near where panelists sat, moderator Peter Reinecke noted, "This is maybe the one health care gathering today on the Hill where people are smiling and in agreement."
Amy Anderson, DNP, RN, CNE, consultant for the Heritage Foundation, played a key role in 2016 in working with the Campaign and AARP West Virginia to ease restrictions on nurses and give consumers more access to nurse-led care. Fellow panelist Elaine Ryan, MPA, head of AARP's government affairs office, spoke of why it can be dramatically different to  work on policy at the state level. Locally, elected officials "see their constituents face to face, they see the financial burdens that states are shouldering, they see the inequities of how is it that nurses could invest so much in their own education, but couldn't practice up to the full extent of that education."
As a nurse and a policy consultant for a conservative group, Anderson says she was able to make headway in two ways: She won over legislators in West Virginia by using terminology they "would be receptive to" such as appealing to fiscal responsibility, better health without the need to expand Medicaid, and better access to primary care in rural areas. As a nurse, Anderson also could address what she called "misinformation" legislators had about how nurse practitioners and APRNs are educated.
Panelist Caitlin Morris, MPA, of Families USA, summed up the interest her group had in the fight: "An insurance card doesn't always guarantee access to health care." That is why Families USA sees removing restrictions on nurses as a way to make sure that health care is accessible and affordable for all.
Ryan said this coalition of organizations representing different political perspectives was successful in part because they kept the focus on the need. It worked because it was unlike many battles in politics, in which "so much time is spent pitting each other against each other"; the focus, said Ryan, was, and needs to be, on how changes can help the public.
The Opening Panel: Progress on Recommendations
It was on the first panel, which reviewed progress made on IOM recommendations, that Nichols, had spoken of focused intent when it comes to diversity in nursing. Other panelists were Deborah Trautman, PhD, RN, FAAN, to talk about nursing education; Edna Cadmus, PhD, RN, FAAN, to review how the tenets of a Culture of Health have been incorporated into nursing curriculum; Karren Kowalski, PhD, RN, FAAN, to talk about progress in getting nurses into leadership positions, then Andrea Devoti, MSN, MBA, RN, expanding on that topic; and George Zangaro, PhD, RN, FAAN, addressing headway made on collecting and using data about the nursing workforce.
Nichols is one of three advisers to the Campaign exploring ways to expand diversity within the nursing workforce. "Diversity is a foundational pillar to all of the work done by the Campaign," Nichols said. "Diversity matters. I'll say it again. Diversity matters. … Diversity addresses what I feel are the toxins of stereotypes, closes the gap between rhetoric and action."
Her point about focused intent: Don't just send out applications hoping someone will fill the spot. Follow up. Make it happen.
In speaking of leadership, Kowalski—who is secretary of the Nurses on Boards Coalition—said that getting nurses on boards is a strategy, and the true mission is to improve the health of communities. She said, "We have nurses across the country who are serving not [just] on big important national boards, but in fact, on very important local boards, such as school boards, such as department of health boards."
Panelist George Zangaro, director of the National Center for Health Workforce Analysis at the Health Resources and Services Administration, based his report on goals set out in the May 2016 two-day meeting hosted by the Campaign that created workgroups to push progress on various fronts. Among other achievements he announced was the return of the National Sample Survey of Registered Nurses, to be carried out in with the U.S. Census Bureau and which he hopes will include state-level data.
Hosting the event were Susan C. Reinhard, PhD, RN, FAAN, senior vice president and director at the AARP Public Policy Institute and chief strategist, Center to Champion Nursing in America;  and Susan B. Hassmiller, PhD, RN, FAAN, senior adviser for nursing at the Robert Wood Johnson Foundation and director, Future of Nursing: Campaign for Action.
The Champion Nursing Council and Champion Nursing Coalition are committees that guide the Campaign for Action as it works with Action Coalitions across the country to implement the recommendations set by the Institute of Medicine.
Read the full transcript here:
Transcript: September 2017 Council and Coalition meeting
Panels and Panelists
Panel One: Campaign Progress in Education, Leadership, Diversity, and Data
Facilitated by Susan C. Reinhard, PhD, RN, FAAN
Deborah Trautman, PhD, RN, FAAN, President and Chief Executive Officer, American Association of Colleges of Nursing
Edna Cadmus, PhD, RN, FAAN, Clinical Professor and Specialty Director, Nursing Leadership Program and Executive Director, New Jersey Collaborating Center for Nursing
Karren Kowalski, PhD, RN, FAAN, President and Chief Executive Officer, Colorado Center for Nursing
Andrea Devoti, MSN, MBA, RN, Executive Vice President for Policy, Education, and Meetings, National Association for Home Care and Hospice
Barbara L. Nichols, MS, RN, FAAN, Executive Director, Wisconsin Center for Nursing
George Zangaro, PhD, RN, FAAN, Director, National Center for Health Workforce Analysis, Health Resources and Services Administration
Panel Two: Diverse Perspectives on Removing Barriers to Practice and Care
Facilitated by Peter Reinecke
Amy Anderson, DNP, RN, CNE, The Heritage Foundation
Elaine M. Ryan, MPA, Government Affairs, AARP
Caitlin Morris, MPA, Director of Affordability Initiatives, Families USA