Maryland Increases Consumers' Access to Care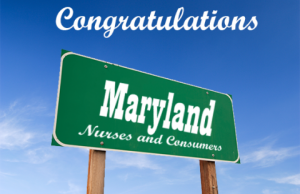 The Future of Nursing:  Campaign for Action congratulates Maryland Gov. Larry Hogan and the state legislatures for approving a bill that will allow nurse practitioners in the state to practice to the full extent of their education and training.  With that, Maryland joins 20 states and the District of Columbia in modernizing scope laws so consumers have better access to quality, affordable health care.
The bill (HB 999/SB 723) removes a confusing mandate that nurse practitioners work with physicians to attain licensure and practice within the state.
Currently, 20 states and the District of Columbia allow nurse practitioners full scope of practice. Another seven states allow nurse practitioners to diagnose and treat patients, but require physician supervision for prescribing medications.
Congratulations to the many individuals, groups, and organizations that supported this important legislation, especially the members of the Maryland Action Coalition. With the passage of this law, Maryland becomes the second state this year to pass legislation to fully modernize nurse practitioner laws and the eighth state to modernize their scope of practice laws for nurse practitioners since the Campaign began.