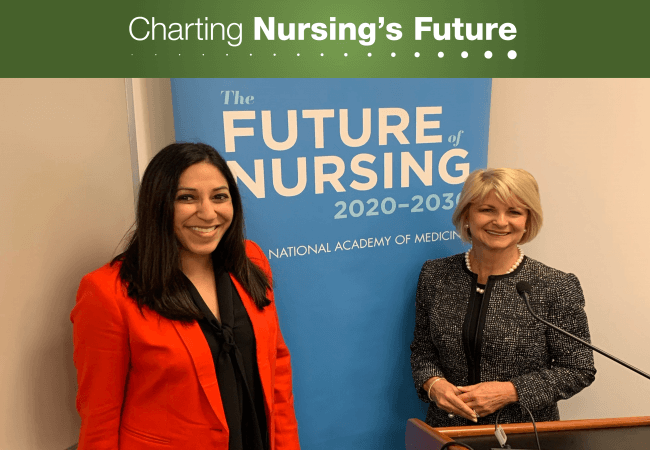 Industry Leaders Offer a Glimpse into the Future of Nursing
How might today's trends in health care delivery shape the future of nursing?
Industry leaders shared some answers Nov. 20 during a panel discussion convened by the National Academy of Medicine (NAM) committee on the Future of Nursing 2020-2030. In a wide-ranging conversation,  panelists began by offering concrete examples of ways providers and payers are redesigning care to make it more responsive to patient needs—many of which fall outside the traditional bounds of health care.
Presenter Priya Bathija, JD, MHSA, vice president of The Value Initiative at the American Hospital Association (AHA), said many health systems are focusing on addressing the social needs of their patients and the broader social determinants of health in their communities. In the AHA's most recent population health survey, for instance, 77 percent of hospitals reported screening some or all of their patients for social needs such as housing, food security, and health behaviors such as exercise and smoking.
"In addition to screening, hospitals are developing programs to address these social determinants of health and social needs," Bathija said. She cited numerous examples of initiatives where nurses are responding to the social needs of patients by connecting them with community resources, training community health workers, and reaching out to patients at home. For example, nurses are integral to a Boston Children's Hospital initiative which educates families about asthma and visits children's homes to identify environmental issues that exacerbate the condition.
Bathija also described several nurse-designed programs that address the social determinants of health, including CAPABLE and Regional One Health, both recently featured in Charting Nursing's Future. All of the programs described significantly reduced hospital readmission rates or produced other financial returns on investment.
"The ROI of the programs that Priya outlined suggest the magnitude of the impact that nurses can have in financial terms as well as, of course, quality of life," said her co-presenter Robyn Begley, DNP, RN, CEO of the American Organization of Nurse Leaders (AONL). As all the panelists pointed out, the industry's increasing focus on social determinants of health is driven largely by value-based payment, an effort to reduce overall health care spending by rewarding providers for health outcomes rather than the number of services they provide. Fortunately, the trend seems to be a win for patients as well as providers, and nurses engaged in these efforts appear to take satisfaction in the work as well.
"How do we spread the models that we're talking about here, so that every person in our country gets to benefit from them?" asked committee member Maureen Bisognano, MS, who moderated the discussion. Robyn Begley believes one solution lies in education.
"Embedding social determinants of health into the nursing curriculum is really key," she said. AONL is working with the American Association of Colleges of Nursing (AACN) to ensure that the competencies outlined in the AACN's forthcoming revised Essentials documents align well with practice competencies in this area.
More Perspectives on the Future
Care-delivery innovators are not the only ones working to address the social determinants of health and promote health equity, a related focus of the discussion. Other panelists shared the views of insurers, employers, and policymakers and brought a futurist's perspective to the discussion. Here are some of their thoughts on what the shift toward value-based care and social determinants may mean for the future of nursing.
Tricia McGinnis, executive vice president and chief program officer for the Center for Health Care Strategies (CHCS)
CHCS assists state agencies in advancing policies that improve the health and well-being of Medicaid beneficiaries. "What does this mean for nursing?" McGinnis asked. "First and foremost is the emerging need and appreciation and more reward for more holistic approaches to patient care. Nurses are very well positioned, both in their training and their work, to have that vision, that perspective, and bring that to bear." She added that leading, training, and supporting the multidisciplinary care teams charged with incorporating the social determinants of health into their workflows will prove challenging for nurse leaders. "Motivating your staff, helping them figure out how to do that in the least disruptive way—that leadership piece is really critical," she said.
Angela Patterson, chief nurse practitioner officer, CVS MinuteClinic, and vice president, CVS Health
Patterson told the committee that half the U.S. population lives within a 10-miles radius of a CVS Minute Clinic, where consumers can conveniently access care from nurse practitioners and physician assistants. Patterson said the company's presence in so many local communities allows it to find "partnerships and opportunities to help us as an organization address social determinants of health, in an effort to close the gap on health disparities within our communities." In addition to investing in affordable housing and social supports, the company is expanding its services to deliver more chronic care and preventive services, she said. "We want to enable and ensure the empowerment of the health care professionals who work for our organization, especially nurses, to practice to the top of their education and training to deliver whole-person care that fulfills our purpose: to help people on their path to better health."
Elizabeth Mitchell, president and CEO, Pacific Business Group on Health
Pacific Business Group on Health represents large employers (think Walmart and Apple). According to Mitchell, her members believe that investing in the highest quality care will ultimately lower costs. "[Our members] are increasingly engaging much more directly in … designing the health care system that we'd be proud to buy," she says. One strategy employers are adopting: on-site clinics. "These are not traditional primary care clinics. They include nutritionists, they include dentists, they include behavioral health—all of those contributors to whole-person health are appreciated and recognized, and yet employers haven't been able to find them adequately in the health care system." She underscored her members' interest in "partnering more directly with clinicians, with nurses, with the care teams who are doing this work."
Lori Melichar, senior director–program, Robert Wood Johnson Foundation
After working with futurist Amy Webb, Melichar's team at the Foundation developed a list of trends with the potential to have a major impact on the future of nursing. Several of these related to technological change. "We should be prepared for more opportunities for nurses to make decisions that have ethical implications," Melichar said. "More rapid medical and surgical innovation means practice is moving faster than science, and that's moving faster than policy, and that will put health professionals in uncharted ethical territory." This idea resonated with committee member Peter Beurhaus, PhD, RN, FAAN, who urged "raising the level of education and preparation for making ethical decisions," and situating that preparation in a social determinants or health equity framework.
The November 20 event was the last in a series of public meetings on the Future of Nursing 2020-2030 study, but there is still time for members of the public to submit comments to the committee.
To read about the earlier hearings, visit our Future of Nursing 2020-2030 topic page.
For the Technical Panel handouts, presentations, and speaker bios, visit the NAM website.