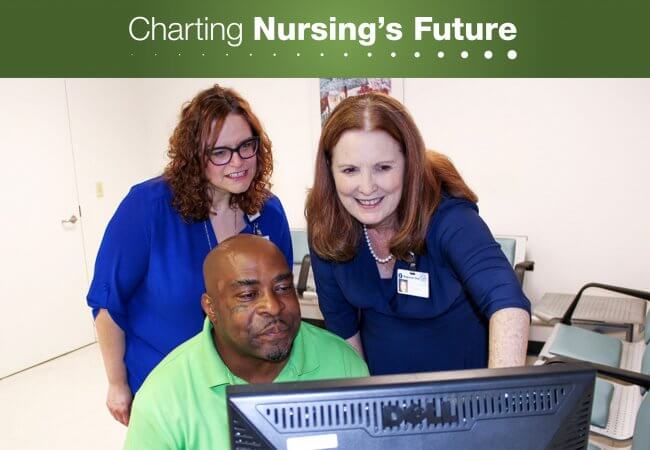 Tennessee Nurses Approach Social Determinants of Health in Two Ways
People who work in public health often refer to "upstream" and "downstream" when talking about health equity. The idea is to find the root causes of poor health "upstream" and address them before they flow "downstream" and develop into illness.
Examples of both approaches can be found in Tennessee. That's where two nurse leaders—one upstream and the other downstream—are working on addressing social determinants of health, those nonmedical factors such as housing, education, transportation and employment, which have a profound influence on mental and physical health.
Upstream: Root Causes
In Nashville, the state's capital, Patti Scott, DNP, PNP, NCSN, is working to build a nursing workforce that can bridge the delivery of health care and social needs care. As clinical director of the Tennessee Department of Health's Office of Primary Prevention, Scott's responsibilities include providing guidance to state nursing education programs.
"I am aiming to ensure that we have a clinical workforce that knows how to address … the root causes of sickness and misery and treat them," says Scott. "Most of us come out of school knowing how to do good individual care, but we don't know how to collaborate across sectors," a necessary skill for addressing social determinants.
Scott also oversees Talk With Me Baby, a program started in Georgia to promote early brain development. The program encourages positive communication between parents and infants, including increased eye contact, supportive words, and hugs. The program is based on research showing that talking with children during their first three years of life stimulates brain development and paves the way for educational success.
Since Tennessee launched Talk With Me Baby in 2018, more than 1,000 Tennessee Department of Health employees and home visitors have been trained to be Talk With Me Baby coaches. They look for opportunities to coach and model quality interactions with caregivers and their babies, she says. Noting that "there is a huge connection between education and health," Scott hopes that the program ultimately will result in improved third-grade reading scores and increased high school graduation rates.
Scott, a pediatric nurse who has worked in both hospitals and schools, sees her role as promoting the long-term health of communities. Prior to joining the health department, Scott says, "I realized I was providing good care [as a nurse], but I thought, if my patients don't have access to a place to play, or access to healthy food, or they live in unsafe housing, no matter how much care I give them, nothing I do is going to help." These insights led to a revelation about the health of her patients. "It hit me over the head, that I have to work for the future," she says. (Scott is also working to advance the future of nursing through her leadership in the Tennessee Action Coalition.)
Downstream: Effects of Socioeconomic Needs
In the city of Memphis, Susan Cooper, MSN, RN, FAAN, is addressing the effects of poor housing, lack of education, poor nutrition, childhood trauma, and limited access to health insurance.
Cooper, who was Tennessee's first nurse to serve as commissioner of the state's Department of Health (2007–2011), is a senior vice president and chief integration officer at Regional One Health, the city's public hospital. Regional One serves a significant number of low-income patients; on any given day, around a quarter to a third of patients who seek help in the emergency department (ED) are uninsured—and some of them come to the ED repeatedly.
"You've got to ask the question: When someone is coming back to the ED so many times, what are we not attending to?" says Cooper. In endeavoring to answer this question, she developed a strategy to identify frequent uninsured users of the ED and a plan to help them. As the state's former health commissioner, she wasn't surprised to learn that many of the uninsured were homeless or too ill to work and had lost their health insurance.
In 2017, with support from the hospital's executive board, Cooper spearheaded ONE Health, a program that targets the hospital's chronically uninsured and tries to address their socioeconomic needs. The first steps for the program included building relationships with Memphis's community organizations, hiring teams of nurses and social workers, and developing a technology tool to support and track their work.
By the end of July 2019, the program had a data analyst; two nurse/social worker teams; and partnerships with 250 organizations that provide behavioral health, social services, and employment support. Megan Williams, MSN, RN, CNL, a clinical nurse leader, oversees the program.
Since its launch, ONE Health has helped almost 240 patients find jobs, arrange housing support, and access health insurance. Cooper estimates the program has also averted $8.3 million in costs to the hospital because the chronically ill uninsured patients in their program are no longer getting so sick that they have to go to the ED or be admitted to the hospital. Cooper estimates the program has reduced ED visits of this patient group by 66 percent and inpatient admissions by 78 percent. "We've been able to show that, with a modest investment, you can create great human and financial returns," says Cooper. "It's hard work, but it brings authentic joy."
To Learn More