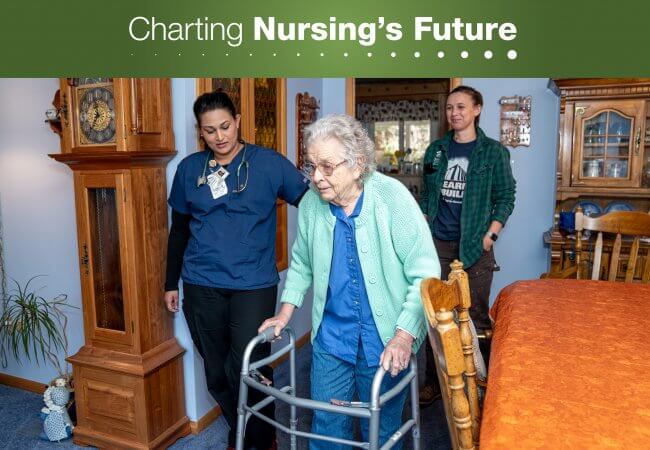 The Power of Home
Habitat for Humanity understands the power of home. It also knows that a home that suits someone in their 30s and 40s might not suit them as well decades later. Aware that a large percentage of homeowners are over the age of 65, the staff at Habitat for Humanity of Metro Denver was exploring ideas to help seniors remain safely in their homes when an opportunity came knocking. The Colorado Visiting Nurse Association (VNA) invited the organization to partner in VNA's Community Aging in Place–Advancing Better Living for Elders (CAPABLE) program.
CAPABLE helps seniors maintain independence by providing client-specific services, education, and home modifications. An occupational therapist, registered nurse, and handyperson work with clients over approximately six months to identify and address environmental challenges and functional limitations, such as pain that make it difficult to bathe or dress. The program was created by Sarah L. Szanton, PhD, ANP, FAAN, director of Johns Hopkins' Center for Innovative Care in Aging and an alumna of the Robert Wood Johnson Foundation Nurse Faculty Scholars Program. Her experience working with homebound elders taught her the importance of what she calls the "fit" between a person and their environment.
"[I]t's not just what the person can do, but also what the environment requires of them," Szanton told the American Journal of Nursing in 2017. Being in someone's home provides a different perspective on their health, she said. "You automatically see a patient as a whole person for whom managing illnesses has a lot more to do with function and being able to do what they would like to do than just medications and exercise."
Healthy Aging in Place
Habitat for Humanity of Metro Denver is part of the national organization, which since 1976 has helped more than 22 million people obtain safe, affordable housing via home construction or rehabilitation. The Denver office jumped at the opportunity to bring CAPABLE to the local community. "We have a home repair program that does exterior repairs in lower-income  neighborhoods threatened by gentrification, and over the last five years or so, we've noticed that a lot of the families are older and had other needs that we weren't meeting," says Kiersten Kelley, Denver's home repair project manager.
Thanks to the partnership with CAPABLE, some of those clients now have access to more than home repairs. The CAPABLE program includes six home visits with an occupational therapist, who helps clients develop strength and learn to use adaptive devices, and four visits with a registered nurse. Often, nurses help patients develop systems to manage their medication regimens; fall prevention is another common goal. They also spend significant time listening to clients—and reading between the lines.
"My clients have to tell me how to improve their health and how to live in their environment," says Veronica Dubey, MSc HIM, BSN, RN, who works with the Colorado VNA. "I listen but I also use my nursing knowledge to assess. If a client tells me they are unable to make their lunch, I'll ask them to talk about that." If painful knees are a contributing factor, Dubey may suggest pain-management strategies such as setting a timer to prompt taking over-the-counter pain medications, talk to the occupational therapist about exercises to ease knee pain, or consult the client's primary care provider about medication options.
To qualify for the program, seniors must be at least 65 years old, own a home, have difficulty with at least one activity of daily living, and live on less than $4,800 per month (for a two-person household). Those who qualify must also express a willingness to participate actively in goal setting and achievement. "We really want clients who are gung-ho excited," Dubey says.
She smiles, remembering one politically active client who had cut down on her activism due to incontinence. Following strategies suggested by Dubey, the client's bladder control improved, and she started attending political gatherings again.
This individually tailored intervention is typical of how CAPABLE works. Every home modification is also performed in direct response to a client goal. "We do things like install grab bars and handrails and lighting," Kelley says, "but we've also done things I never would have imagined when we started thinking about aging-in-place projects." She had one client who took great pride in mowing his lawn, but his lawnmower was stored in a cluttered shed with a rotting floor. "The shed was absolutely terrifying," Kelley says. "It was a safety hazard, but it wouldn't have occurred to us [to address it] until we listened to what was important to the client." Asking the client to give up mowing would have been detrimental to his mental and physical health, so the Habitat team convinced the client's son to clean out the shed. Habitat then installed a new floor and door, as well as a small ramp to make it easier to remove the mower from the shed.
Positive Outcomes Inspire Expansion
In Denver, 77% of the first 23 clients to take part in CAPABLE reported significant improvement in their ability to complete activities of daily living; more than half also reported experiencing decreased pain and depression. These results are strikingly similar to 2015 preliminary data from CAPABLE in Baltimore: as reported in the Journal of the American Geriatric Society, 79% of the first 100 participants in Baltimore experienced improvements in daily function.
Buoyed by these outcomes, the Harry and Jeanette Weinberg Foundation has donated $1.25 million to Habitat for Humanity to expand CAPABLE in Denver and implement the model in Philadelphia, Minneapolis/St. Paul, and Harford, Cecil, Montgomery, and Prince George's counties in Maryland. "No elderly client wants to leave their home and go into the unknown territory of a nursing home or assisted living," Dubey says. "CAPABLE helps them be independent and safe, so they can live in their homes as long as possible."