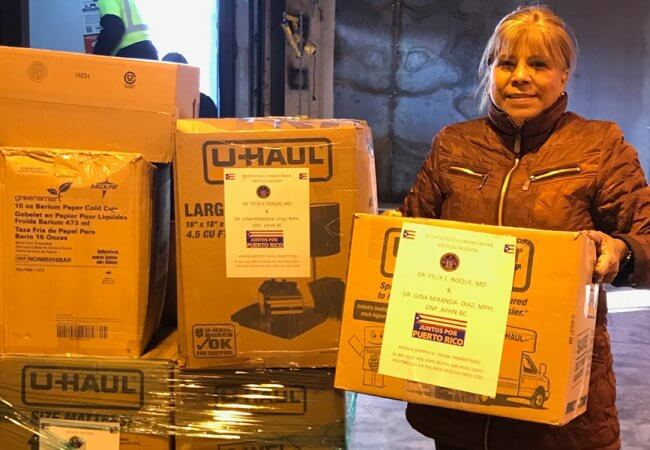 Humanitarian Streak Led Her to Nursing—and to Help in Puerto Rico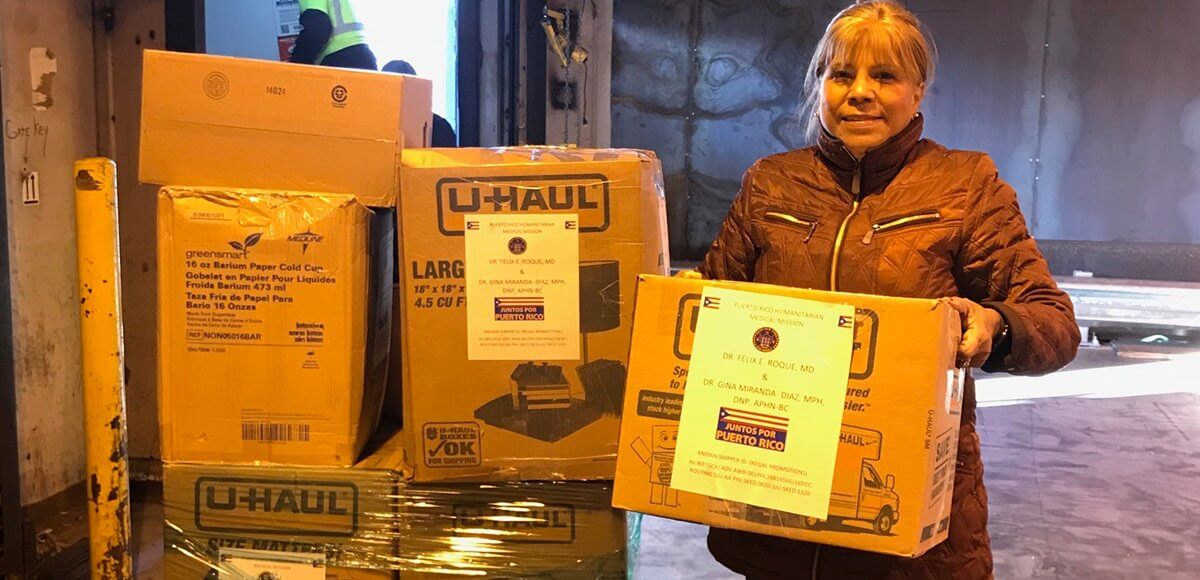 Gina Miranda-Diaz, DNP, MPH, APHN-BC, is health officer and director of the health departments of West New York and Guttenberg, NJ, and an adjunct faculty at Rutgers University School of Nursing. Fluent in both English and Spanish, she informs the community about culturally appropriate approaches to health and wellness. She is a New York Academy of Medicine fellow, on the New Jersey Board of Nursing, and immediate past president of the New Jersey National Association of Hispanic Nurses.
She is part of the Campaign Outreach Advocates for a Culture of Health, or COACH, program.
Why did you decide to become a nurse?
Images of visiting nurses in commercials featuring them walking with their nursing bags, and television programs showcasing nurses saving lives lit a spark inside me. As an adolescent, I was hired as a "clerk/interpreter" for a municipal hospital in the Bronx. Nursing was a calling—to serve all individuals, but more important, the most vulnerable.
Can you describe your philosophical evolution from making that decision to where you are today?
I began my career as a bedside nurse believing that this was the only way to practice nursing. Establishing the nurse-patient relationship with hospitalized patients was challenging, since the length of stay for a patient on average rarely went beyond three days.
During the genesis of the AIDS epidemic, I became a home care nurse. The nurse-patient relationship in the community is different, as we visited many patients over months and sometimes years and the dynamic includes both patient and family.
So my philosophy of the nurse-patient relationship has evolved along with my career from novice to expert nurse board-certified advanced public health nurse.
Of all that you have accomplished, what are you most proud of?
Service to others through volunteerism. The benefits go both ways. For example, I had powerful experiences volunteering in Manhattan on September 11, and during disasters with the American Red Cross. And these encounters prepared me for my humanitarian mission to Puerto Rico.
Following Hurricane Maria in September 2017, with the approval of the mayor of my community (a physician), I assembled a team of staff, inspectors, firefighters, paramedics, nurses, and residents. Together with the local hospital we collected and shipped to Puerto Rico thousands of pounds of supplies.
In December, the governor-elect of New Jersey, a delegation of Puerto Ricans, and I traveled to the island to meet with governor of Puerto Rico to discuss the recovery efforts. Another volunteer and I stayed on to deliver supplies to the west coast. That region had the greatest need; it was also where I spent the summers of my childhood.
Puerto Rico is my second home and I felt compelled to do everything and anything in my power to ease the suffering from illness, homelessness, and hopelessness of refugees that included my family. I believe that I did all I could and I would rank this experience as one of my finest moments in my life and what I am most proud of.
If you could change the profession in any one way, what would you change and why?
I would eliminate the phrase "Nurses eat their young," which says that bullying and incivility are expected behaviors that novice nurses or newly hired nurses should accept as a rite of passage.
Bullying is harmful. Health and wellness cannot flourish and patients will suffer its consequences. Institutions will incur turnover, higher costs and interruption in the quality of care.
Nurses must be educated on how to intervene. While speaking out about bullying is not always easy, if you do nothing, there is a 100 percent chance that nothing will change.
What is the most important action that nurses can take to lead the way to improve health and health care in America?

It is imperative that nurses, who are experts in health care, become politically active and make themselves visible to lawmakers. We must speak truth to power — our patients depend on us to be their voice. We are inundated with messages from and about politicians, automobiles, and beverages, but when was the last time you saw a commercial featuring a politician speaking about the value of nurses?
What role do you see for yourself in building a healthier America?
Addressing the opioid epidemic through public health strategies. As the first and only bilingual advanced public health nurse and health officer in New Jersey, I have an obligation to educate the populace in both English and Spanish. For example: my staff and I have partnered with the West New York police department in a drug diversion program, a collaborative effort between the Drug Enforcement Agency and police departments that allows residents to deposit unused medications at the police station.
Also, I am meeting with the West New York Board of Education to discuss providing school nurses with Narcan, an opiate antidote. New Jersey passed a law in 2017 permitting school nurses to provide Narcan to overdose victims, but its use has not been accepted or allowed in practice.
Finally, this past week, I was named chair of the West New York Municipal Committee Against Alcoholism and Drug Abuse. This county committee has been granted $1 million to provide additional resources for our town to combat this scourge.