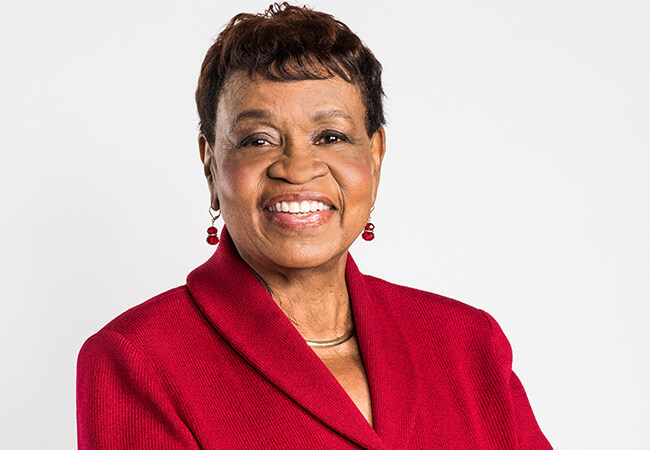 Georges: Living Legend for Good Reason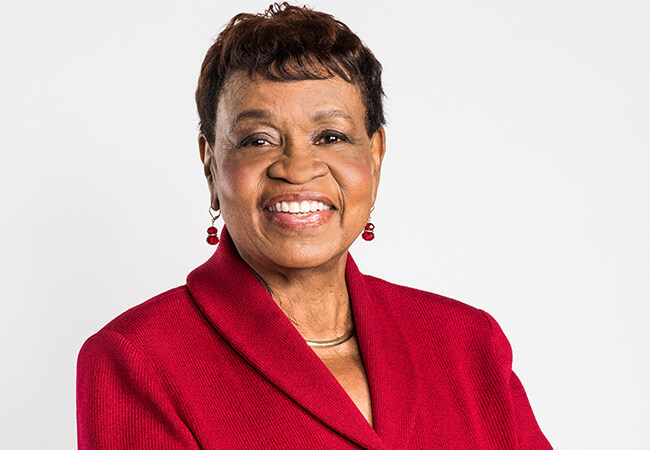 Nurses have been on the front lines of the global battle against the novel coronavirus since its earliest days. The profession has continued to be the bedrock for millions during the pandemic even as nurses themselves have fought to stay healthy and safe. And nursing has no better advocate this National Nurses Week, May 6-12, than AARP's national volunteer president, herself a nurse.
Fighting for better health and for nursing as a profession is not new for Catherine Alicia Georges, EdD, RN, FAAN. Georges, who has served on the AARP board since 2010, was named to the leadership position for a two-year term that runs until June 2020. Georges' advocacy for AARP and nursing are intertwined: For years, she has been a strong supporter of the Center to Champion Nursing, an initiative of AARP Foundation, AARP, and the Robert Wood Johnson Foundation, and its Future of Nursing: Campaign for Action, an initiative of the same three organizations.
As Georges told the American Academy of Nursing (AAN) just after being appointed volunteer president of AARP: "I'm proud that AARP has been a long-time, loyal advocate for expanding the role of nurses, to help magnify their leadership and versatility, and to help ensure that all Americans have a highly skilled nurse, when and where they need one."
So significant is her support for nursing and its role in improving America's health that in 2019, the AAN named her a Living Legend. The nurse leader and educator earned the AAN's highest honor, one of a few hailed each year "for their extraordinary contributions to the nursing profession, sustained over the course of their careers."
As chair of the Department of Nursing at Lehman College of the City University of New York, she focuses on health disparities and community health. Georges is also president of the National Black Nurses Foundation. She serves on the board of the Black Women's Health Study and R.A.I.N. (the Regional Aid for Interim Needs Home Healthcare). She is a fellow of the New York Academy of Medicine, and a lifetime member of the National Black Nurses Association and Alpha Kappa Alpha Sorority.
It is thanks to this vast and varied experience that Georges has helped AARP and its Future of Nursing: Campaign for Action.
The Campaign was created in 2010 to carry out the recommendations of a report on the future of nursing from the National Academy of Medicine (then known as the Institute of Medicine).
Georges has been an advocate and friend of its work, which includes improving access to care for all, diversifying the nursing workforce and increasing nurse leadership, all of which lead to a healthier America through nursing.
Since George's appointment as the AARP volunteer president, the National Academy of Medicine (NAM) has announced it has begun research to help chart the course for nursing for the coming decade. The NAM study committee invited Georges to speak as an expert for its report, which is scheduled for release in December.
Georges made her convictions clear in July 2019, when the NAM's Future of Nursing: 2020-2030 study group heard from her as she named the country's most pressing problems and urged them to understand exactly how nurses could answer the needs. Her focus was on the external elements in daily life that contribute to a person's wellness, such as access to food, housing, clean air and water, and transportation. As Georges told the researchers: "We need to… make sure that social determinants of health are a central part of the debate and decisions about improving health care."
She continued: "Nurses are more trusted than any other profession and are woven into the fabric of the community in ways other health practitioners are not—in schools, workplaces, homes, hospitals, assisted living facilities, prisons, and other places. We need to leverage the skills, perspectives, and trust that nurses have gained, as well as their role as a hub in health care delivery, to enable them, where possible, to change the equation fundamentally shaped by social determinants."
This year, National Nurses Week is especially meaningful: The World Health Organization has declared 2020 the Year of the Nurse and Midwife. And a pandemic has made all the more clear the heroes that nurses are. It is thanks to Georges' commitment to both AARP's mission and the nursing profession that the field is as prepared as it is to meet the challenges, and help the public as never before