Connecticut Passes Bill that Will Increase Consumers' Access to Health Care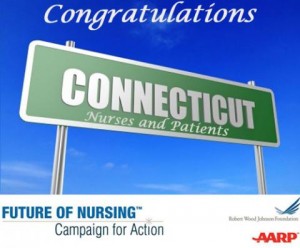 On May 8, 2014, Connecticut Governor Dannel P. Malloy signed Senate Bill 36 into law, expanding access to high-quality health care and increasing choice for residents of the state. Senate Bill 36 will remove barriers to full practice authority for advanced practice registered nurses (APRNs). The new law eliminates the collaborative practice agreement requirement for APRNs with three years practice experience under a collaborative agreement with a physician. The law will go into effect on July 1, 2014. A separate bill stipulates that the three years of practice experience must include at least 2,000 hours of practice.
Congratulations to the many groups, individuals, and organizations that supported this critical legislation, including AARP Connecticut and the state's nursing organizations! With the passage of this law, Connecticut becomes the first state this year to pass legislation removing restrictive barriers that prevent advanced practice registered nurses (APRNs) from practicing to the full extent of their education and training.
The bill "…will open the pipeline of nurse practitioners, ensuring consumer access to primary care clinicians when and where they need one and reducing the wait time for care for both consumers and caregivers," wrote AARP Connecticut's state director Nora Duncan in an April 17 op-ed. "Receiving high-quality care in a timely manner will improve consumers' quality of life, help contain their health care costs as well as drive down the cost of delivering care. Allowing nurse practitioners to practice without unnecessary restrictions will also create more choices for Connecticut residents when selecting providers," she continued.
The Future of Nursing: Campaign for Action is working to remove outdated and restrictive barriers that prevent consumers from getting the care they need. Find out more about our work here.