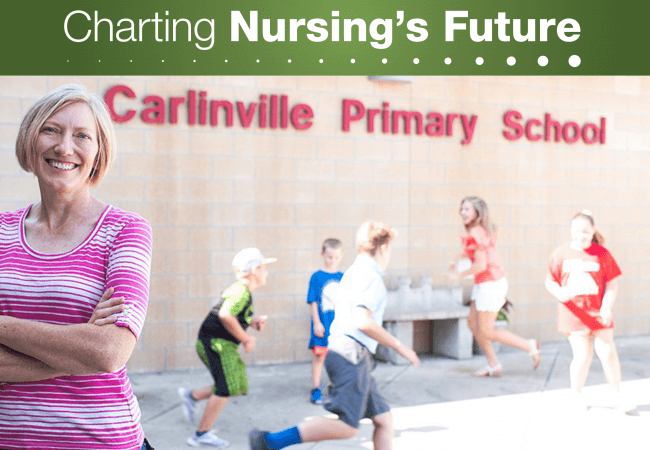 Nurse Brings Big Picture Mindset to School Board
When nurse Tracey Smith, DNP, MS, PHCNS-BC, began thinking about board service, it didn't occur to her that the local school board could use her talents. But while serving on the board of the Carlinville Area Hospital in Illinois, she began collaborating with her city's superintendent of schools to address student health. The school board president recognized the value of Smith's nursing perspective, and in 2015, invited her to apply for an open board position. By then, she realized that having a nurse serve on a school board made perfect sense.
Since joining that Carlinville school board, Smith has found no shortage of ways to contribute. In conversations about how schools should handle student anxiety and medication, she has helped board members step back to consider what schools should look for when hiring a school nurse. In debates about recess, she has advocated that students with anxiety and attention deficit hyperactivity disorder should not be denied the opportunity to be active or outside.
"I bring the conversation back to the science," says Smith, associate professor of family and community medicine at Southern Illinois University School of Medicine. Smith explains that her research-based perspective can ground conversations when personal opinions conflict.
In addition to understanding the science, nurses are particularly suited for addressing the health challenges schools face, Smith believes, because they take a systems approach. "Nurses are required to study the relationship between community and health," Smith says, "so they bring a very important big picture mindset."
Sometimes seeing the big picture actually requires focusing on a single objective. In debates about physical education, for example, Smith says the discussion can get bogged down in distracting issues such as the rules about what students should wear. "In a case like this," says Smith, "my contribution is to remind everyone of the physical outcome we want. Kids need to be more active, so how can we make that happen at school?"
At other times, a systems approach requires stepping back to see all the moving parts. Smith says this approach is useful in dealing with the complex issue of trauma. "As a nurse, I know to look at the whole child and to include the family," Smith says, "because in nursing, we take a holistic view of how family and community affect health." For kids who have experienced trauma, Smith argues for bringing in the right mental health professionals and for training teachers and administrators in trauma-informed approaches to education. "These approaches should include having knowledge of families and a willingness to collaborate with them," Smith adds.
Of her future plans as a school board member, Smith says she hopes to improve health care-related professional and vocational training in Carlinville schools. The effort could be a win-win for students and for a community in need of more health care personnel. To this end, she worked with the Carlinville Area Hospital to develop the High School to Health Care Club, which allows students to participate in training and shadow selected health care professionals.
This kind of planning, explains Smith, is an example of the value big picture thinking can bring to school boards, especially in rural areas. "We need people like me to help bridge these worlds," she says, "because we don't want to lose kids to the city, and no one wants to live in an area without health care."