New Award Recognizes Nurses for Leading Changes in Health Care
The Future of Nursing: Campaign for Action Announces  Winners of the Breakthrough Leaders in Nursing Award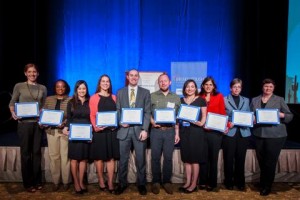 Ten nurses who have made extraordinary efforts to improve the health and lives of people in their communities will be recognized as the recipients of the new Breakthrough Leaders in Nursing award created by the Future of Nursing: Campaign for Action, a joint initiative of AARP and the Robert Wood Johnson Foundation.
"It's amazing to see the difference that these 10 people are making in their communities and the health care system," said Susan Hassmiller, PhD, RN, FAAN, RWJF's senior adviser for nursing and director of theCampaign for Action. "The lives of the people they care for are better because they fearlessly tackled—or are tackling—daunting health care challenges."
"These outstanding leaders truly represent the future of nursing," said Susan Reinhard, PhD, RN, FAAN, senior vice president and director of the AARP Public Policy Institute and chief strategist at the Center to Champion Nursing in America (CCNA), an initiative of AARP, AARP Foundation, and the Robert Wood Johnson Foundation. "We look forward to working with them as they lead change to advance health."
The Campaign for Action created the Breakthrough Leaders in Nursing award to celebrate nurse leadership and the importance of efforts by nurses to improve health and health care. The award recipients have worked to help medically fragile children, neurologically impaired individuals, and low-income women in rural areas, among others. Their work is helping to improve the quality of medical care in Vermont, protect health care workers from exposure to carcinogens in North Carolina, prevent bedsores and reduce Medicaid costs in Texas, and recruit and encourage minority nursing students in Wisconsin, to name a few.
The 2014 Breakthrough Leaders in Nursing award recipients include a public health nurse, nurse practitioners in private practice, faculty nurses, and a nurse administrator. They are:
AnnMarie Walton, MPH, BSN, PhD candidate, an oncology nurse in North Carolina, noticed a pattern of young Hispanic men being diagnosed with leukemia. She started to investigate why these men, mostly farm workers, were dying in their twenties. She launched a study to understand how they could better protect themselves in the fields and what was preventing them from doing so. She also advocated enhanced protections for health care workers handling hazardous drugs, such as chemotherapies. Her work led to policy changes in North Carolina, where the state now mandates compliance with NIOSH recommendations for the safe handling of hazardous drugs. She is an American Cancer Society Doctoral Scholar, a Jonas Nurse Leader Scholar, a recipient of an NIH Fellowship in Cancer, Aging and End of Life, and continues to work as a clinical oncology nurse at the North Carolina Cancer Hospital.
Dan Lose, BSN, DNP candidate, wanted to become a nurse and change the health care system. After two years in the VA Quality Scholars Fellowship program, he joined the Iowa Action Coalition and started finding ways to give nursing students a greater voice in the future of nursing. He is focused on increasing the number of BSN nurses and improving access to nurse residency programs for new graduates. "You can have national goals, but it is important to figure out how to operationalize them. To do that, you must have a real understanding of what nursing students and recent graduates are going through, and that is what I am trying to provide," said Lose, who works at UnityPoint Health–St. Luke's Hospital and is on the board of directors of the Iowa Nurses Association.
Danielle Howa Pendergrass, DNP, APRN, WHNP-BC, grew up in an area of rural Utah without a women's health care provider. She changed that by opening Eastern Utah Women's Health, an independent practice that serves more than 20,000 women from teens to seniors, both insured and uninsured. A major challenge to filling the gap in rural women's health was Medicaid's reimbursement policy which would not pay nurse practitioners directly. Working with the Utah Action for Health, Pendergrass helped to change that; she now provides pap smears, mammograms, contraception, primary care, and more to women from three counties. "Now patients do not have to drive over 60 miles to see a women's health care provider," said Pendergrass. "They are very happy we are here." She is also a nursing instructor at Utah State University Eastern and provides hands-on clinical experience to nurse practitioner students from the University of Utah.
Diana Ruiz, DNP, BSN, RN, has been at the forefront of reducing hospital readmissions, bed sores, and Medicaid costs in Texas. As part of her doctoral studies, she implemented a program utilizing nursing students to prevent bed sores and reduced her hospital's rate from as high as the national average to zero. This dramatically reduced Medicaid costs, which estimates $43,000 to treat one bedsore. At one point, she was the only "wound and ostomy nurse" (care of ostomy patients with colostomy bags) in her town. Today, she is director of population health at Medical Center Health System in Odessa, where she leads a series of programs to improve patient care and community health. She is also on a regional committee for the March of Dimes and the Ector County School Health Advisory Council.
Dorene Hersh, MSN, RN, helped to launch the first day care center for medically fragile children in the state of California and led the effort to adopt new licensing regulations and guidelines that helped to keep the children safe. "The rules for skilled nursing facilities had been developed for adults; we adapted them to address children's needs," said Hersh who currently oversees 250 public health nurses as the Chief of Nursing at Public Health, Seattle-King County, Washington. These nurses work in the field, ambulatory care, correctional facilities, and in advanced practice roles. She focuses on workforce development to attract nurses to the public health field and fill the gap being created by retiring nurses. "Many public health nurses were trained to work with parents and children, but now we expect them to be on the frontline of communicable disease outbreaks and partner with interprofessional teams," said Hersh. "This requires a high level of nursing savvy and complex skills."
Frances (Fran) Keeler, MSN, RN was a nurse administrator in Massachusetts for 18 years before moving to Vermont, where she works as a health system regulator. "It is unusual for a nurse to be a regulator, but it is a great way to improve the quality of care," said Keeler. She works for Vermont's Division of Licensing and Protection as the state survey agency director, leading the regulation of Vermont's health care facilities. Her work has improved the safe use of restraints and seclusion for patients with mental illness. Keeler teaches nursing and health care administration at the University of Phoenix and Empire State College, and she is a member of the Vermont Organization of Nurse Leaders, American Organization of Nurse Executives, and the Vermont Action Coalition.
Jake Creviston, MN, RN, PMHNP, DNP student, grew up in a family of nurses in rural Oklahoma. He has conducted nursing missions to Central America and Africa, where he helped to build a medical clinic for Ugandan refugees and co-founded a non-governmental organization dedicated to the work. As a charge nurse of a medical/cardiac intensive care unit (ICU), he advocated for dying patients, and found his calling in mental health. He recently launched a new psychiatric advanced nursing practice that serves people's health needs as well as psychological and social challenges in a primary care setting. Jake is working to improve the health care system through participation on the steering committee and leadership workgroup of the Oregon Action Coalition and through efforts to promote interprofessionalism and quality improvement with various other organizations.
Jessica Gonzalez Contreras, MPH, BSN, RN, was raised by teenage parents in a Texas family of migrant workers, who told her that the best way to another life was college. While she was in high school, her grandfather got cancer; watching the nurses who cared for him inspired her to become a nurse. Knowing that the costs were prohibitive for her family, she worked to earn top grades and qualify for scholarships. She has studied health care systems in China and South Africa and is striving to improve the diversity of the nursing workforce. "I have come full circle," said Contreras, who provides in-home care to first-time, low-income mothers through the Nurse Family Partnership of Goodwill Industries of Central Indiana. "I am helping people who need it most while also recruiting a future generation of nurses to become leaders." Contreras is also assisting the Indiana Action Coalition to diversity the state's nursing workforce.
Josie L. Veal, PhD, RN, APRN, has worked as a sexual assault examiner, an advanced practice nurse in a correctional setting, a surgical nurse, and as an operating room nurse in the United States Army Reserve. Currently, she is on the nursing faculty of Milwaukee Area Technical College and a board member of the Wisconsin Center for Nursing and Milwaukee Chapter of the National Black Nurses Association. "Success in nursing is based on standards. The question is, 'how can we prepare today's nursing students to meet higher standards?'" said Veal, who is working to raise standards and improve diversity as a member of the Wisconsin Action Coalition. "I want to give minority nurse populations a greater voice in the future of nursing," said Veal.
Maria Torchia LoGrippo, PhD, MSN, BSN, started her nursing career at the National Institutes of Health's Institute of Neurological Disorders and Stroke, where she learned the importance of collaborative care and patient trust. "The nurse must be able to communicate the patient's needs to the team," said LoGrippo. This is a challenge when patients are neurologically impaired due to brain tumors or aneurysms. She later worked in the medical/surgical nursing and neuro/trauma intensive care at the Hospital of the University of Pennsylvania and Roosevelt Hospital in New York. Her goal is to ensure high quality care for New Jersey residents and promote nursing education through the New Jersey Action Coalition's work to create models for seamless academic progression. "Building trusting relationships among nurses from academic and practice settings is key to improve nursing education," said LoGrippo, who teaches nursing at Rutgers and Seton Hall University and is pursuing a Post Doctorate through the New Jersey Action Coalition's Academic Progression Pilot Project.
Learn more about the Breakthrough Leaders in Nursing awards.