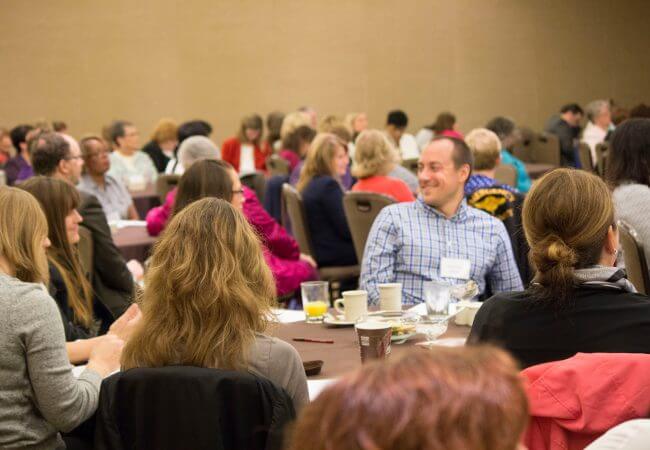 Michigan Nursing Summit Convenes Hundreds to Discuss Creating a Culture of Health
The Michigan Center for Nursing, a program of the Michigan Health Council (MHC), will be hosting the annual Michigan Nursing Summit on September 29-30 at Soaring Eagle Casino & Resort in Mt. Pleasant, Mich.  Last year, about 200 nurses, nursing educators, nursing students, and community partners gathered for the Summit, which was focused on nurse leadership. This year's summit, themed "A Culture of Health", will focus on increasing nurses understanding of factors that impact health beyond traditional delivery of care and empower those in attendance to enact positive change for the health of their communities.
"We must embrace a more integrated and comprehensive approach to health care in order to address the many factors impacting population health," said Melanie Brim, President and CEO of MHC.  "The nursing profession, working in partnership with other health care professionals, health and human service organizations, the community, educators, and policy makers, can achieve real change."
Traditionally, efforts to improve health have focused on how health care is delivered.  Organizations like the Michigan Health Council now understand that health outcomes are greatly influenced by complex social factors—including, for instance, income, education, ethnicity, and where we live.  As the largest group of health care professionals in the United States, nurses are vital to creating a Culture of Health in Michigan.
"Our hope is that this will be a transformative event, really equipping nurses to effect change in their communities," said Stacie Sadowski of the Michigan Center for Nursing. "We are very excited to bring together nurses and other partners to learn about ways to address the larger needs for healthy living in Michigan."
The 2016 Michigan Nursing Summit will kick off Thursday, September 29th, with Lawrence Reynolds, MD, FAAP, President and CEO of Mott Children's Health Center and member of the Governor's Flint Water Task Force. His talk is titled "Lessons from Flint: The Need for Establishing a Culture of Health".  He will be followed by Thursday's keynote, Victoria Niederhauser, DrPH, RN, PCPNP-BC, FAAN, Dean and Professor at University of Tennessee Knoxville College of Nursing and Chair of the Board of Directors for the Tennessee Action Coalition. She will discuss "Building a Culture of Health: Nursing's Role in the Transforming Framework."
The full slate of speakers and agenda can be viewed at michigancenterfornursing.org/speakers. This activity has been submitted to the Midwest Multistate Division for approval to award nursing contact hours. The Midwest Multistate Division is accredited as an approver of continuing nursing education by the American Nurses Credentialing Center's Commission on Accreditation.
The Michigan Center for Nursing is a program of the Michigan Health Council, a Michigan-based 501(c)(3) nonprofit organization dedicated to creating a culture of health with health professionals at the heart of the delivery system. Their mission is to build health professional capacity by offering innovative products and services across six focus areas. Learn more about the Michigan Health Council at www.mhc.org.