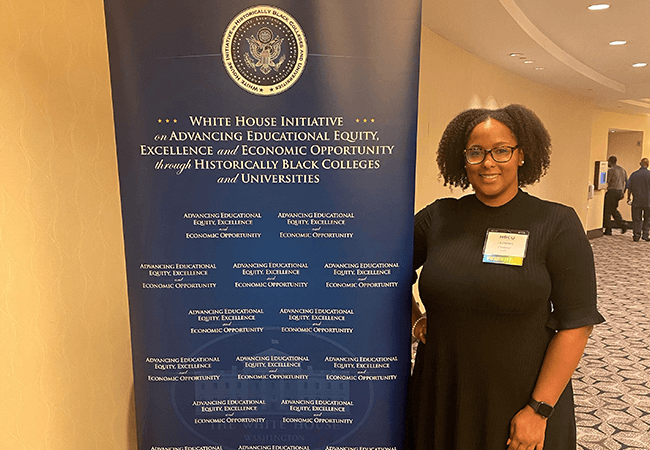 Mentoring Nursing Students at HBCUs: An Update on Our Work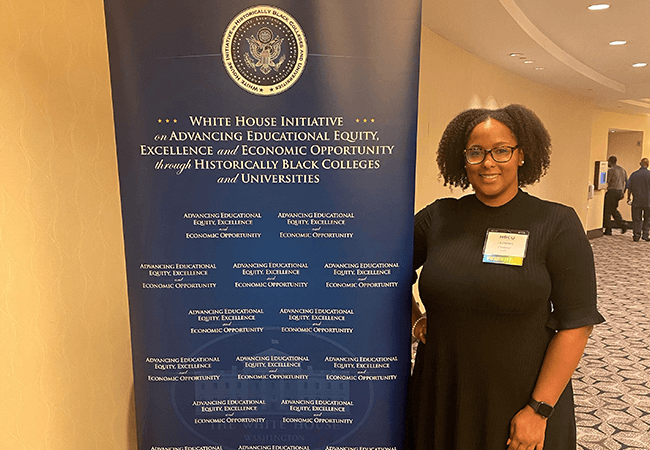 A top goal for the Future of Nursing: Campaign for Action, an initiative of AARP Foundation, AARP, and the Robert Wood Johnson Foundation, is to help our country achieve health equity, and one important way is through a more diverse nursing workforce that reflects the communities and people it serves. Getting there will require larger numbers of nursing students of color completing their degrees and passing the NCLEX nursing licensure exam.
One-on-one mentoring has proven extremely effective in allowing students and young professionals to succeed, guided and supported by someone already established in their field. The Campaign has been providing in-person and virtual technical assistance about mentoring to nursing schools that serve students of color, and to our state-based Action Coalitions, to improve school retention and graduation rates and increase NCLEX pass rates.
Thinking about Black History Month, we checked in with Jazmine Cooper, the Campaign's mentoring program project advisor, about how the mentoring work is progressing. Cooper is an alum of Bowie State University, an Historically Black College and University (HBCU) in Maryland, with a degree in Psychology. She talked about how the Campaign is supporting mentoring programs at HBCUs and other nursing schools.
Question: So, what was the initial motivation for the Campaign developing this program? Was it one individual's idea, or more like an idea whose time had come?
Cooper: When we were working with our state Action Coalitions on building diversity in the nurse workforce, the theme of mentoring kept coming up as a way to maintain students of color through their nursing educations. So the Campaign launched a few pilot programs to learn how we could help.
Our first was in Colorado in 2017 with our state Action Coalitions. This pilot taught us the importance of involving deans and faculty since they are really the key to developing successful, sustainable mentoring programs on any given campus. Then in 2018, we hosted a pilot program with eight HBCUs in the Mid Atlantic area. It was this pilot that sparked an invitation from the White House Initiative on Historically Black Colleges and Universities to join them for their first ever nursing track during their 2019 National HBCU Week Conference. This training included 23 HBCUs with a traditional baccalaureate program in nursing.
Question: What makes a great mentor? What should these deans and administrators look for when they are creating mentoring programs for nursing students of color?
Cooper: Obviously, representation matters. It's very important for the students to see themselves in their mentors whenever possible. We really leave it to departments to choose their mentors, so they can consider all the factors that are important, including, for example, the area or specialty that the student wants to go into. And we offer a powerful toolkit that can help any individual in being an effective mentor.
Early on, we learned that one size does not fit all, and the materials in the toolkit are designed for each school to tailor to its specific needs. And that includes choosing who serves as mentors. We want to help educators learn how to build a great program with whatever resources they have, and to help any nurse who wants to become a great mentor.
Right now, most mentors are the faculty members, and, frankly, then mentoring becomes just one more responsibility they have in an already-demanding job. That's why we encourage our Action Coalition members to partner with nearby schools to provide mentors. We are also looking to mobilize AARP's volunteer network, which we know includes about a million nurses, to recruit mentors. We'll have more to come on this effort soon!
Question: It's been almost five years since that first pilot mentor-training with HBCUs. What has the growth been since then?
The program has definitely been scaling up at HBCUs, and at Hispanic-serving, American Indian and Alaska Native-serving nursing schools. About 100 different schools have participated since we launched. We have added new partners, too, including the National Association of Hispanic Nurses and the National Alaska Native American Indian Nurses Association, the Health Resources and Services Administration's Division of Nursing and Public Health, the National Council of State Boards of Nursing, and Chi Eta Phi Sorority, Inc.
We've also added monthly learning collaboratives, one each for schools serving different groups of nursing students. Then in a quarterly meeting, they all come together to share learnings. It's very interactive, there is open dialogue about what is working and what isn't. It's a space for them to talk among themselves, share successes and learn from each other. Really powerful.
In fact, in response to what we've heard, we have added a focus on two more areas. We added trainings on how to secure funding for nursing programs, and how to help students pass the NCLEX.
Question: What do you see when you look ahead? Are there other kinds of goals for the mentoring program in terms of the nurse workforce and the larger goal of health equity?
With more funding, we want to reach more schools, more faculties, more deans, and step up the help we provide with grantwriting and fundraising. We also want more stakeholders, more partners – health systems, national organizations focused on diversity in health care more broadly, more government organizations focused on the nursing workforce and diversity.
All these types of institutions can help us prepare more nurses of color to join the workforce. And we can help them by preparing more nurses to advance the mission we all share of tackling health disparities and achieving real health equity.
For more information on our mentoring efforts, please visit our Mentor-Training landing page. If you are interested in becoming a mentor, please visit our Nurse Mentor Volunteer page.