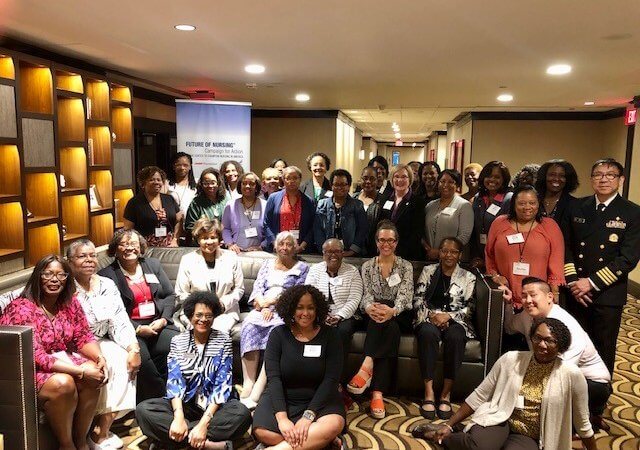 Article Details Campaign's Innovative Mentoring Model
Since its beginning, a top goal of the Future of Nursing: Campaign for Action has been to build a nursing workforce that more closely reflects the nation's diverse population. Now an article in Nursing Education Perspectives describes one method the Campaign has put in place to reach this goal: a model of collaboration to create community in and among nursing schools at historically black colleges and universities (HBCUs), using mentoring as the core strategy.
"An Innovative Approach to Advancing Academic Success for Underrepresented Nursing Students Using the Collective Impact Model," published in the National League for Nursing's research journal, describes how the Campaign and the U.S. Department of Health and Human Services' Office of Minority Health have worked with a total of 29 HBCUs and the Campaign's state-based Action Coalitions to implement and advance a nurse mentor program. The Campaign is an initiative of AARP Foundation, AARP and the Robert Wood Johnson Foundation.
The Campaign's mentorship program includes mentor-training workshops and a learning collaborative—a series of webinars and teleconferences held monthly that address the concerns of the HBCUs. The goals are to improve retention and graduation rates of nursing students from populations typically underrepresented in nursing, and increase the graduates' passage rates of the National Council Licensure Examination (NCLEX).
One such training took place in late 2019 at the National HBCU Week Conference, part of the White House Initiative on Historically Black Colleges and Universities. There, HBCU representatives made plans to coordinate with each other to strengthen ways to help undergraduates combat common problems they face that can take them out of nursing early.
As the article reports, the collective impact model on which Campaign built the program has five conditions that together see a program to success: a common agenda, shared measurements, mutually reinforcing activities, continuous communication, and a background support organization.
The authors of the article have been a good part of implementing the process model, which is defined in the article as "an intentional way of working together and sharing information to solve a complex problem."
Kupiri "Piri" Ackerman-Barger, PhD, RN, FAAN, associate dean of Health Equity, Diversity and Inclusion as well as an associate clinical professor at the University of California Davis Betty Irene Moore School of Nursing, is an adviser on the Campaign's Equity, Diversity, and Inclusion Steering Committee and helped create the Campaign's health equity toolkit.
Vernell P. DeWitty, PhD, MBA, RN, director for diversity and inclusion and the American Association of Colleges of Nursing, has helped lead the Campaign's mentoring workshops;
Jazmine Cooper, MBA, is Campaign project manager and implement its diversity measures.
Maija R. Anderson DNP, RN, nursing school leaders, is assistant professor and director of nursing at Morgan State University.
As the article notes, the Campaign is now working with nursing leaders on curricula for a mentoring workshop for Hispanic-serving institutions and Native American communities.