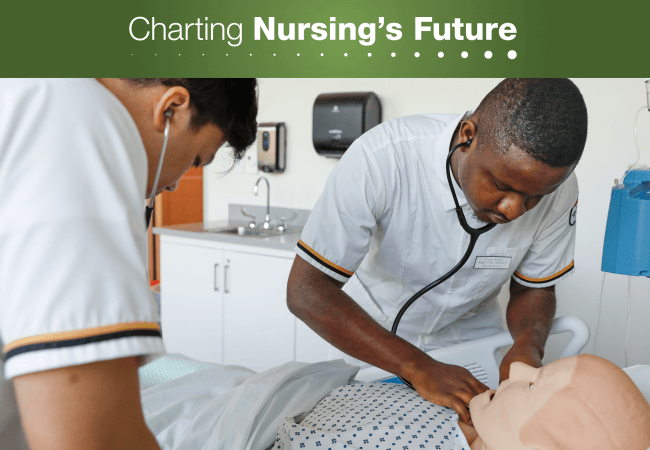 Collaboration Key to Achieving Nursing Workforce Diversity
To achieve health equity, nurse leaders have moved to diversify the nursing workforce, and they are forming novel partnerships to do it. Evidence shows that minority and non-English-speaking patients tend to receive better care when treated by health care providers who share their ethnic or racial identity. It also suggests providers who come from racial and ethnic minority groups are more likely to practice in underserved communities, so a more diverse workforce translates into improved access to care for more Americans.
Any effort to recruit more racial and ethnic minorities into nursing will ideally include historically black colleges and universities (HBCUs). Challenges such as balancing work and school, the search for affordable childcare, and lack of student preparation for the nursing curriculum can hinder student progress and negatively affect first-time pass rates on the National Council Licensure Examination (NCLEX), the nurse licensing exam in the United States.
The Future of Nursing: Campaign for Action, an initiative of AARP Foundation, AARP, and the Robert Wood Johnson Foundation, has teamed up with the U.S. Department of Health and Human Services' Office of Minority Health (OMH), nurse leaders from HBCUs, and Action Coalitions associated with the Campaign for Action, to address some of the challenges. The goals? To improve retention and graduation rates for minority nursing students and increase first-time pass rates on the NCLEX.
"There is so much at stake," says Catherine Alicia Georges, EdD, RN, FAAN, national volunteer president of AARP's board of directors, "not only in terms of individual nurses building financial security through a consequential and satisfying career, important as that is, but also in terms of the health and well-being of people in communities across the country."
Among the many factors that can contribute to the success of underrepresented nursing students, mentoring stands out as one of the most effective. Research associates mentoring with academic persistence, graduation, and improved NCLEX pass rates. But the success of mentoring programs isn't news. It's the collaborative effort to train administrators to create effective and sustainable mentoring programs for minority nursing students that is turning heads.
In October 2018, the Campaign for Action, AARP, and OMH partnered with a regional health equity council to host a pilot mentor-training program for eight HBCUs in the mid-Atlantic region. Soon after, the White House Initiative on Historically Black Colleges and Universities invited the Campaign to bring its nurse mentor training program to all 29 HBCUs attending the White House 2019 HBCU Week Conference in September. With the White House providing the forum and the Campaign for Action and OMH providing the training, stakeholders from HBCUs and Action Coalitions came together to participate in the training and share ideas about how to improve retention and graduation rates for their students. The event notably marked the first time change-makers from these varied groups collaborated for this purpose.
Nowhere did the benefits of idea-sharing feel more compelling than during a panel discussion entitled, Diversifying the Nursing Workforce, One HBCU at a Time. Panelists from Maryland-based Coppin State, Morgan State, and Bowie State universities, all schools that participated in the mentoring pilot but who might typically see themselves as competitors, swapped stories about the challenges their students face and the programming they have offered in response. In the interest of their stated common goal—to bring more students from racial and ethnic minority groups into the nursing workforce—panelists shared information about providing vouchers for child care, finding scholarships for working students, and implementing academic programming aimed at preparing students for the nursing curriculum and improving NCLEX first-time pass rates.
On a broader scale, Alexis Bakos, PhD, MPH, RN, director of the Supportive Care and Symptom Management Program at the National Cancer Institute and former senior advisor to the deputy assistant secretary for minority health at OMH, celebrated the high-level collaborations that took place to make the mentorship training event possible. "This is the first time that there has been an outward invitation to nursing faculty to attend the HBCU summit," she said, calling it "a testament to the strong collaboration that the Office of Minority Health has developed with the White House Initiative on HBCUs." Bakos highlighted the significance of that relationship when she recounted how it had already led to an unprecedented inquiry from the Department of Veterans Affairs, which is seeking to diversify the clinical workforce serving veterans.
It's too early to see outcomes on how the mentorship training will affect retention and graduation rates at HBCUs or how these efforts might eventually change the racial and ethnic makeup of the nursing workforce, but the collaborations have generated excitement and a real sense of possibility. "I can say," said Bakos, "that it's one of those things. You put it out there and it just keeps going."