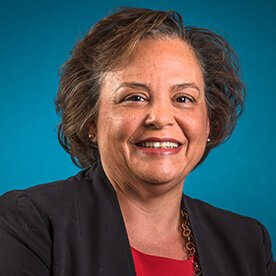 Katrina Opened Her Eyes to All That Nurses Can Do
Nursing Journeys is a profile series featuring Action Coalition leaders discussing their career paths and reflecting on the lessons they've learned.
Charlotte Morgan Parent, RN, BSN, MHCM, is the assistant vice president of community affairs and network navigation for LCMC Health, a Louisiana-based nonprofit health care system. Previously, Parent was director of the New Orleans Health Department, and director of Healthy Start New Orleans. Parent earned her master's in health care management from the University of New Orleans.
Why did you decide to become involved in the nursing profession?
I did not have a straight path to becoming a nurse. I was a young mother raising a family, and made the decision that I was ready to have a career. I had several family members involved in the medical profession and decided to see what career opportunities were available. I discovered nursing and it was the best decision outside of my family that I have ever made.
Describe the journey you took to get from that decision to where you are today.
After working as a labor and delivery nurse for a number of years, I had an opportunity to make an impact in helping new nurses adjust to their role not only as care providers, but as patient advocates and colleagues to other health professionals. I continued to move up the career ladder and into nursing administration, where I found my niche as an administrator.
It was only after Hurricane Katrina that I began to realize what real impact nursing could have on the community outside of the walls of the hospital, and I began to focus on those roles. From there, I have served as the city of New Orleans health director, then as the vice president for community affairs with LCMC Health. I am now the vice president for business development at University Medical Center New Orleans. I also serve on several local boards that provide services to the greater New Orleans community, where my experience as a nurse is welcomed and valued.
What impact did the Institute of Medicine's Future of Nursing report have on you?
There are many roles that nurses can fill on the health care continuum. But the continuance of a nurse's education though advanced degrees and professional development ensures that nursing stands among other professions as an equal. That nurses continue to grow and learn is important for the patients, the community, and the profession.
How have you been involved with the Campaign for Action?
For several years I have served on the Future of Nursing: Campaign for Action Strategic Advisory Committee. It has been a wonderful experience serving with an esteemed group of experts and colleagues from various disciplines, all with an interest in lifting the profession and science of nursing to its rightful place in our society. I have also participated in local events for the Campaign in Louisiana, where we are making strides in lifting the role of the professional nurse.
Of all you have accomplished, what are you most proud of?
Helping to prepare nurses at the bedside to provide direct care. Nothing can replace the satisfaction of a well-prepared RN, who can advocate for their patient to other health care professionals. I am also very proud of my work as the New Orleans health director, where we were able to institute changes in how health is perceived in the city, including instituting the first smoking ban for the city.
What is the most important action that nurses can take to lead the way to improve health and health care in America?
Nurses should remember that our primary role is to ensure that our patients/citizens are the focus of what we do.
The basic premise of being committed to the welfare of those in your care and continued pursuit to elevate the profession are still the core of what it means to be a nurse. The role of the nurse can be as broad as we choose it to be—but should always be centered around what is best for those we serve.