Join the Effort to Get 10,000 Nurses Onto Boards by 2020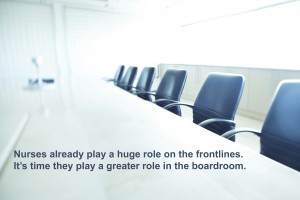 In November, 2014, 21 national organizations came together to announce a new, nationwide effort to get 10,000 nurses onto boards of directors by 2020. Members of the "Nurses on Boards Coalition" include AARP, the Robert Wood Johnson Foundation, and 19 national nursing organizations. These coalition members recognize that nurses are historically underrepresented on hospital and other boards, where major health care decisions that affect consumers and their families are made daily. This new effort seeks to ensure that nurses—and their frontline perspectives—have a seat at these decision-making tables.
The Nurses on Boards Coalition launched a website in late 2015 which has more details about the effort and the Coalition. It includes a database to track the number of nurses serving on board positions. To learn more about this historic initiative, visit the Nurses on Boards Coalition website.
Learn More
Get Involved