Huge Interest in IOM's Future of Nursing Report Shows in Record Number of Downloads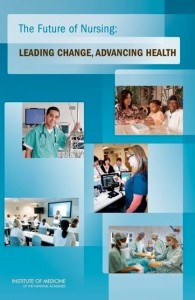 Reflecting the fact that nurses play a critical role in improving America's health and health care system, the Institute of Medicine's Future of Nursing: Leading Change, Advancing Health report remains the IOM's most downloaded report since its release in 2010.
As of December 2015, the Institute of Medicine (IOM) records 129,874 downloads of Future of Nursing since 2010, and sales of 11,625 copies.
The Future of Nursing report urges a collaborative effort to strengthen "the largest component of the health care workforce—nurses." Its recommendations are directed at not only nurses but also at policymakers, payers, education institutes, and other health professions. Its release led to the Robert Wood Johnson Foundation, AARP Foundation, and AARP's starting the Future of Nursing: Campaign for Action, which now has Action Coalitions in every state and Washington, D.C., working to implement the recommendations.
It was also the most downloaded IOM report in 2015.