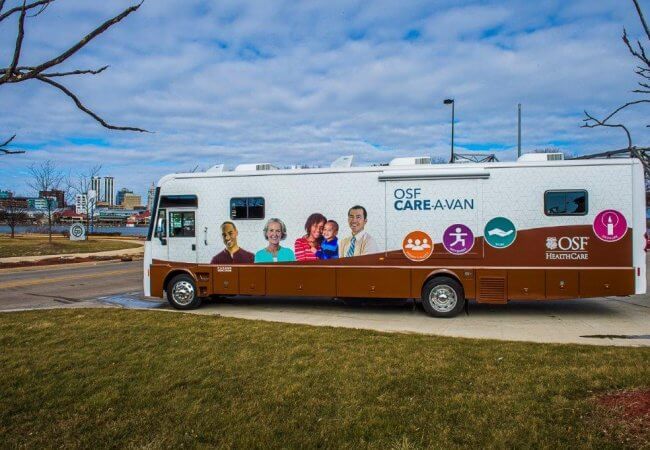 Hospital Bridges the Gap by Going Into the Community—Strategically
It is well known that nurses offer diagnoses, treatments, compassion, and care where they work and where they live. What is less known is that, increasingly, nurses are creating and participating in large-scale, systemic efforts to take on health equity by addressing needs before they become illnesses.
In this Q&A, Jo Garrison, DNP, RN, NEA-BC and Susie Smith, MSN, RN, of OSF HealthCare, St. Francis Medical Center, in Peoria, Illinois describe such an approach. OSF Saint Francis received the 2019 American Nurses Credentialing Center (ANCC) Magnet Prize for its novel, multifaceted initiative to reduce food insecurity and improve health outcomes in the community.
Please describe or give an
ove
rview
of your project.
OSF HealthCare Saint Francis Medical Center created a six-part program that goes beyond the traditional bricks and mortar of a hospital, and is designed to improve social determinants of health—specifically, to promote access to care, reduce food insecurity, and improve health outcomes in two nearby underserved communities.
To do this, we have combined faith community nursing; a mobile free clinic; community gardening; assessments of food insecurity; and the education of nurses and children. These efforts together let us meet patients where they live and transform the health of their communities.
Each of the six components of the program was designed based on research of community needs:
Faith Community Nursing
The faith community nurses partnered with more than 35 churches in two ZIP codes to be an advocate, liaison, and resource for residents while focusing on the intentional care of the spirit. An affiliation with the local faith-based organizations was important because our prior efforts to engage this population had been unsuccessful. Residents had been seeking out their churches for assistance, which allowed our nurses to perform needs assessments, provide education, advanced care planning, and one-on-one consultations to individuals.
 These partnerships bridge the gap between the community and our health system by building trusting relationships.
OSF CARE-A-VAN
Our nurses provide free care up to three times a week at different drop-in sites in our CARE-A-VAN. This 40-foot mobile medical clinic, outfitted with clinic rooms, offers people at local community agencies and churches access to providers, as well as dentists and financial counselors. Partnerships with University of Illinois College of Medicine and other local colleges have helped to expand the number of clinics in recent years.
Community Surveys
We surveyed the community for levels of food insecurity and the use of the Supplemental Nutrition Assistance Program. Using the two-question Hunger Vital Sign, drawn from USDA's food security scale, we found a prevalence of food insecurity. Despite having governmental assistance for food, 85% of the respondents of reported there was a time in the last year their food ran out and they were unable to buy more.
Educating Nurses
We sought to determine what ambulatory nurses knew about food insecurity, its impact on overall health, and the prevalence in our own community. The nurses surveyed had limited knowledge of how to assess for food insecurity. This presented the opportunity to educate nurses on the importance of identifying social determinants of health.
A Community Garden
This community had a lack of access to fresh fruits and vegetables. OSF St Francis hired a gardener and, through partnerships with the city of Peoria; the park district; local schools; and other community agencies, over two acres of city lots have been transformed into gardens and produce is being distributed directly to residents and to local community agencies. Volunteers from OSF, local colleges, schools, and churches volunteer their time to tend to the garden. Our mission partners—fellow employees at OSF St Francis—have also taken an active role in fundraising for this initiative.
Educating Children
To encourage healthy behaviors, we developed a four-part educational series to educate children on gardening skills, health and wellness, and stress management techniques. We are partnering with local schools to include this education as a yearly field trip.
Why did you decide to take your health care efforts on the road?
When it comes to access to health care, emergency department data showed a great disparity between well-off communities and people living within two local ZIP codes. When we dove deeper into the data, we identified 10 out of the top 12 reasons for emergency department visits were for primary care diagnoses, not emergency care needs—and that these visits also were losing revenue for our organization.
While there was a lack of grocery stores and medical facilities in these communities, our surveys also identified multiple churches and faith-based organizations in the area. This made us look at how we could go into the neighborhoods where people work, live, pray, and play. We decided to restructure an existing Faith Community Nurse Program to target those ZIP codes.
What made you realize that your community needed a public garden?
Despite obvious reasons of no grocery stores and lack of fresh fruits and vegetables at community agencies, the data in the literature spoke to us. In 2017, 40 million Americans experienced food insecurity—including more than 12 million children. The overall national rate was 12.5%. While Illinois was lower than the national average overall, the state was 5 percent higher for children than the national average at 17 percent. That's roughly a half a million children in Illinois who lacked consistent access to food in 2017.
More concerning was that in Peoria County we exceeded both the national and state rates for food insecurity both overall and for children. Our overall rate was 14.3 percent, and for children it was 17.7 percent—that's 7,860 children in Peoria County who lacked consistent access to food.
The garden is more than a community garden. It is a partnership with many local community agencies, churches, universities, and governmental entities such as the local health department and city of Peoria along with community members. It is a garden where local community events are held to promote wellness and provide school and dental physicals and education to the community. This past year, over 10,500 pounds of fresh fruits and vegetables were distributed to the community and local senior agencies. Over 1,100 volunteer hours were reported.
We hope to continue to grow this initiative this next year, with a large focus on beautifying the neighborhood; promoting behavior change; educating children and adults; and improving overall health outcomes.
Describe the journey you took to get from those decisions to where you are today.
The word journey is an excellent word to describe this project. We started with the revamping of the Faith Community Nurse Program and the CARE-A-Van in 2016. When we look back, it is amazing what has been accomplished in a relatively short period. When we started, we had a vision of taking care of patients in their own neighborhoods, providing access to care, and demonstrating care and compassion to an area that had a clear disparity compared with other neighborhoods. With the help of many outside of our local health care system, we have been able to deliver a comprehensive program far exceeding our first expectations.
Each year, the CARE-A-VAN visits grow, simply by parking the van in various areas within the neighborhood. Trusting relationships have been built and partnerships continue to grow. We have also seen a reduction in emergency department visits from these two ZIP codes. More important, people are getting care in these areas and we are excited that this work is positively impacting social determinants of health.
How did you feel when you heard that OSF Saint Francis was going to be the 2019 winners of the ANCC Magnet Prize?
Amazed. Excited. Proud. Those are the top three adjectives that come to mind. It was an incredible honor and privilege to be acknowledged with the ANCC Magnet, and receive the Cerner award. Being an OSF SFMC employee, we recognize the benefit of working at OSF for a variety of reasons but most important, its strong mission that never changes. This project is an example of Mother Frances Krasse's words, "Serve the poor with the greatest care and love, and God's blessings will be with you." This prestigious award exemplifies this blessing and we are thrilled to have received it.
What impact has winning this award had on your project?
The impact has been tremendous.
Our hope the awareness of winning the award will encourage others to replicate the project and help the underserved populations in our country.
Since winning, we have been contacted by several organizations for benchmark information.
Within our own community, it brought awareness to more people who would like to participate, assisting us in a stronger sustainability plan. The money won from the grand prize will provide the funding for a greenhouse, a shelter in the garden, and the implementation of the SMART Meals program. In addition, the recognition provided validation to continue to do what is good and right, and follow the OSF mission as our guide. This demonstrated that working collaboratively together, we can make a huge difference in the community and the lives served.
Of all that you have accomplished, what are you most proud of?
We are very proud to be part of an organization that cares so much about the community and the people served. Most important, we are proud to see we are making changes for the good, affecting—every day—the lives of those served and those volunteering. It is my hope this has renewed a sense of purpose, care, compassion, and faith in our country to continue to work together to improve overall health.
What is the most important action that nurses can take to lead the way to improve health and health care in America?
Get involved! If you do not get involved, change will not occur. Realize you CAN make a difference. You can make a bigger difference if you recognize the importance of collaboration with other entities and people from other disciplines.
And we need to openly acknowledge the disparity among people in our country when it comes to the social determinants of health. If we do not address the social determinants of health, we are fighting an uphill battle to improve overall health.
Nurses are caregivers and have an innate quality wanting to help people. It is part of who we are. Nurses have always led by example in their actions of demonstrating care and compassion. Get your families involved. Call on your community. Be the change to replicate. Make a difference! The rewards and blessings are well worth your journey!