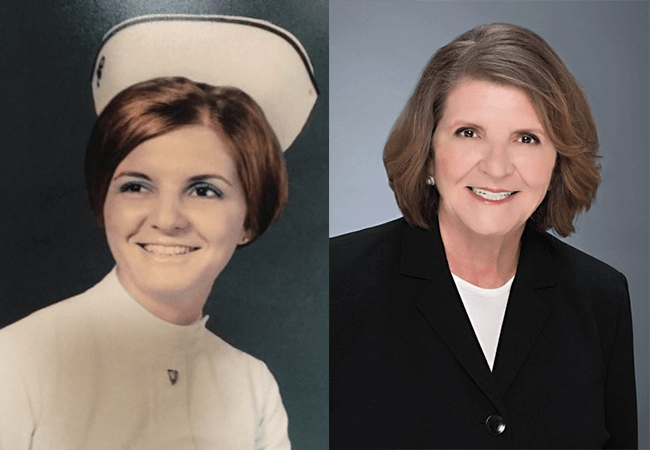 Her Country Called, and So Did Nursing
Nursing Journeys is a profile series featuring Action Coalition leaders discussing their career paths and reflecting on the lessons they've learned.
Kathleen Ladner, PhD, RN, FACHE, a retired chief nursing officer and U.S. Navy captain in Nurse Corps, is co-leader of the Alabama Action Coalition. She is an adjunct associate professor of nursing at the University of Alabama in Birmingham School of Nursing in the Nursing Health Systems Administration program. On active duty from 1968-1973, she served in all nursing leadership capacities, including charge nurse, head nurse, and nurse director. In 1974, she was reactivated in the Naval Reserve; her management positions included administrative officer, executive officer, and commanding officer of a reserve hospital unit and fleet hospital units.
Why did you decide to become a nurse?
I had a desire to care for sick people. My focus early on was working with active duty military personnel and their dependents. I suspect my passion to work with the military population was due to the fact my father was a disabled veteran from the Korean War.
Describe the journey you took to get from that decision to where you are today.
My journey began with the single professional goal: to be the best military nurse to my patients. My desire to work in the military and the need to secure funding for a baccalaureate nursing education led me to apply for a scholarship with the Navy Nurse Corps Nurse Candidate Program. I was fortunate to be selected in my junior year and the rest is history. I have served in the U.S. Navy Nurse Corps for 25 years, a combination of active and reserve duty.
Throughout my career, I have been fortunate to serve in distinctive roles while continuing my military duties. I was faculty in three university-based nursing programs while having joint appointments in nursing service. Next, I was approached to consider becoming a senior leader in a hospital. Thus, for 18 years, I was the vice president of nursing and chief nursing officer at four complex acute care facilities in the South.
Since retiring as a health care executive and from the Navy, I have focused on giving back to my profession and community.
What impact did the Institute of Medicine's Future of Nursing report have on you?
I found this report informative and inspiring. This report provides a roadmap of what our profession needs to do to transform. Its recommendations show how to maximize the levels of nurse providers in a manner that reflects "out-of-the-box thinking" to improve upon our delivery of care—delivery to all people, in diverse settings, to improve health and continue to provide efficient, cost-effective and quality care to everyone in the U.S. and the world.
How have you been involved with the Campaign for Action?
As president of the Alabama Organization of Nurse Executives (AlaONE), I worked with several leaders in nursing academia and practice, business, and medicine to apply to the Robert Wood Johnson Foundation to become the state's Action Coalition. RWJF did select our application in February 2012. I am privileged to be one of the nurse co-leaders of the Alabama Health Action Coalition to further the work of the Institute of Medicine's Future of Nursing initiative.
Of all you have accomplished, what are you most proud of?
I have had a rich, unplanned journey with outstanding opportunities and experiences. Honestly, it is difficult to single out one accomplishment. I believe one of the threads of my success is my ability to establish credible and successful relationships with every level of nurses, physicians, academic administrators, health care executives, business leaders, and military leaders to succeed in whatever endeavor before me and community.
What is the most important action that nurses can take to lead the way to improve health and health care in America?
First, nurses need to collaborate more among themselves.
Second, nurses need to acknowledge that leadership characteristics are present in each of us but there are varying levels that are unique to everyone.
Third, as a profession we need to mentor individuals to become visible outside their profession such as suggesting they take leadership roles in their community, serve on boards, and consider running for public office at all levels to improve health for all.
Last, I believe that membership in our professional organizations and others will help nursing achieve these points mentioned above.
What advice do you have for the next generation?
Get involved and be part of the solution. What an influential profession we should be for the 21st century, with its challenges and opportunities for nursing and health care. We should be active, not passive, partners in developing the best health care solutions.