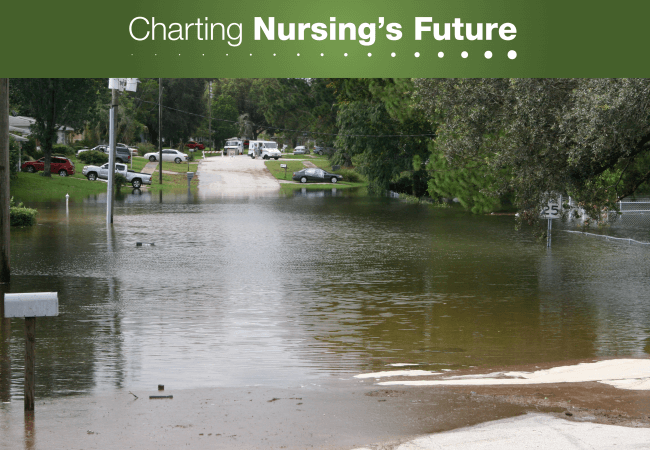 Helping Vulnerable People Before Disasters Strike
Floods, tornadoes, heat waves, blizzards, earthquakes, and hurricanes threaten the health and well-being of millions of people each year, with elderly, young, and medically vulnerable individuals bearing the brunt of disaster-related harm. People who have limited mobility, physical dexterity, and financial resources cannot easily or quickly evacuate. And in many cases, their health depends on care and services that may be inaccessible when roads are impassable or the power goes out.
Nurse researcher Tara Heagele, PhD, RN, PCCN, believes that nurses can decrease disaster-related disease, injury, and death by helping medically vulnerable people before disasters strike.
"To date, most discussion of nurses and disaster preparedness has focused on disaster drills and response. Less often discussed is our role in preparing vulnerable community members," Heagele says. As trusted health care professionals who frequently interact with vulnerable populations, nurses are well-positioned to bolster potentially life-saving disaster preparation efforts, Heagele believes.
With hurricane season approaching, here are five ways nurses can help vulnerable populations prepare for disasters:
Serve as a risk communicator
According to a 2018 Gallup poll, nearly 4 out of 5 Americans consider nurses honest and trustworthy. "People value our opinions," Heagele says, so she encourages nurses to follow organizations such as Ready.gov (@readygov) and the American Red Cross (@RedCross) on social media so as to share and amplify their messages. "They put out risk communication messages that encourage preparedness, and if nurses would share them, they could reach more people," Heagele says. Nurses who share disaster preparedness information also help familiarize people with the idea of disaster preparation.
Identify community resources
Some communities offer special needs registries, which allow residents to register and share information about their medical needs with their local emergency management agency. Some communities also offer priority utility restoration services to customers who have pre-registered and need electricity and water to maintain health. Nurses should find out what resources are available in their communities and connect elderly and medically vulnerable patients to local resources.
Incorporate disaster-planning information into patient instructions
According to Heagele's research, many elderly people don't know what to include in a disaster supply kit. She suggests printing copies of the emergency supply list from the Federal Emergency Management Agency (FEMA) and including it with after-visit summaries and hospital discharge instructions.
Provide emergency preparedness kits
Lack of knowledge isn't the only barrier that keeps elderly and medically frail individuals from preparing disaster supply kits; limited financial resources and mobility challenges also complicate disaster preparation. Heagele interviewed 33 people as part of her research (see A Qualitative Study of Household Emergency Preparedness of the Elderly and the Medically Frail Living in Coastal Urban Environments). Just five had a disaster supply kit on hand, and each one of them had received it, free of charge, after attending a local emergency preparedness course.
Nurses can improve community preparedness by giving emergency kits as gifts and donating "disaster buckets" (buckets containing first aid supplies, canned food, water, and other items as recommended by FEMA) to charity auctions. "They're perfect for any occasion—birthdays, weddings, baby showers, retirement parties," Heagele says. Linda MacIntyre, PhD, RN, chief nurse of the American Red Cross, underscores the value of this intervention: "The more of us who make and have kits, the more kits there will be to share after a disaster," she says.
Participate in policy development
The Post-Katrina Emergency Management Reform Act of 2006 is "a step in the right direction for people who are elderly, medically frail, or living with a disability," Heagele says. But despite its provisions and guidance, the medically vulnerable continue to experience disproportionate illness and death during disasters.
"Nurses need to be advocates for vulnerable community members," Heagele says. Volunteering to serve on community disaster planning committees and conducting research to identify cost-effective life-saving interventions are more ways nurses can help vulnerable people before disasters strike.
Resources
How to Prepare for Emergencies (American Red Cross)
Unbound Disaster Preparedness App for Nurses (Unbound Medicine) ($39.99)
When Disaster Strikes: Nurse Leadership, Nursing Care, and Teamwork Save Lives (Charting Nursing's Future report)
Nurses as Leaders in Disaster Preparedness and Response—A Call to Action (Journal of Nursing Scholarship)