Health Care Executives, Other Stakeholders Join Effort to Put Nurses on Governing Boards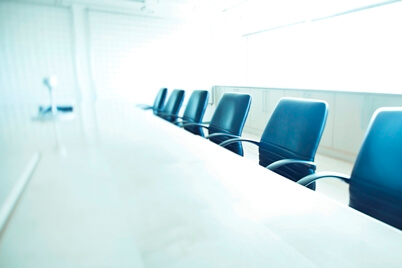 The governing boards of most health-related organizations are like some bread recipes that don't include yeast: they fail to rise to their full potential because they're missing a key ingredient.
The missing ingredient, in this case, is nurses.
That is the view of a wide range of experts from sectors representing health care consumers, corporations, philanthropies, academics and the health care industry itself. The nation needs more nurses in positions of decision-making power, these experts say, not only for the benefit of nursing but also for the organizations and the patients they serve.
"It's a no-brainer," said David Knowlton, MA, president and CEO of the New Jersey Health Care Quality Institute. Nursing, he said, "should have a voice" on the boards of health-related corporations and organizations.
Robert Wise, FACHE, president and CEO of Hunterdon Healthcare in Flemington, N.J., agreed. Nurses understand the "horizontal" needs of patients, from acute care to long-term care to home care, and are able to explain the intricacies of health care in lay terms—a valuable skill on boards with members representing a wide range of disciplines. They are critical to efforts to improve the quality and safety of care and reduce expenses that don't directly benefit patient care, and they are strong patient advocates, he said.
The Institute of Medicine echoes these sentiments in its groundbreaking report on the future of nursing released in 2010. "Nurses," the report stated, "should have a voice in health policy decision making and be engaged in implementation efforts related to health care reform. Nurses also should serve actively on advisory committees, commissions, and boards where policy decisions are made to advance health systems to improve patient care."
Nurses are the largest sector of the health care workforce and are rated the country's most honest and ethical professionals, according to a December 2014 Gallup poll. They spend more time with patients than any other type of health care provider; see patients in their broader social environment; and have unique insights into the interplay of social, financial and environmental factors that affect patient care. This, proponents say, gives them a unique and valuable perspective.
Yet nurses are often overlooked in discussions and debates about health and health care, and hold only 6 percent of seats on the governing boards of health-related organizations and corporations, according to a 2010 survey by the American Hospital Association.
A new coalition is working to change that. The Nurses on Boards Coalition, a broad-based, diverse group of 21 organizations, including 18 of the nation's leading nursing organizations, aims to place 10,000 nurses on corporate and non-profit health-related boards of directors by the year 2020. The coalition is supported by the Future of Nursing: Campaign for Action, a joint initiative of the Robert Wood Johnson Foundation (RWJF) and AARP that is working to implement recommendations from the IOM's future of nursing report.
Step Up to Leadership
But nurses must also step up to leadership opportunities, according to Terrie P. Sterling, MSN, MBA, a nurse leader who participated in a discussion about nurse leadership at a Campaign for Action summit late last year.
Sterling took the first steps of her leadership journey decades ago when she received an invitation to serve on a committee at Our Lady of the Lake Regional Medical Center in Baton Rouge. She was initially reluctant to accept the offer, but a mentor urged to her to join. "If you're going to be a leader in this organization," Sterling's mentor told her, "you have to be involved in things that impact the entire organization."
Sterling is now executive vice president and chief operating officer of Our Lady of the Lake and is chair of the board of directors of the New Orleans Branch of the Federal Reserve Bank of Atlanta. To become leaders, Sterling said, nurses need to work hard, develop an understanding of business and finance, and build relationships with colleagues and mentors. "We're not golfers," she said. "Health care is a team sport."
This story appeared in the February 2015 issue of Advancing Health: News from the Campaign for Action.