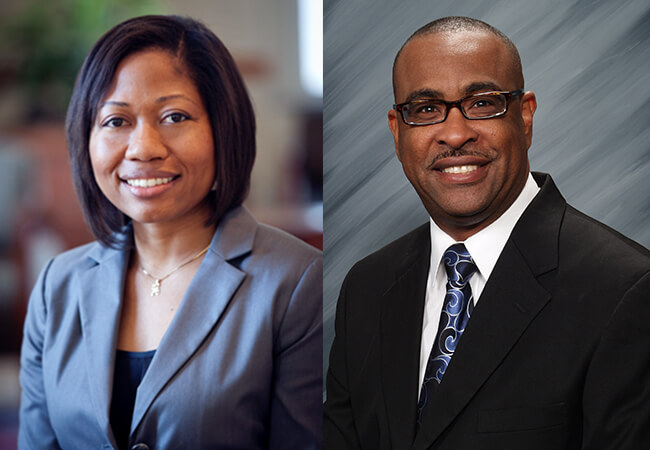 Co-chairs Bring Complementary Strengths to Equity Initiative
From opposite sides of the country, Carmen Alvarez, PhD, CRNP, FAAN, and Eric J. Williams, DNP, RN, FAAN, bring different experiences and perspectives to a common pursuit: advancing health equity by diversifying the nursing workforce. As co-chairs of the Campaign for Action's Equity, Diversity, and Inclusion Steering Committee (EDISC), they are leading the committee's efforts to ramp up its work this year—contributing to a series of Health Equity Action Forums and rolling out the Campaign's innovative mentor program developed with historically black colleges and universities to Hispanic- and Native-American-serving institutions. The Campaign is an initiative of AARP Foundation, AARP and the Robert Wood Johnson Foundation.
We sat down with the EDISC co-chairs to learn more about what they bring to this endeavor and what they hope to accomplish in the future.
Williams is interim associate dean of health sciences and RN program director at California's Santa Monica College and immediate past president of the National Black Nurses Association. When he entered college in the early 80s, African American men were a rarity in nursing schools. "I had to deal with stigma, racial confrontations, and institutional racism," he says, but some faculty were very encouraging. "They helped me to keep my eye on the prize. I actually had a nursing instructor say to me, 'You're going to be a leader one day.'"
Alvarez also works in academia, after making several stops along the way to her current position as an assistant professor at Baltimore's Johns Hopkins University School of Nursing. "My first bachelor's degree was in nutritional science," she says. "That's what got me interested in maternal and child health." She entered nursing school with the intention of becoming a midwife but soon found herself thinking about the entire family. Emory University, which she attended, was one of the few schools that offered dual certification at the time, so she became both a nurse practitioner and a midwife.
Today her research focuses on adverse childhood events and intimate partner violence. "I've always practiced in safety-net settings that serve predominantly uninsured immigrant populations," she says. "I noticed that the people who seemed to struggle the most with their daily challenges tend to be people who have a history of trauma. It got me thinking about what it is that we ought to be doing for this population so that their outcomes are not so disparate from those who have not experienced these traumas."
Williams comes at this problem from a different angle. In his former role as president of the National Black Nurses Association, he championed violence reduction. "Violence is an epidemic," he says, "but nurses can make a difference. If we start off with saving children, we save an adult. If you give children a good education, have more after-school programs, make sure they have the tools for success, then 20 years from now you should see less incarceration."
Community-based solutions are at the heart of what both co-chairs believe it will take to ensure that all people have what they need to lead healthier lives. These leaders would like to see nurses who reflect the diversity of the communities they serve engaged in implementing those solutions. "Nurses need to work with faith-based organizations, public housing, public transportation, public libraries—anything that's associated with the public," Williams says. "We also need to move from the bedside to the boardroom, so nurses are true decision-makers when it comes to health policy. We need to be integral in the community. Nurses need to lead the way."
When it comes to the thornier question of how nurses can combat racism, Williams emphasizes leadership once again. "We have to ensure that we have diverse leaders—deans in schools of nursing, hospital administrators—and we need nurse leaders in the community because, remember, health care is moving more to a community-based model," he notes.
When considering how nurses can combat racism and advance health equity, Alvarez offers a different approach. "I think that comes with a lot of reflection," she says. "For instance, in nursing education, what are we communicating—or not communicating—to our students?" she asks. "We all have our implicit biases. Are we fueling those in the education that we provide? What opportunities are we missing to help our students recognize their unconscious bias and deliver care in a way that creates the most trusting and comfortable space for a patient?"
Reflecting on what motivated her to get involved in the Campaign's work to advance equity, diversity, and inclusion, Alvarez says, "The events of the last year—the COVID-19 pandemic, the killing of George Floyd, and the social justice uprising—have made me that much more passionate about working for diversity and health equity. I think many of us who have been working in health disparities are excited that we now have people's ear and their attention to appreciate and consume the work that we've been doing."