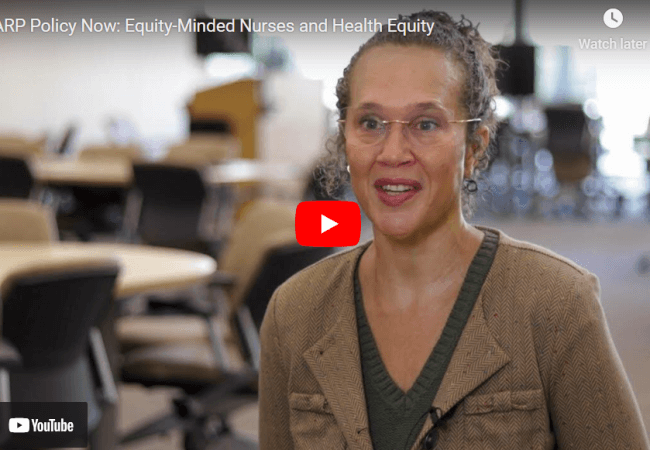 Video: Nurses and Health Equity
The National Academy of Medicine's Future of Nursing 2020—2023 report, published amid the COVID-19 pandemic, is subtitled, Charting a Path to Achieve Health Equity. As the largest and most trusted segment of the health care workforce, nurses have the power to break down barriers to advance health equity for all, that report says.
The Future of Nursing: Campaign for Action, an initiative of AARP Foundation, AARP, and RWJF, has seized on that mandate and launched the Equity-Minded Nurse initiative as part of that effort.
The phrase "equity-minded nurse" was coined by the Center for Urban Education and highlighted by Piri Ackerman-Barger, PhD, RN, FAAN in the Campaign's inaugural blog post in a series by and about equity-minded nurses. Ackerman-Barger is the Campaign's senior health equity fellow and associate dean of Health Equity, Diversity and Inclusion and clinical professor at the University of California Davis Betty Irene Moore School of Nursing.
In this Policy Now video produced by the AARP Public Policy Institute, Ackerman-Barger explains the concept: "An equity minded nurse is someone who has the knowledge, the skills, and the desire to make really significant change across health settings." She also explains that a diverse nurse workforce will play a powerful role in advancing health equity.