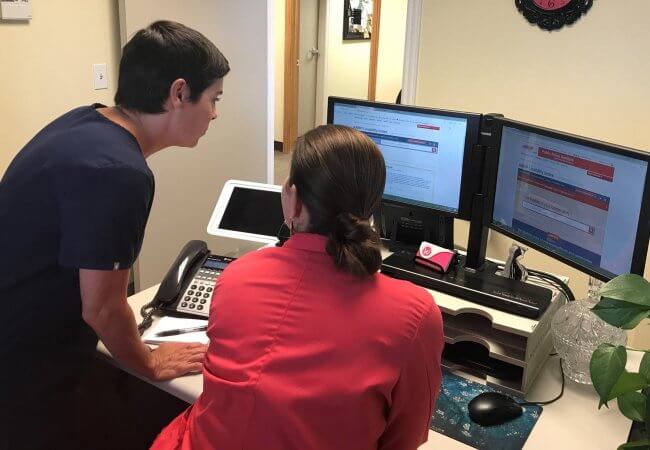 AARP's Livability Index Helping Nurses Better Understand Communities and Consumers
Rutgers University School of Nursing students in the public health nursing class of Diane Brienza-Arcilla, DNP, RN, are quickly introduced to AARP's Livability Index, which scores neighborhoods and communities across the nation for services and amenities that impact daily living, such as transportation, housing and environment. It's a tool Brienza-Archilla uses to help students learn more about their communities, as well as the communities their patients come from. Their semester project is to choose a community by zip code and visit to complete an assessment. What is the quality of the housing? Are there safe parks and sidewalks for walking or other exercise that may be prescribed? Are healthy food options easily accessible? The Livability Index provides ratings on these issue and a myriad of others related to key determinants of health, such as access and affordability of housing, access to transportation, clean air and water, civic engagement and social inclusion.
"In this class we are looking at the community, population, public as a whole," said Brienza-Arcilla, a clinical assistant professor. "We are introducing the students to 'upstream thinking' and the preventive care associated with it. Each semester, students have this 'aha' moment, coming into class and telling me they had no idea…what services existed in their community, or the lack of services in their neighborhood…They begin to understand the challenges their patients face."
Danielle H. Pendergrass, DNP, APRN, WHNP-BC, a nurse practitioner, uses the Livability Index at both her practice, Eastern Utah Women's Health in Price, Utah, as well as in her leadership role in advocating for health in her community. "My favorite part of the Livability Index is the 'policy' tab which shows areas where we have and don't have policy. For example, we do not have equal rights for LGBT (lesbian/gays/bisexual/transgender people). The index gives us a peak into our blind spots and the data to open up conversations with our citizens and local and state policy makers to ensure we have well thought-out plans for our community like sidewalks and equal employment rights."
Pendergrass also works to boost the Livability score of her community. She knows that participation in democracy is an indicator of civic health, and voter participation is a way to measure that. So her office administrator is prepared to help patients register to vote while they wait.
Pendergrass frequently talks about the importance of exercise to her patients. "If you look at the Livability Index, it shows that my zip code has low access to walking, biking, and gyms," she said. "Therefore, I counsel women on alternative ways to get exercise in their day."
Pendergrass and Brienza-Arcilla are both looking forward to working with updated 2018 Livability Index, which launched June 21. Nurses are leading in both academia and practice settings by recognizing the unique value that nursing brings to creating healthier communities and building a Culture of Health and health equity. Read the 2018 report.
How are you using tools such as the Livability Index?  Share your stories with the Campaign For Action by emailing Lynn Mertz.