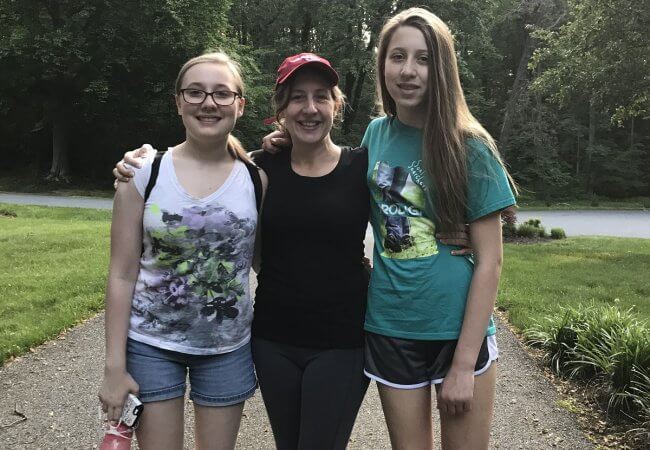 Why Campaign Staffers Are Lacing Up their Walking Shoes and Hope You Will, Too
Earlier this month, AARP announced its first ever walking challenge and sweepstakes, featuring fitness expert Denise Austin and her daughter, Katie Austin. AARP's Fit & Fun Health Challenge invites you to make your (and a loved one's) health a priority by adopting a healthy new habit together, like walking 30 minutes a day for eight weeks.
Several team members of the Future of Nursing: Campaign for Action, an initiative of AARP Foundation, AARP, and the Robert Wood Johnson Foundation (RWJF), were inspired by the challenge and joined in. Read on to find out why they were motivated to make a healthy change and how you can join in the fun, too! (Note: Our staff members are not eligible to win any prizes.)
"I am doing the challenge for overall well-being, mental health and to role model healthy choices for my daughters and son," said Jennifer Peed, MSW, who committed to walking for 30 minutes each day with her children. Peed is director of the Office of Center Integration at the Center to Champion Nursing in America (CCNA), which leads the Campaign. "I am hoping they see living healthy as an easy choice."
For Winifred V. Quinn, PhD, director of advocacy and consumer affairs at CCNA, the challenge provided the opportunity to walk and talk with a colleague every day and inspired her to remain committed to exercising. "For the past few months my workouts decreased and I needed something to spark me into action and to commit. The Fun & Fit Challenge has created the spark and motivates me to remain active."
Meeting and events manager Barbara Mitchell-Swain, BS, is participating in the challenge with her daughter. "We usually take daily walks in the late afternoon. It's our time to catch up on events of the day and get some exercise in—a double whammy!"
"Intentionally walking for 30 minutes every day has been harder to schedule than I thought, but it has been rewarding. I am finding I really feel better after the walks," said Lynn Mertz, PhD, senior strategic policy adviser.
Our team is inspired by AARP and RWJF's commitment to helping people to live their healthiest lives and they—and we—know that nurses are essential to building a healthier nation. Taking a daily walk is a great way to deepen ties with those you know and love, improve your health, and reduce your stress, which is so important for nurses.
We hope you will join us by learning more about healthy living and entering the challenge. To find out more, go to aarp.org/challenge, where you can get videos and tips, share stories and photos, and earn a chance to win prizes, including a Grand Prize Spa Weekend! We hope to see you there.