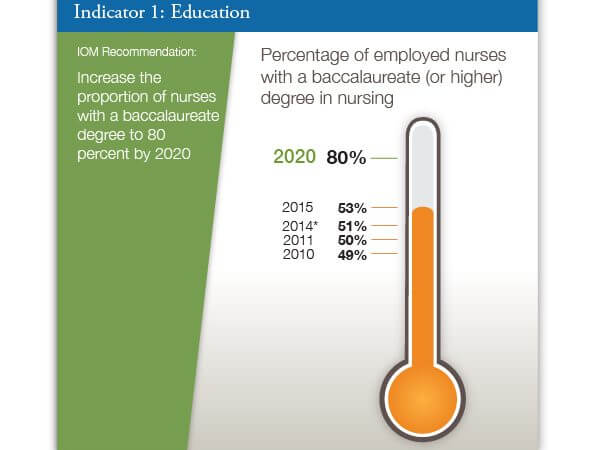 Updated Campaign Dashboard Reflects Progress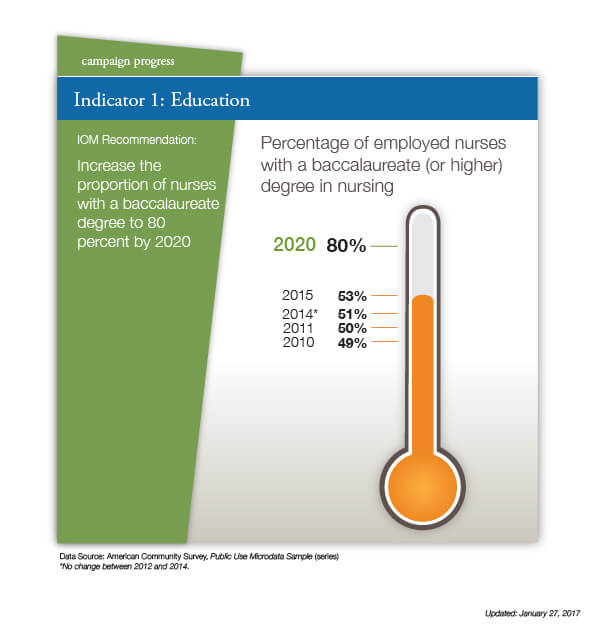 Positive trends in nursing education, leadership, and scope of practice are just a few of the changes seen in the latest round of updates to the Future of Nursing: Campaign for Action Dashboard. The Dashboard is a series of graphs and charts used to track efforts to implement the Institute of Medicine's Future of Nursing recommendations, and was recently updated with new data that shows progress on many fronts. Specifically, the newly updated Dashboard primary indicators show that:
More employed nurses now have a bachelor's or higher degree in nursing;
More nurses report serving on boards;
Several states have improved their scope of practice laws; and
Top nursing schools are increasing the number of interprofessional experiences among nursing and other health professions students.
In addition to the primary Dashboard indicators, which align with the Campaign's pillar areas of education, state practice environment, interprofessional collaboration, leadership, workforce data, and diversity, are more than two dozen measures, referred to as secondary indicators. Progress was seen in these secondary measures as well, with highlights including:
Growth in the number of U.S. hospitals with Magnet status;
Growth in the number of RN-to-BSN program graduates;
Growth in the number of nurses receiving doctoral degrees; and
Increasing racial/ethnic diversity in the nursing workforce.
The Dashboard is updated twice per year to reflect the most current data. To find out more, check out the Campaign's primary and secondary Dashboard indicators.