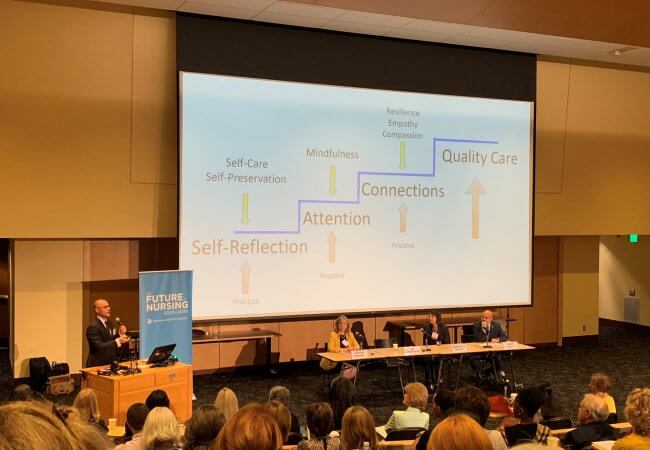 The Seattle NAM meeting: "Make time for self care"
"Nurse Well-Being and Impact on Patients and Caregivers" was the theme of the second half of the "High Tech to High Touch" meeting held by the National Academy of Medicine on Aug. 7. One panelist summed up the overall sentiment when she said, "We care for others but not ourselves."
The NAM Committee on the Future of Nursing 2020-2030 set the stage for its third town hall, held in Seattle, by posing questions to nurses online a few days earlier, such as this: "What are some ways you'd like to see employers addressing the health and well-being of their nurses on staff? If you're a nurse, how do you take care of yourself and your team members?"
Moderating was Kristen Swanson, RN, PhD, FAAN, dean and professor at the Seattle University College of Nursing. Panelists grappling with how nurses can better care for themselves were Tim Cunningham, DrPH, MSN, RN, corporate director of patient and family-centered care at Emory Healthcare; Bernadette M. Melnyk, PhD, RN, FAANP, FNAP, FAAN, vice president for health promotion and university chief wellness officer, dean and professor at the College of Nursing at The Ohio State University; and Jason Wolf, PhD, CPXP, president and CEO of The Beryl Institute.
Cunningham hit on a broad theme of the session, that self-care is not built into the system. He quoted writer and activist Audre Lorde: "Caring for myself is not self-indulgence, it is self-preservation, and that is an act of political warfare." His point: The idea of taking time for oneself might seem radical because, as Cunningham said, "Health systems are not designed to care for us."
Cunningham, a former emergency room nurse who directed the Compassionate Care Initiative at University of Virginia School of Nursing, compared self-care to how the heart works: It takes in oxygen and uses it for its own needs before pumping it throughout the body. Nurses, he said, do the opposite, saying that they simply don't have time for self-care—or do not think they do.
But nurses have to practice self-care, he said: from that comes equitable care. Indeed, much of self-care and self-preservation are in some activities that nurses don't realize are forms of mindfulness, such as setting aside 15 minutes to read the Bible, as one nurse he spoke with does, and other ways of focusing attention that lead to greater resilience.
Too often the tension behind the oft-cited "nurses like to eat their own"—which, Cunningham believes, has changed a bit for the better—starts with a health system that is not designed to care for clinicians, "devours" them—and in turn, "we take it out on the patients."
Melnyk, up next, agreed, calling clinician burnout a public health epidemic, and emphasized, "We want to be careful not to blame clinicians. …Yes, we can do a better job at self-care, but there are so many systems issues that lead to the burnout, depression, and suicide."
"And self-care is necessary for safe and great care of others."
Melnyk came armed with data, sobering statistics: 24% of ICU nurses test positive for symptoms of PTSD (that from a 2007 study). From a 2016 study: 23% to 31% show prevalence of emotional exhaustion among primary care nurses.
She cited a 2012 Gallup poll on clinician health whose findings she herself helped update in 2018. Factors that Gallup measured included the number of sick days taken in the past month, obesity, feeling well-rested, daily energy, daily colds, daily flu, and daily headaches. By almost every measure, physicians were in better health than nurses. At the time, 4% of physicians said they smoked; 15% of nurses did.
Melnyk went on to connect nurses' physical and mental health with the error rate, a 2018 study that also considered the "perceived support of wellness at place of employment." As the study found, nurses with worse health were associated with much higher rates of error. More than half the nurses cited depression. The longer the shift, the more the errors.
Melnyk drew applause when she declared, "We need to stop 12-hour shifts."
Bemoaning how long it takes to put data into action, she said, "This is not a new finding. But we continue to promulgate these 12-hour shifts."
She also turned to her related research whose title said it all: "Interventions to Improve Mental Health, Well-being, Physical Health and Lifestyle Behaviors in Physicians and Nurses" was a systematic review of 43 other studies. Cautioning ruefully—and with some frustration—that more research studies are needed, she reported that her review found that what works best in helping clinicians' well-being are mindfulness techniques and cognitive behavioral therapy.
Yet while healthy behaviors matter ("we must move more and sit less"), ultimately, what is needed, Melnyk said, is change in the system and culture, efforts she noted are supported by the National Academy of Medicine's Action Collaborative on Clinician Well-Being and Resilience.
Jason Wolf began his presentation with Maya Angelou's quote: ""If you find it in your heart to care for somebody else, you will have succeeded."
As president of The Beryl Institute, Wolf's focus was on the patient experience. His definition, as with Cunningham and Melnyk, said that that experience is shaped by the culture of the health organization.
Human interactions are at the heart of health care, said Wolf, and technology must be translated into how it will help those both delivering and receiving care. IT is not just process improvement tool, said Wolf; it is "a means to elevate the human experience."
Leaders and policies should encourage positive work environments where teamwork can flourish, and support nurses through processes and guidance that allow them to focus on the patient experience. That, he said leads to high-quality outcomes, fosters well-being, and reduces the impact of burnout.
The way to elevate the human experience: Listen, create space, communicate, be present. Central to improvement is caring—for your own well-being, as a caregiver.
His message to the clinicians gathered to help shape the future of nursing: Change health care by ensuring an unwavering commitment to the human experience.
And that, all speakers agreed, depends on finding healthy ways for clinicians to maintain well-being to be able to better care for others.
The Seattle meeting also included a panel on digital technologies and transforming health care delivery. Learn more.