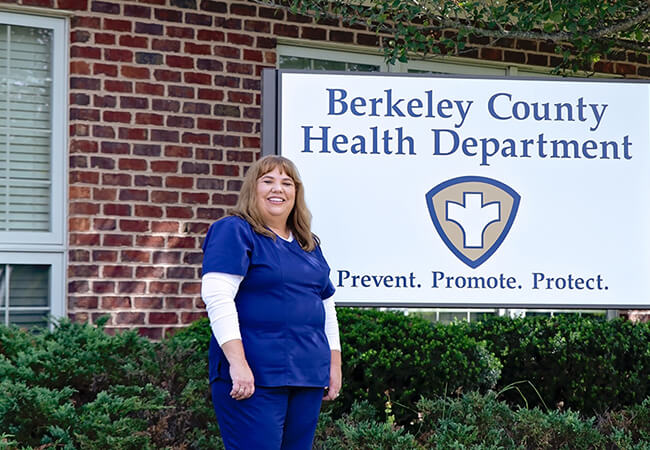 RWJF Nurse Leader Contributes to Fighting Opioid Epidemic
In a state hit hard by the opioid epidemic, West Virginia's Gov. Jim Justice announced a pilot program in two counties that are among those suffering the highest rate of fatal drug overdoses. The effort will bring together medical professionals, health departments, first responders, law enforcement, faith community, behavioral health providers, schools, and recovery coaches.
Among those leading the effort is Angie Gray, BSN, RN, who was trained in the Public Health Nurse Leader program sponsored by the Robert Wood Johnson Foundation. Gray is director of nursing at the Berkeley-Morgan County Health Department.
The pilot program in Berkeley and Jefferson counties is a partnership between West Virginia University and the West Virginia Department of Health and Human Resources' Office of Drug Control Policy and will coordinate actions with and among community partners to strengthen prevention and recovery resources.
As the Berkeley County lead, Gray's role is to oversee the primary intervention areas of rural outreach teams, stigma reduction and  trauma awareness, and community Naloxone education and capacity.  In light of her expertise in public health education and harm reduction, Gray will have a particular role in the development and implementation of the rural outreach teams, a model that incorporates public health, behavioral health, case management, and recovery coaches.
"We are tremendously excited about the leadership skills and vision Ms. Gray brings to this initiative," said Emma M. Eggleston, MD, MPH, associate vice president for Health Sciences, and dean, WVU School of Medicine Eastern Division. "In addition to her wealth of expertise in fighting the opioid epidemic and the attendant stigma and social harm it brings to individuals and families, Ms. Gray has a broad network of community relationships to engage and collaborate with. Like many nurse leaders,  she is a natural bridge builder."
Gray credited the RWJF training with giving her the experience and skills to help lead the effort.
Wrote Gray in an email, "I am grateful for the opportunity to apply what I have learned, to help my fellow West Virginians rise out of the opioid epidemic."
Read more about Gray and the Public Health Nurse Leader training.