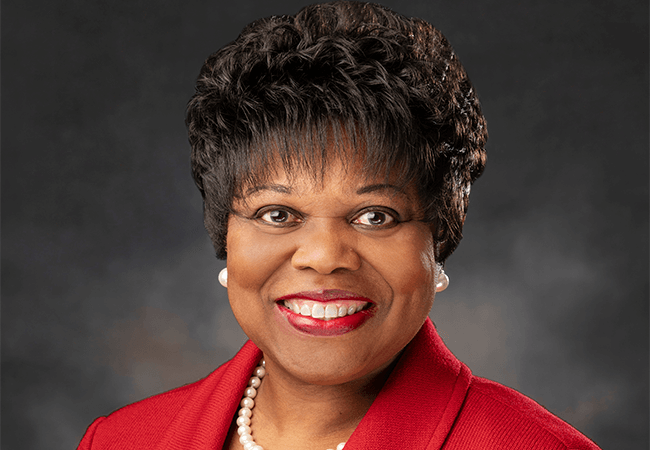 RWJF Health Policy Fellow Creating Pipeline of Health Policy Leaders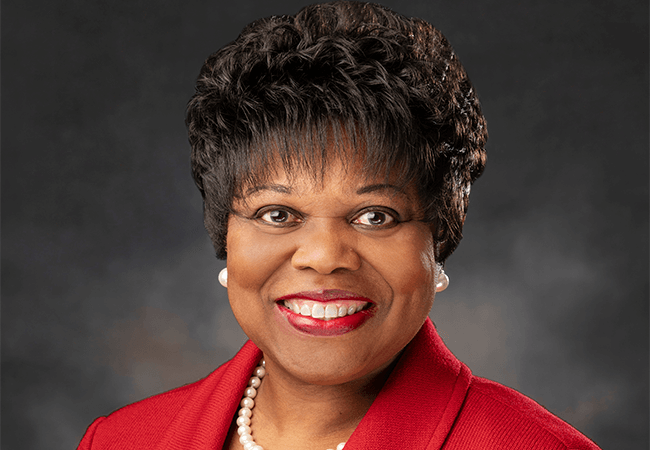 Sharron Crowder, PhD, RN, a Robert Wood Johnson Foundation (RWJF) Health Policy Fellow and clinical associate professor at Indiana University School of Nursing, taught a health policy course for graduate nursing students in 2013 at the request of her dean, little realizing that she was embarking on a journey that would take her to Washington, D.C., to become a national leader in health policy.
Already active as a military spouse working to improve conditions for military families and in efforts to improve case management and chronic disease management for people with asthma, Crowder discovered that teaching health policy "pulled everything together" for her.
The Institute of Medicine report, The Future of Nursing: Leading Change, Advancing Health, released three years earlier (in 2010), had stressed the importance of increasing the number of nurses who were engaged in health policy and advocacy.
"The report reinforced the policy endeavors of nurses that occurred prior to 2010 and identified the critical need for more nurses to be involved in health policy on local, state, and national levels," Crowder recalled.
With support from two nursing deans at Indiana University, Marion Broome, PhD, RN, FAAN, who left in 2014, and the current dean, Robin Newhouse, PhD, RN, NEA-BC, FAAN, Crowder expanded the health policy options at Indiana University. She collaborated with a member of the Indiana House of Representatives, Rep. Edward D. Clere, and the executive director of state relations at Indiana University, John Grew, to create the IU School of Nursing Legislative Fellowship.
Eight students since 2014 have participated in a semester-long fellowship experience with Clere, meeting with constituents and advocacy organizations, reviewing bills, and examining evidence-based data and resources. The goal: to get nurses to become health policy leaders.
Crowder also established an extensive mentoring program called The Eagles, comprised of 30 master's, doctor of nursing practice, and doctor of philosophy nursing students. After they complete her health policy and advocacy course, they participate in advanced policy courses, advocacy practicums, and leadership experiences. Crowder continues to mentor them beyond graduation.
The best part of mentoring is "using who you are to empower another person to reach his or her potential and become a leader," she says. "I have a commitment to developing a pipeline of leaders in health policy."
The men and women she has mentored include chief nursing officers, presidents of state nursing organizations, and health policy professors. All of her mentees are active in state policy and advocacy, including in addressing the opioid crisis, serving on school and community boards, and emphasizing the importance of research to inform policy.
Crowder  also has developed advocacy practicums–during which students lead projects on particular topics or issues, often working with the Indiana State Nursing Association, government agencies, and professional and community organizations—as well as a partnership with Franciscan Health to develop policy and advocacy leadership initiatives among practicing nurses.
In 2018, Dean Newhouse identified the need for a special assistant to the dean for health policy initiatives. Crowder was appointed to that position. She said, "while serving in that role I facilitated students' and faculty's interactions with IU government relations, the Indiana General Assembly, and professional organizations. It has been rewarding to advance our involvement in civic engagement and health policy leadership on our campuses in Indianapolis, Ft. Wayne, and Bloomington. However, I wanted to do more."
Crowder applied to be a Robert Wood Johnson Foundation (RWJF) Health Policy Fellow because she wanted a more formalized, real-world experience at the national level that included an internship in Congress or the Executive branch. She was one of six fellows—and the only nurse—selected for the 2019-2020 cohort.
For more than 40 years, the RWJF Health Policy Fellows program has offered exclusive, hands-on policy experience in Washington, D.C. Fellows meet with national health and health policy leaders, participate in seminars and leadership development, and engage with members of Congress and their staff. It is administered by the National Academy of Medicine.
More than 270 fellows have participated in this program and used that leadership experience to improve health, health care, and health policy. Nursing alumni of the program include Deborah Trautman, PhD, RN, president and CEO of the American Association of Colleges of Nursing (2007-2008), and Ellen-Marie Whelan, PhD, NP, RN, senior adviser, Center for Medicare and Medicaid Innovation at the Centers for Medicare and Medicaid Services (2003-2004), among others.
Crowder has been impressed with the broad exposure to health policy leaders. In two months, she has participated in small group meetings with more than 150 health policy leaders from government, think tanks, private and public organizations, and industry.
She encourages all nurses who are interested in health policy to apply for the program. "It provides insight on where you can go to enhance your policy lens and focus," she says.
For Crowder, that means returning to Indiana University and enhancing its policy programs and broadening interdisciplinary collaboration initiatives. She looks forward to continuing to mentor students, and using her newfound knowledge and connections at the national level.
"This fellowship has given me an awesome opportunity to recognize what we can do when we find our path and passion to be change agents and make a difference," she says. "I want to take this experience and bring to the table policy changes that build health."
For more information about the RWJF Health Policy Fellows program, click ere.