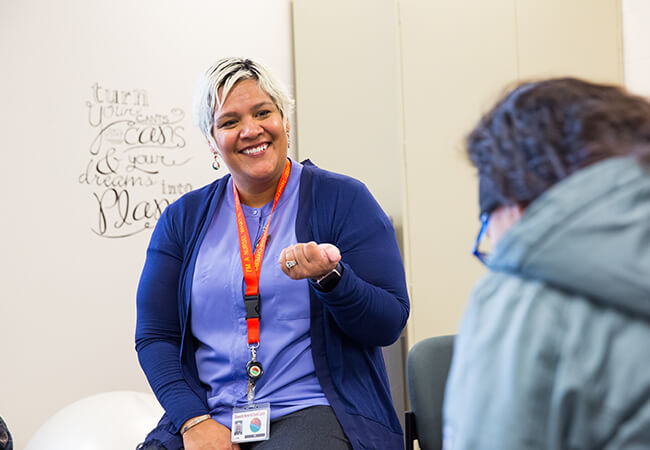 An RWJF Clinical Nurse Scholar Tackles Youth Suicide
Twenty youths attempted suicide the first month that Kelly McGrady, RN, started as an at-risk mentor for the school district of New Town, North Dakota.
McGrady, a Robert Wood Johnson Foundation Clinical Scholar, understood the feelings of hopelessness that the youths experienced. McGrady is an enrolled member of the Three Affiliated Tribes and grew up on the same reservation, as well as the Turtle Mountain Reservation, and survived many of the same adverse childhood experiences (ACEs) as her students. She, too, attempted suicide, at the ages of 8 and 15. She credits the U.S. Army with giving her the structure, discipline, and ability to find her inner strength.
Now a trusted leader in her community, her goal is to help awaken in the teens the gifts, talents and abilities that are within, and thereby reduce suicide attempts.
Forty percent of people who die by suicide in American Indian communities are between the ages of 15 and 24. Among adults ages 18 to 24, American Indians have higher suicide rates than any other ethnicity and higher than the general population.
"Historical trauma stunts personal and professional growth," McGrady says. "We can do awesome things if we are able to address our ACE scores, seek healing and are given opportunities. If I can do it, others can do it as well or better than me."
Determined to stop the high number of suicide attempts, McGrady began meeting with Monica Taylor-Desir, MD, MPH, who at the time was the psychiatrist and the chief medical officer at New Town's Elbowoods Memorial Health Center, and Leolani Ah Quin, a social worker and the Center's behavioral health director.
Taylor-Desir saw a notice about the RWJF scholars program in an Indian Health Service listserv, and the three, along with pediatrician Anita Martin, MD, applied. They wanted to build their leadership skills and gain support in starting a Building Resilience, Building Health program for youth who are at risk for suicide or who have survived a suicide attempt. Their proposal was accepted, and they joined the 2017 cohort.
Building Resilience, Building Health is a psychoeducational program that another American Indian community used to decrease the rate of suicide attempts and completions. The program is for families of adolescents ages 12 to 18 who have been identified as having at least one mental health diagnosis, such as depression, anxiety, post-traumatic stress disorder, attention deficit/hyperactivity disorder, or substance use disorders. Over the course of five sessions, the program covers the diagnosis, medications, reintegration into the school system, and social support. The families share meals together and learn about their culture, including Native healing techniques to address anxiety and the tradition of listening to the elders of their community.
As a member of the New Town community, McGrady builds trust immediately and is able to amplify the impact of the program by connecting community members to the help they need, successfully getting teens to meet with a health care provider, incorporating information about trauma-informed care training in the school and community, and being a person who teens "turn to when they are in crisis," says Taylor-Desir.
Often, McGrady says that teens will reach out to her to talk about their relationship or parental issues. "I will always answer a text or a call on the weekends, and I get youth help," she says. "Many of them call me Auntie Kelly because I am genuine in how I care for people, plus I make myself available."
McGrady always knew that she wanted to be a nurse. As a child, she injected her paternal grandmother with insulin shots to treat her diabetes. She admired her auntie/mom Madonna Azure who was a nurse, and she also took Health Careers at her high school, where she got to observe nurses and pharmacists. After graduating, McGrady joined the U.S. Army and became a medic. She saw life outside the reservation for the first time as an adult.
"I saw how good life could be," she said. "I saw people who reminded me of my own family members, and they were able to do good things because of opportunities. I saw all of this untapped potential at home."
McGrady became a young mother, but she never forgot her desire to become a nurse. While raising a family that grew to include six children, McGrady got her certified nursing assistant and licensed practical nursing degrees. In 2012, she graduated with her associate degree in nursing.
Her nursing roles have been dedicated to building a Culture of Health: She has worked to reduce falls in older adults, help members of her community navigate the Affordable Care Act marketplace, and taught exercise classes. She volunteered as the school's cheer coach and bus driver for the gymnastics team.
McGrady describes the opportunity to participate in RWJF Clinical Scholars as a "prayer being answered" to get the youth in her community the help they need to thrive.
Clinical Scholars is a leadership development opportunity for practitioners from diverse fields of health care. Interdisciplinary teams of health care providers collaborate across sectors, tackling complex health problems in their communities and building a Culture of Health nationwide.
McGrady has appreciated the network of professionals she has met through the program. After she described the lack of medical professionals in New Town, a fellow member of her cohort, pediatrician Omolara Uwemedimo, MD, MPH, an assistant professor at the Donald and Barbara Zucker School of Medicine at Hofstra/Northwell, in New York, began sending pediatric residents to New Town for one month placements. The residents, who are primarily trained in New York City, experience for themselves the benefits and challenges of rural-based medicine in the U.S.
McGrady credits the program with giving her the courage to attempt things she never thought possible and see life from a whole new perspective. After learning how a campus connections program in North Carolina helped to rebuild a struggling neighborhood, McGrady joined her local parks and recreation board. She also joined the board of New Town City Library and started a food backpack program in her school district after hearing about similar programs in other communities.
Her experiences in Clinical Scholars inspired McGrady to return to school to pursue her Bachelor of Science in Nursing; she is now considering graduate education. She attends the University of North Dakota with her two oldest children, who she says, are breaking the cycles of poverty, substance abuse, hopelessness and young parenthood.
Clinical Scholars "is not solely about advancing the scholars' leadership skills," McGrady says. "It's about making lives in our communities better."
(For more information about Clinical Scholars, go here. The next call for applications will be in January for the 2020 cohort.)