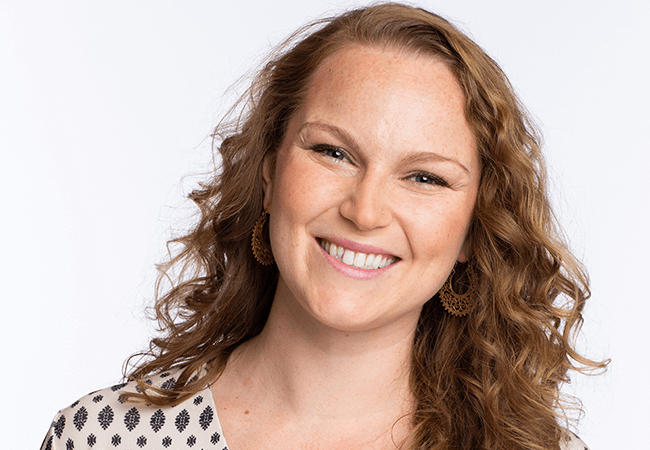 Nurse Practitioner and RWJF Culture of Health Leader Addresses Homelessness
Courtney Pladsen, DNP, FNP-BC, RN, a nurse practitioner and a participant in the Robert Wood Johnson Foundation's (RWJF) Culture of Health Leaders program, was providing medical care to people experiencing homelessness at a soup kitchen in Washington, D.C., when a woman named Becky Smith* asked for wound dressing supplies. Pladsen assessed Smith's wound and discovered an infected breast lesion—a sign of cancer.
Due to Smith's mental illness, she was not able to navigate the health system alone. As a result, Pladsen accompanied Smith to the emergency room, where she was admitted to the hospital. During her admission Smith was diagnosed with breast cancer and underwent a radical mastectomy—an invasive procedure in which the surgeon removes all of the breast tissue along with the nipple, lymph nodes in the armpit, and the chest wall muscles under the breast. Within one week of her surgery she was discharged back to the streets, where she had lived for the past nine years. The oncologist who treated her made the difficult decision to delay chemotherapy until Smith was able to secure housing.
Pladsen checked on Smith in her tent four times a week and watched Smith's health steadily deteriorate, despite her best efforts. Realizing that Smith would die without treatment, Pladsen organized a multidisciplinary team meeting among the soup kitchen managers at Miriam's Kitchen, a community organization that provides meals daily and case management; Smith's oncologists; and the local housing department.  Pladsen laid out Smith's dire medical situation, her resources, and the barriers to her care.  Collectively, the group agreed that housing was Smith's most pressing need.
Through their advocacy, Smith received housing priority, and within two months, the Interagency Council on Homelessness had secured a permanent supportive housing unit for her. Smith had food in her cabinets, transportation to her appointments, and Social Security benefits. With Smith's housing, food, transportation, and financial needs met, she could receive life-saving chemotherapy.
"Housing saved Becky's life," Pladsen said. "As a nurse practitioner, my job description does not include housing placement, but when you treat the whole person, it becomes easier to identify and address the social and environmental factors that affect health."
Smith's case led Pladsen and her colleagues to set up a communication system that they now use for their most acutely ill homeless patients.  They huddle two times a week to take a collaborative approach to meeting patients' needs.
Changing the Status Quo
Pladsen's determination to change the status quo for Smith exemplifies why she was one of two nurses accepted in 2018 into the RWJF Culture of Health Leaders Program, a three-year leadership development opportunity for people working in every field and profession who want to increase their impact in advancing equity and health. The program provides leadership training, coaching, and opportunities to collaborate in building a Culture of Health, one that provides everyone a fair and just opportunity for health and well-being.
During Pladsen's six years at the Federally Qualified Health Center (FQHC), Unity Healthcare, she developed and led the first medical respite program for women in Washington, D.C. In January 2018, she transitioned to another FQHC in Portland, Maine, to help develop the first medical respite program in the state. Medical respite provides care for individuals who are experiencing homelessness and who are too ill to safely recover on the street or in a shelter but not sick enough to need hospital-level care. Medical respite provides residential medical care including post-op care, wound care, medication management, IV antibiotics, and substance use treatment. It also offers the time and space to address patients' social needs while healing from acute illness.
Pladsen was attracted to the Culture of Health Leaders program because of the opportunity to learn from leaders in other sectors, such as food access, community organizing, architecture, and housing. "I wanted to learn other perspectives and broaden my lens as a nurse," she says. "You can't create meaningful change alone as one discipline. We need to learn from one another and develop multidisciplinary solutions."
She aims to utilize the skills learned from the Culture of Health Leaders program to develop new healthcare delivery models at the intersection of health and housing.
She says the program has taught her to look at problems through an equity, diversity, and inclusion lens.  She has started asking "who is at the table and why?" and seeks to have a more inclusive approach by engaging with people who are experiencing homelessness in the program design, employing a "nothing about us, without us" approach. As a result, Pladsen and her team are interviewing homeless individuals who are hospitalized and asking about their experiences, including the extent to which they felt their needs are and are not being met. The group is compiling and analyzing answers to incorporate into the medical respite program design.
Medical Respite Program to Launch This Fall
More than half of Maine's homeless population lives in Portland, and the medical respite program will help to address their unique health needs. The main drivers of homelessness in Portland are lack of affordable housing, the opioid overdose crisis, and the lack of access to healthcare. Because Maine did not expand Medicaid until January 2019, it has been very difficult for under-resourced communities to access substance use treatment and mental health services.
People who experience homelessness die 20-30 years before their housed peers. Having a medical respite program aims to improve health outcomes by addressing a particularly vulnerable time after a hospital admission by providing residential medical care as a buffer before returning to the community. People who experience homelessness have lengths of stay in the hospital twice as long as the general population. Despite this extra time in the hospital, they are much more likely to be re-admitted because they are often returning to environmental conditions that are not conducive to healing.
The 24-bed freestanding medical respite program will open this fall and will provide primary, mental health, and substance use treatment. The program will include 24-hour clinical staff who are trained to provide trauma-informed care and promote health equity in a patient population that is often marginalized by traditional health systems. Screening and addressing social determinants of health for all clients is an integral part of medical respite. It provides a unique opportunity for patients to receive necessary medical care, while also having case management staff who are developing relationships with clients and support client identified goals such as housing.
"Everyone deserves the dignity of a home; homelessness should be rare, brief, and nonrecurring," Pladsen says.
A Personal Mission
Pladsen's empathy and sense of mission to care for the homeless is personal: when she was a teenager her family experienced homelessness. "Losing my home, living in a shelter, and experiencing the indignity of poverty profoundly impacted the way I understand the world." she says.
On rare occasions, she will share her story with clients who are feeling overwhelmed while trying to find housing and overcome other hurdles. "Sometimes it's helpful to know that someone else knows what it is like to go through the experience of homelessness," she says. "I can truly empathize."
The Culture of Health program has increased Pladsen's policy and advocacy passions, and she is considering running for office. "When nurses harness their bedside experience and run for office, it benefits the entire community. Nurses are uniquely positioned to understand how social determinants impact health and can utilize this knowledge to develop legislation that promotes health equity."
For more information about the RWJF Culture of Health Leaders program, click here. The next application period closes February 20, 2019. For information about RWJF's other leadership development programs (Clinical Scholars, Interdiscplinary Research Leaders, and Health Policy Research Scholars), click here.
*Ms. Smith's name has been changed to protect privacy.