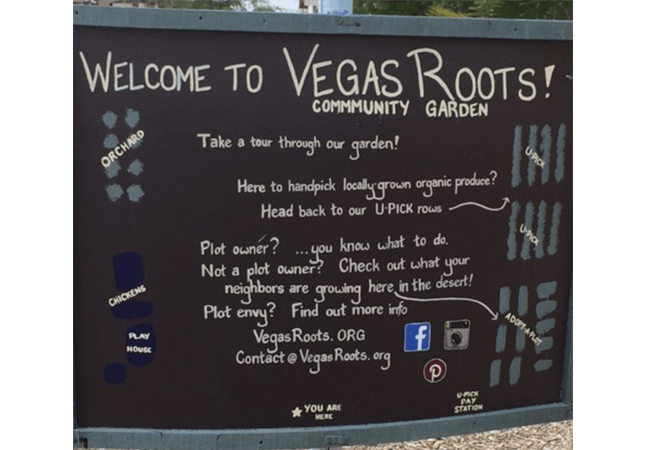 Roots of Success Take Hold in Nevada
Two inspired nurses met one inspired urban farmer, and a Culture of Health began to blossom.
The dedication on the part of Debra Collins, BSN, co-chair of the Nevada Action Coalition (NAC) and former chair of the Nevada Alliance for Nursing Excellence, and Linda Paulic, RNC, MPA, who with Collins coordinates the Robert Wood Johnson Foundation State Implementation Program for the NAC, was matched by a Las Vegas native who runs an urban farm in Las Vegas.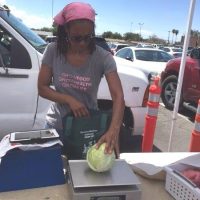 Rosalind Brooks started Vegas Roots Community Garden in 2010; Collins and Paulic met her when they looked for ways nurses could collaborate to help all in their community live healthier lives. Vegas Roots' goals to create neighborhood connections and promote healthy bodies and minds mirrored the tenets of a Culture of Health
Both Collins and Paulic had read about Roots. Yet despite much publicity it has received, during their first meeting Collins asked Brooks a question that Brooks said most visitors don't ask: What do you need?
A lot, as it turns out. The garden's executive director envisions the site as a place people of all ages can sit and meditate and communicate; a garden for the mind and spirit as well as for food.
"We will help you with your vision," Collins told Brooks immediately. In the months since, Brooks has come to consider the two, as she puts it, "true garden angels."
The NAC has followed through, working closely with the Nevada Nurses Association, the Nevada Student Nurses Association, and members of the NAC.
Brooks, the founding executive director whose dedication keeps Vegas Roots alive, says that the garden "keeps giving back, not just to those involved, but the low-income communities we serve."
"When Debra and Linda came through our doors for the first visit to discuss their collaboration, it was easy to see that their plans to assist would be invaluable."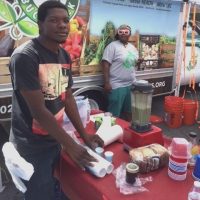 The garden offers much now, including its Buck Truck—a farmers market on wheels that visits low-income neighborhoods—but Brooks told the two nurse leaders that the urban farm needs more. More volunteers, for example, can help beautify and water nearly 5 acres of land—especially areas that are not irrigated, such as the orchard—so that reality can grow as big as Brooks' vision. The objectives are to produce fresh food, and also plant the seeds of leadership in boys and girls by having them dig in, invest time and care in their work. Vegas Roots also offers classes, including nutrition education and a Little Roots garden.
Nearby Garden Is a World Away
Collins and Paulic have long been involved with community health. Paulic started a Family Resource Center at the local public hospital in Las Vegas to provide prenatal care for uninsured mothers. In Seattle, Collins was in charge of running a nonprofit medical and dental clinic in the heart of an area of public housing.
With Vegas Roots, too, Collins and Paulic saw other ways nurses could help bring needed change.
Like most cities, Las Vegas is a patchwork of rich and poor neighborhoods. San Miguel Community Garden, several miles away, is richer in many ways, with wide sidewalks (suitable for wheelchairs), raised gardens, more community involvement, benches, a soothing waterfall, and even more laying chickens than the Roots Garden has.
Vegas Roots is on the city's west side, much of which remains a pocket of poverty whose residents do not have ready access to large grocery stores or good public transportation.
Collins and Paulic seek to forge links between the two gardens. San Miguel has committees of involved neighbors, and Collins and Paulic want to help Brooks create the same brain trust. They plan to go to nearby churches to seek volunteers and build relationships—the same support San Miguel enjoys.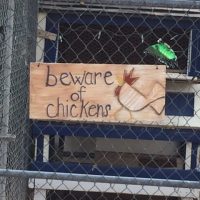 The two have other ideas for collaboration, including pitching the cause to area businesses, including Workforce Connections, Southern Nevada's local workforce development board, which supports paid internships. San Miguel has 24 laying hens whose eggs are given to the needy; Vegas Roots has six chickens but (as Collins figures and Brooks agrees) it could have more, once the farm has a bigger hen house and chicken coop. Members of the student nurses association, which includes University of Nevada, Las Vegas; College of Southern Nevada; and Nevada State College, are planning a competitive fundraising event this fall to raise money to build a chicken coop and purchase 24 hens. The winning nursing school will name the hens, and the chicken coop will be painted the school's colors.
"Debra and Linda's efforts will be huge in giving us the support needed to generate funding for the garden programs," says executive director Brooks. "Their efforts provide another opportunity to give a voice to low-income community concerns and why the Veggie Buck Truck is so valuable to our communities." (Brooks' own outreach efforts earned a grant of $25,000 for the Veggie Buck Truck from the Federal Home Loan Bank of San Francisco.)
In talking with each other, the ideas percolate between Collins and Paulic, then those ideas grow like weeds, reaching even more nurses who are interested in knowing more about the Action Coalition. They've been as much inspired by Brooks as she is grateful for their support.
Ultimately the collaboration benefits Vegas Roots, and those it serves. Brooks says: "We will be better poised to address the desperate needs of bringing healthier food choices," choices Brooks knows can at least minimize the illnesses prevalent in the community—or, better, "reverse diseases such as diabetes, high blood pressure, stroke and heart attacks, common in not only low-income communities, but our communities at large."
As Paulic says, "Nurses are the most trusted profession. Who can do this if we cannot?"
Top photo: As executive director, Rosalind Brooks is the driving force for Vegas Roots, raising funds as well as vegetables for the nonprofit she started in 2010. 
Middle photo: Delvonta Merryweather, a staff member paid by the Nevada Partners workforce development program, at the Vegas Roots Buck Truck, a farmers market on wheels that delivers fresh-grown food around the neighborhood. To the right is volunteer Brandi Madison.
Bottom photo: Student nurses will hold a fundraiser to build a larger coop so that Roots can be home for more egg-laying chickens.