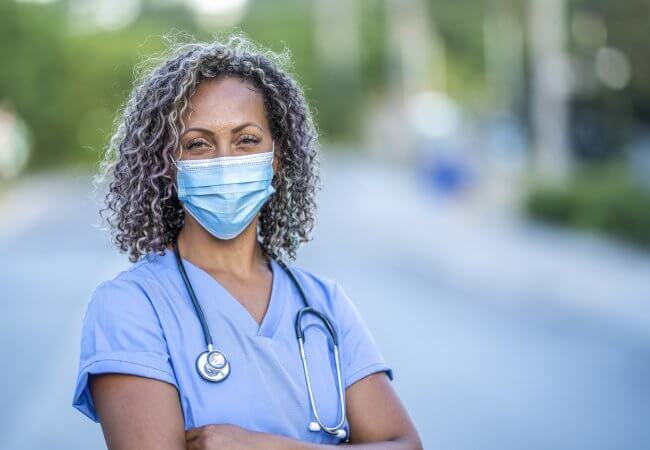 Push for New Nurses Seeks to Reduce Wealth & Health Disparities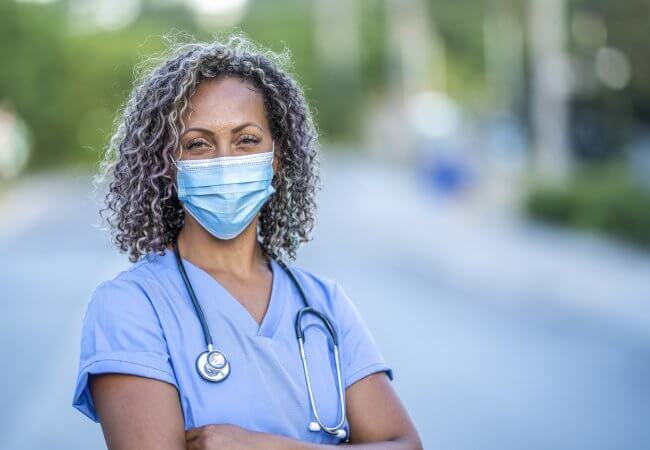 While the Future of Nursing: Campaign for Action has from its start sought to increase diversity in the nursing workforce and continues to emphasize inclusivity, it will introduce a new aspect of its efforts to improve America's health on Feb. 3. That's when the Campaign brings together experts at its second Health Equity Action Forum to promote nursing as a career path to financial security, with a focus on would-be nurses from populations historically underrepresented in nursing.
Even before COVID-19 hit Black people and other communities of color with disproportionate force, historically underserved populations in the U.S. have experienced a lower quality of health and health services. The structural racism at the root of these health inequities gives rise, too, to a racial wealth divide: for example, a review by the Federal Reserve Board in 2016 showed white Americans with $140,500 median household wealth, Latino people at $6,300 median household wealth, and African Americans at $3,400 median household wealth.
The February 3 Health Equity Forum session, "Nursing as a Career to Achieve Financial Security," will join together all of these considerations as representatives from social justice organizations, business, schools of nursing, national nursing and other health care organizations to seek ways to close the gap when it comes to disparities in both health and wealth.
Among panelists will be national nurse leader and educator Kenya V. Beard, EdD, AGACNP, FAAN, associate provost of Social Mission & Academic Excellence at Chamberlain University. Beard, a friend to the Campaign, has spent years creating new practices and ways of thinking for both students and nursing programs to advance health equity. Part of that means attracting more students from communities long underrepresented in nursing and taking a holistic approach to help them succeed.
There is no one simple solution, says Beard, but such support includes "at a minimum, actionable steps that expand beyond student factors and examine the extent to which institutional policies and practices create empowering environments."
The forum will tackle the very issues Beard says need attention: "The nursing profession should consider the ways that upstream factors, like structural racism, continue to mute the belief that nursing is a plausible career and how partnering with community stakeholders, beyond secondary education, could help the profession become more inclusive and stronger advocates for the communities served."
Financial Health and Nursing
Financial well-being comes from a person's "sense of financial security and freedom of choice—both in the present and when considering the future." Nursing has long been a career path to financial security for many, but it hasn't been pursued evenly across racial boundaries: according to the 2018 National Sample Survey of Registered Nurses, those from populations historically underrepresented in nursing made up 25% of the RN workforce.
And yet: Studies show that patients do better when cared for by providers with ethnic and racial backgrounds similar to their own. In 2011, the Institute of Medicine noted that "a more diverse workforce will help better meet current and future health care needs and provide more culturally relevant care," in its report on the future of nursing. A follow-up report in 2015 said that "evidence suggests that racially, ethnically, and socioeconomically diverse health care providers are likely to practice in communities with similar populations, improving access to and quality of health care in those communities."
Because nurses make up the largest proportion of the health care workforce, the need is even more urgent to bring in more nurses from diverse racial and ethnic backgrounds.
By directing its efforts at historically marginalized populations, the Campaign seeks to work with others to help create a cadre of health care professionals who look like the communities they serve, while also benefiting those professionals by guiding them to rewarding and remunerative careers.
And the field is fast-growing: According to the Bureau of Labor Statistics, the median annual wage for registered nurses was $73,300 in May 2019. The bureau also projects that employment of RNs is will grow 7% from 2019 to 2029—some 175,900 openings for RNs each year, faster than the average for all occupations.
The Feb. 3 convening will explore financial insecurity and inequity in the U.S. and how financial status affects health and well-being. Participants will learn that financial and health security are interrelated and will hear how underserved communities can achieve better health and wealth by significantly increasing the diversity of nursing.
They will also hear of successes so far. Yes, says Chamberlain's Beard, nursing is a promising path to a secure career: "Nursing is an awesome profession! Indeed, the adoption of holistic admission practices has widened the doorway to economic prosperity."