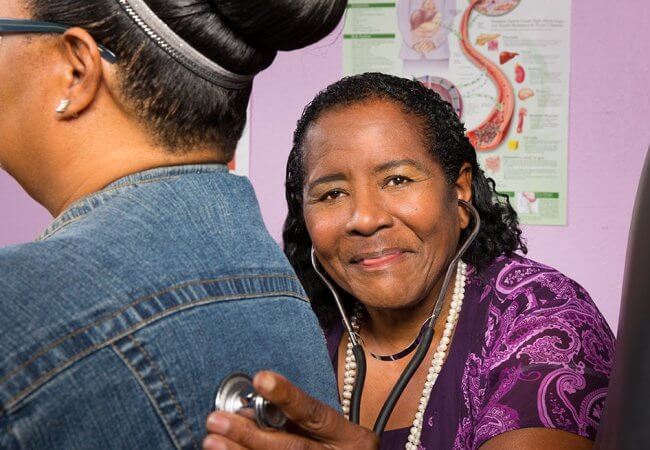 From One Coast to Another, Nurse Brings Health to Neighborhoods In Need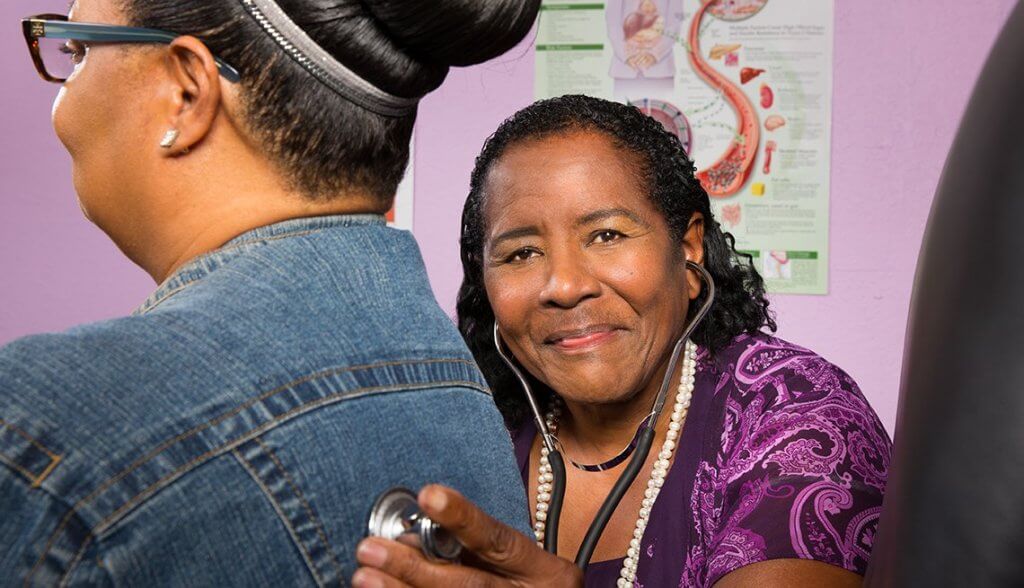 When asked where she grew up, Gloria McNeal responds with a mere ZIP code. But don't expect to hear 90210, or any other such posh digits.
"One-nine-one-two-three," she says, "and that is a ZIP code you didn't want to come from."
It may not have been her (or anyone's) neighborhood of choice, but ultimately that gritty Philadelphia locale of her youth is what set McNeal on her life's path. Fast-forward years later, and digits no longer identify McNeal; instead numbers are replaced by letters—as in, PhD, MSN, ACNS-BC (adult clinical nurse specialist—board certified), and FAAN (Fellow of the American Academy of Nursing).
From an early age in Philadelphia, McNeal saw firsthand that where you live, learn, work, and play determine not just your life course, but your very health. This fundamental understanding motivated her to first become a nurse, and then to do her part to change the trajectory for people from neighborhoods like hers.
McNeal knew that to help those in such neighborhoods, she needed to bring health care to the residents. Her early work in this area included mobile health van initiatives in hometown Philadelphia as well as Newark, NJ.
As is so often the case, with a solution came further challenges. While the van approach was effective, barriers remained. "We had to coax people to come into the van," McNeal says. "They didn't trust us right away."
More specifically, with that "drive by" strategy come issues related to the service not being a part of the community. Ideally, a service would provide care in the community, in places clients already frequent.
Eventually McNeal moved to Los Angeles, home to many of the same urban health problems she knew so well. In the city's Watts neighborhood, the average life expectancy is significantly lower than that of neighboring areas. When she learned of Watts' health conditions and lack of health care options for residents, she built on what she'd already learned in seeking ways to improve on the mobile health clinic concept.
McNeal found an affordable solution in going straight to community institutions and finding partners. Reaching out to local churches, community centers, and the Salvation Army, she arranged to set up a nurse-managed clinic at those locations on different days. Later she incorporated telehealth, bringing even greater ease and efficiency to provider–patient interaction. With that added service and the community partner-provided space, nurse practitioners either showed up in person at the clinic or interacted remotely with clients via telehealth channels.
How does McNeal staff the clinic? Once again, with creativity. As part of their nursing curriculum, nursing students from L.A.'s National University work on-site at the community locations. In addition, a multidisciplinary team of health professionals—including those in informatics, public health, and other allied health professions—contribute to the design and implementation of the initiative. Aside from the hard work of McNeal and others, the health care delivery innovation was made possible by a $1.5 million federal grant from the Health Resources & Services Administration to provide health care for those currently underserved and uninsured.
Ultimately, McNeal hopes to show that the delivery-of-care model results in her patients leading healthier lives. She also intends to demonstrate the cost savings that come through the partnership of community organizations, a diverse health care team, and the use of telehealth. The model is both scalable and replicable.
"The mobile clinic was great when we started 20 years ago, but it was time to improve on the model and disrupt the way care was delivered," says McNeal. "By creatively engaging new partners, health professionals and employing technologies that hadn't existed years ago, we are able to serve some of those hardest to serve, in particular uninsured men."
As McNeal speaks, you can sense her drive to continue pursuing her dream to improve the lives of those in communities similar to where she came from. Who knows what health care delivery breakthrough she'll think up next.
A version of this story appeared on AARP.org. McNeal was recently recognized for her work by the AARP Public Policy Institute's Culture of Health initiative.