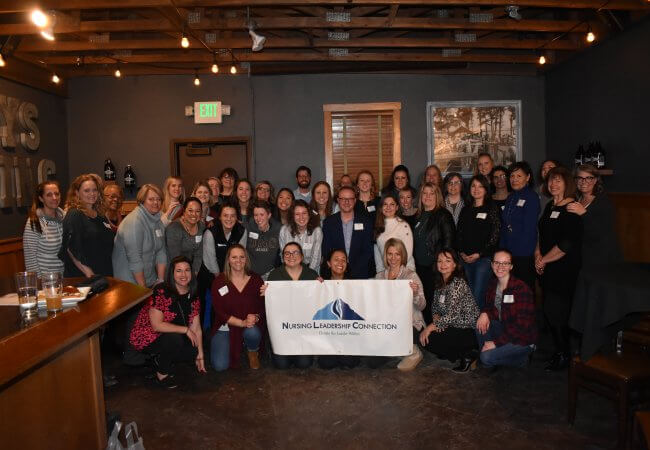 Nursing Leadership Connection - The Secret Sauce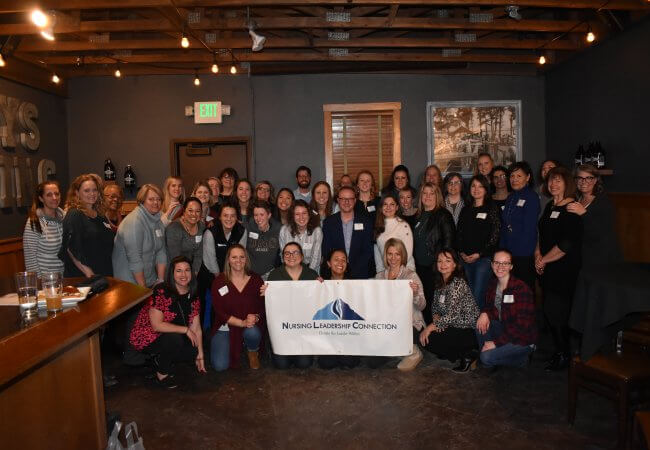 The Colorado Action Coalition has been committed to nursing leadership development for years.  We have several unique, innovative programs that Susan Moyer, Karren Kowalski, and others have been building out since the previous set of recommendations were issued.  Among those, is our Nursing Leadership Connection (NLC).  We have discovered what we deem the secret sauce to engaging emerging nurse leaders in personal and professional development through innovation.  Colorado followed the suit of Virginia and other states by starting a "40 under 40" initiative which has been active and growing for a few years, but the explosion of participation was yet to come.  As a nurse leader in the Millennial generation, I was honored when my team asked me to lead this program upon joining the Center for Nursing Excellence.  When planning the annual event, I had to think innovatively and creatively about our approach.  The group intended to prepare and enable nurses to lead change and it needed to have more participation and excitement around it.  I began to develop what we soon would realize was the secret sauce to garnering the engagement and commitment of the nurse leaders we sought to touch through this important initiative.
Our first ingredient: inclusivity.  After receiving numerous emails along this general line of questioning, "I'm 44 years old, can I attend the 40 under 40 event?",  I realized people felt this was an exclusive group which not only hindered participation, it didn't represent the Center for Nursing Excellence, nor the Action Coalition.  At the annual event a few weeks later, I empowered the group to help align the mission with a new name.  The participants came together and worked up a new name and slogan.  And from there, "The Nursing Leadership Connection; Elevate the Leader Within" was born.  We quickly got to work re-branding the group by designing a new logo, advertising new leadership and our  broadened spirit of inclusivity.  We were deliberate in being more intentional in seeking diverse speakers to present at networking and annual events to continue driving home this mission.
The second and equally important ingredient in our secret sauce is the environment. The last thing Millennials, Generation X, or any generation wants to do, is attend a networking and development event in the basement of their hospital after a long day of work.  Knowing we needed to get creative with our venue, I wrote a grant proposal and secured funding through the Colorado Nurses Foundation and Colorado Organization of Nurse Leaders so that we could begin hosting networking events at breweries, wineries, and various hip locations around Denver.  With over 400 breweries in Colorado this is a large part of Colorado culture and we were certain that securing a fun event space would entice current and future participants to join us during their precious free time outside of work.  NLC covers the cost of space and food, while participants purchase their own drinks if they choose.  The evening begins with networking, music, and celebrating being emerging nurse leaders.  Networking is followed by a one-hour presentation on leadership topics, and contact hours are awarded for attending the NLC events.
The results of these intentional actions were noticeable almost immediately; before we had a chance to advertise for our next networking event, we had 85 people sign up for it! 65% of attendees to our subsequent offerings that year stated that this was their first NLC event.  When we put out the call for abstracts for the 2019 annual conference, the number of submissions more than doubled that of previous years and the event sold out quickly.  We knew we needed to run with this incredible momentum and decided to innovate even further by spicing up our secret sauce once again.
The third secret sauce element to be developed is synchronous and asynchronous activities.  With the explosion of popularity, not only do we have more offers from presenters than we have networking events. We want to continue to reach more nurse leaders in rural areas of Colorado.
In 2021 NLC will be rolling out two new programs called "NURSE Talks" followed by a "Leadership Launch Program".  NURSE Talks is our own version of TED Talks, NURSE is an acronym for Nurses, Unapologetically Recognizing Self-Empowerment.  NURSE Talks is where current and emerging nurse leaders come to develop their executive presence, presentation skills, and to build their resume by creating a short video on their passions, interests, and expertise- any innovative idea that empowers them.  NURSE Talks contributors will have the opportunity to receive feedback on their videos from their peers via discussion boards.  Leadership Launch Program is a similar to a mentor program as far as lending support to one another, but the difference is the buddy program doesn't pair based on hierarchy or expert / novice relationship, rather NLC participants can be paired based on similar experience level or common location, among other things. The buddies are given guided leadership coaching and reflection questions to ask each other which help leaders grow themselves while gaining coaching experience as a leadership skill.
While we're at it, we are combining our Nurses On Boards efforts with NLC as they go hand in hand and young nurse leaders will see the potential of board service as part of their career from the beginning. NOBC videos will be available on the NURSE Talks platform as well.
We're crafting a recipe for success by using innovation, inclusivity, hosting events in environments that increase participation, and establishing both synchronous and asynchronous activities.  The future of nurse leaders is bright in Colorado!